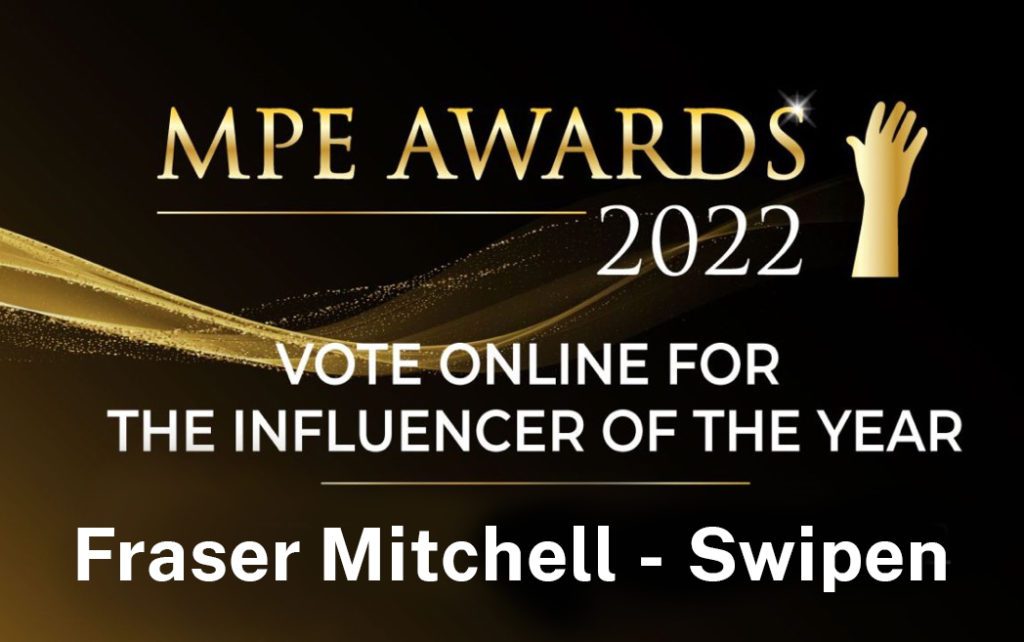 Swipen's managing director, Fraser Mitchell, has been nominated for The Influencer of the Year at the #MPEAwards. Voting is open until 31st May.
Fraser Mitchell is the founder and managing director for Swipen, a multi award-winning PSP based in Scotland. The biggest compliment Swipen receives is that we can do what no one else does. We embrace new tech and stand out because of our ability to provide a bespoke solution, even if it's a brand new concept. 
Fraser believes in the power of partnerships and Swipen has provided bespoke software and custom built EPoS systems to hundreds of businesses nationwide, helping them adapt and survive lockdowns and restrictions. Swipen proved it could adapt faster than the big industry leaders, winning contracts with the likes of Pizza Hut UK, the NHS and Goals. We now give some of the leading banks the chance to improve their technology. 
Fraser was also proud to gain recognition for the team's hard work by winning 'Payments Start Up of the Year' and 'Marketing Campaign of the Year' in 2021, and Highly Commended 'Industry Newcomer of the Year' in 2022.
Influencer of The Year is voted for each year by our fellow payments industry professionals. The MPE Awards recognise contributions to the development of the Merchant Payments on a domestic and international basis. The 2022 Winner will be announced at the MPE 2022 Conference on 5-7 July in Berlin. 
Please add your vote for Fraser here: https://www.merchantpaymentsecosystem.com/awards#online-voting 
Voting closes on 31st May