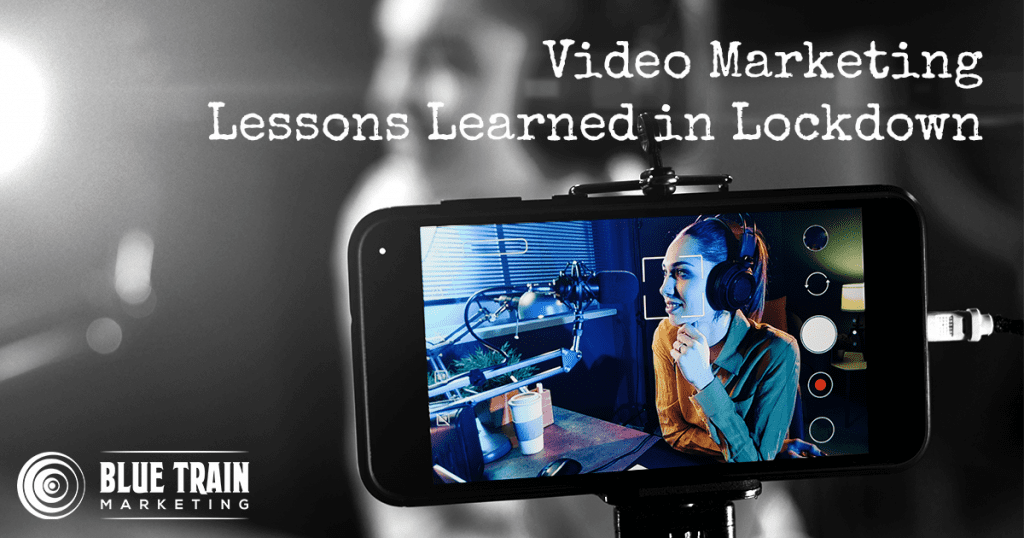 There has been a huge shift towards video content during the pandemic and lockdown has inspired some real creativity in the way video is produced for marketing purposes.
A recent study states that 68% of consumers think the pandemic has impacted the amount of video content they watch online, with a whopping 96% saying that it has increased.
With this huge demand for video content, marketers are seeing the opportunity to move their strategies to align with changing consumer behaviour. According to Hubspot, video is the #1 form of media used in content strategies, overtaking blogs and infographics.
Video marketing has taken over – at least for now.
It's impossible to talk about online video, without bringing up YouTube. As of 2020, the platform now boasts over 2 billion users logging in every month, a big increase compared to 1.68 billion the year before.
Did you know that YouTube is the second-most popular search engine after Google? It receives more searches per month than Bing, Yahoo, AOL, and Ask.com combined.
That means your potential customers are probably searching for information about the kind of goods and services you provide on YouTube.
Don't be fooled into thinking that B2B service providers are immune to the power of video marketing. 71% of B2B marketers use video marketing in order to promote their services.
84% of people say they've been persuaded to buy a product or service after a brand's video – which explains why YouTube has started testing a new feature that can automatically detect items that appear in videos.
This new tool allows consumers to go to a brands eCommerce store to purchase the products that were advertised in the video, directly linking the video into the purchasing process.
But it's not just YouTube taking the spotlight.
Other video platforms such as TikTok and Instagram Reels exploded in popularity in 2020.
TikTok in particular has been a great success, seeing as the average monthly time spent per user grew faster than any other app, 70% in the US and 80% in the UK. TikTok is set to hit 1.2 billion active users this year!
Brands that are hitting the nail on the head
Ryanair and Marks & Spencer are two companies which have managed to achieve a huge following on TikTok.
By following the latest 'trends' and having a bit of fun with their brand, they have been able to inject some personality and sense of humour into their content.
With Ryanair alone gaining approximately 3.9M likes from March 2021-April 2021, it shows that they are finding newer channels which are enabling them to engage with their audience.
So, what's so special about video marketing?
So, it's clear that the demand for video is growing, but why is that?
Time is of the essence
One of the main reasons video marketing is so effective is because it respects people's time.
You can consume video in so many ways; watch it on the go or whilst lounging, fast forward it to the best bits, watch it with no audio and add subtitles, just listen to the audio, or even save it to watch later!
The fact that people have been spending less time travelling to work may have also influenced media consumption habits in favour of video.
Previously, podcasts were ideal for the daily commute when it was easier to listen to audio than watch a video in a cramped train carriage. But now these people are more likely to be at home, with more free time, meaning they are more likely to consume video content at their leisure.
Express yourself 
Videos can be a great way to connect with your customers on a personal level.
Depending on the type of message you are trying to convey, being able to see and hear a person on screen can make it much easier for your customers to build a relationship with your brand.
It is therefore imperative that you select the right person to appear on screen, as they are representing your brand and need to reflect its key attributes.
Viewers will make judgements about your company based on who is on screen, the language they use and how they make them feel – so ensure that your brand's true and authentic persona shines through.
For millennials, how a brand makes them feel can be just as important as the product and services they offer. A 2020 report suggests that 83% of millennials find it important for the companies they buy from to align with their values.
In addition, you can of course incorporate music, visual effects and a range of interesting camera shots to help bring your brand to life and support your messages.
But there are some challenges:
Lockdown restrictions are posing some challenges for video content production.
Reportedly, 74% of marketers feel the pandemic has made them more likely to use video, but out of those people 40% admitted that their plans for video production have been affected and been made a challenge as a result.
Lockdown restrictions have forced marketers to rethink their approach entirely.
The pandemic has resulted in almost all video content being filmed remotely, typically filmed through some form of video conferencing software such as Zoom.
Since March 2020, the most common form of video content has been what many refer to as 'talking head' videos. These videos usually consist of one single shot filmed entirely through Zoom, with not much else happening on screen.
This isn't the most engaging content for the viewer. With 70% of marketers expected to increase their video marketing budgets in 2021, you'll need to make sure you have a competitive edge so you stand out.
Lessons learned 
Fortunately, there are still plenty of ways you can enhance your companies' video content regardless of where or how it has been filmed.
At Blue Train Marketing, we've been experimenting with the format and structure of video content to make it visually interesting. We've also been learning a few behind-the-scenes video optimisation tricks so the videos we produce for our clients are more likely to be found by interested customers.
So here are some of our tips for creating great video content and how to make sure it gets seen.
Get creative when filming from home
Just because you have to film at home via a conference link, it doesn't mean it has to look boring with a face staring into the camera the whole time.
Try filming from multiple camera angles, which involves recording via Zoom while also having the speaker film themselves on their phone from a side angle.
By occasionally switching between these angles, it can add visual variety and help retain the attention of the viewer.
Additionally, adding on-screen copy and animated statistics helps bring key messages being shared by the speaker to life. Of course, some sharp editing will also make sure your video content gets to the point and keeps your viewer engaged.
Don't underestimate your YouTube SEO
With more than 500 hours of content uploaded to YouTube every minute in 2019, it's not enough to just produce a great video – you need to make it stand out against the competition.
You need to ensure that they're optimised for Google as well as YouTube, and other search engines so your video gets seen by as many members of your target audience as possible and generates maximum ROI.
We have found that spending a little time identifying and adding the most popular and relevant keywords to your titles, descriptions and tags is key to maximising your reach.
Make sure to include subtitles
Another great way to enhance your YouTube SEO is by adding subtitles to your videos.
This will not only make your videos more accessible and easier for those watching without sound, but subtitles can also play an important role In helping YouTube and other search engines understand what your video is about and present it to people searching for those terms.
Subtitles can be applied to videos on almost every platform including LinkedIn, Facebook and YouTube.
However, achieving accurate and well-timed subtitles does require some tender loving care. By handling the full subtitle process, we have helped many of our clients in providing high-quality subtitles for the best viewing experience, regardless of the device or platform.
Highlight key points with custom thumbnails
Another way to entice your target audience to watch your video is by adding custom thumbnails to your videos on YouTube.
By uploading still images that feature a key quote or specific frame from the video, you stand a much greater chance at convincing potential viewers to click on your videos instead of those of your competitors.
Here is an example of a custom thumbnail we produced for Open Banking Excellence's YouTube channel:
Get to the point 
Because we spend a lot of time providing marketing and content creation services for fintech and payments companies, our industry knowledge mean we can help focus marketing content on the most relevant messages and help them stand out.
Consumer behaviour and media preferences will continue to evolve post-pandemic, whenever that might be.
But one thing is for sure; whether you are looking to produce a corporate video, a video case study or an explainer animation, the bar for customer expectation of video content has been raised by lockdown.
If you're interested creating some video content for your brand, get in touch!