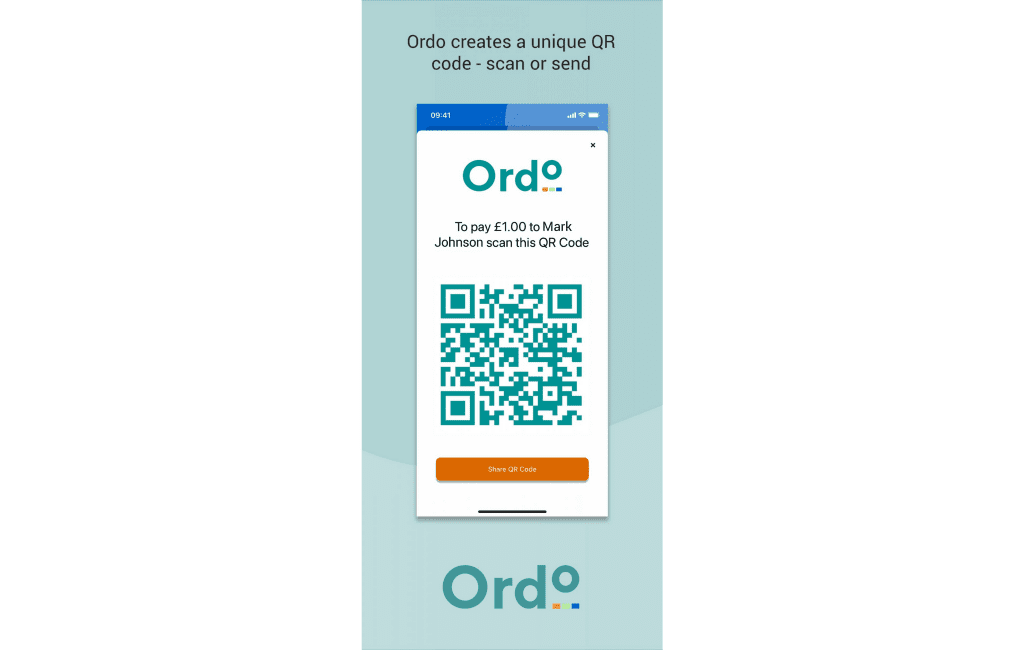 Ordo is making payments right – providing Open Banking enabled solutions that mean businesses can securely and simply collect payments from their customers, instantly. No hidden fees. No hassle. No worries.
So we're excited to be announcing our latest solution: QR codes for Point of Sale and for sharing across message platforms for remote payments.
Businesses are going to need to be leaner than ever as we open up and economically recover from COVID. But the methods of payment largely available to businesses today that take multiple working days to reach an account, are received with unreliable references making accounting and reconciliation a nightmare, come at high cost when using cards or handling cash, and which are prone to fraud if being invoiced via email, should be resigned to that age that now feels a world away, the pre-COVID era of 2019.
Open Banking solutions are alive and kicking in the market today and could be the edge needed to keep businesses afloat and get them back to thriving.
The market stall holder, for example, no longer has to incur the cost, time and inconvenience of renting card readers and paying up to 4% of their transactions in fees to payment facilitators, with the set off amount appearing in their bank account which cannot be reconciled because it's the wrong amount with an unhelpful reference. With Open Banking QR Code Point of Sale solutions, all a business needs is a smart phone or tablet to be able to create an instantly generated unique QR code to display to their customer. Their customer reads this with their smart phone and pays directly from their bank account, straight into the account of the stall holder, immediately.
And businesses no longer need to roll the invoice fraud interception dice as to whether they get paid or whether the invoice intercepting fraudster gets paid when the fraudster intercepts an emailed invoice changing the account details to their own….when the loyal client pays, the fraudster profits, leaving behind two innocent victims who are unlikely to be reimbursed under the Contingent Reimbursement Model that some banks operate. With Open Banking solutions, QR Codes can be securely sent across email, text, WhatsApp, Signal or Line etc safe in the knowledge that these cannot be intercepted, and can be safely paid by the client knowing the money will end up in the right account. Peace of mind all round.
People have been forced to become more familiar than ever with online booking, payments and activity, and with NHS Track and Trace, most people now know what a QR Code is and know to open up the camera on their phone. And what's more, QR Codes are quicker than typing in a web address, so we're all learning QR Codes are safe and convenient, meaning our behavior is only going to become even more accepting of this technology as time moves on, and indeed, come to expect instant availability of information and technology the moment we scan.
Now is the time to look at Open Banking if you haven't already, because society has been forced to change its mindset since COVID, and businesses are going to be as demanding as consumers in terms of low cost and low-friction when it comes to the solutions they have available for taking payment.
Ordo Co-founder, Fliss Berridge, said "So much of the way we worked before the Pandemic began deserves to stay there, like the limited payment methods available. Our reliance on cards as a middle man, taking up time and money which hurts SMEs and consumers as well as making big businesses cumbersome. You can't get into a café these days without scanning a QR code, let alone access the menu and order! So utilising QR Codes for Open Banking payments allows us all to benefit from lower costs, increased speed and convenience, and is completely in tune with society's acceptance of QR Codes as the everyday mechanism that unlocks access and information. All a business needs to take on the spot payments is a smart phone or tablet, and all consumers need to remember is to pick up their house keys when they leave with their phone in their hand….ease, simplicity and convenience – that's good to stay!
Try Ordo for free at www.myordo.com or go to our HQ at https://ordohq.com to find out more or book at demo at https://ordohq.com/enterprise/
About Ordo
Ordo lowers the cost of getting paid, makes it easier for customers to pay, and offers simple and secure solutions for businesses of all sizes. Ordo is an Open Banking payments platform for regular bill runs, eCommerce, point of sale, refund processing, and more. We've integrated with QuickBooks, Sage and Xero, we're FCA authorised (FRN836070), invested in by Nationwide Building Society, the former Faster Payments leadership team & CGI partners.
Using the Competition and Markets Authority's Open Banking mandate, Ordo is connected to: Allied Irish, B Bank, Bank of Ireland, Bank of Scotland, Barclays, Cash Plus, Chelsea Building Society, Clydesdale Bank, Coutts, Cumberland Building Society, Danske Bank, First Direct, Halifax, HSBC, Lloyds, M&S Bank, Monzo, Nationwide, Natwest, Revolt, Royal Bank of Scotland, Santander, Starling,  Tesco Bank, TSB, Ulster Bank, Virgin Money, Yorkshire Bank and Yorkshire Building Society.  More banks are being added over the coming weeks.
Learn more about Ordo: https://ordohq.com
Try Ordo for free: https://www.myordo.com/landingPage
Press: https://ordohq.com/press/
Video: https://ordohq.com/business/