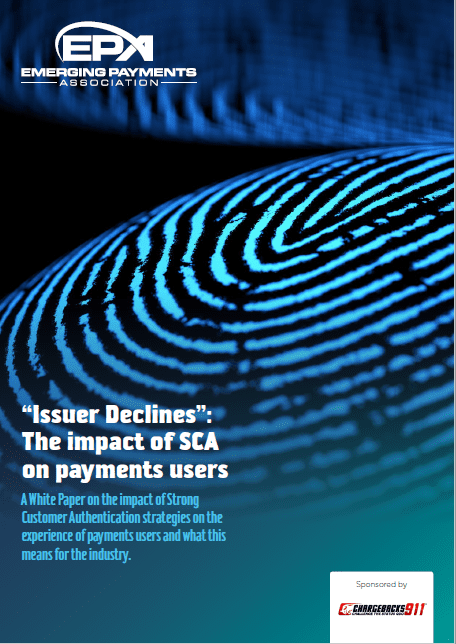 London, United Kingdom – The The Payments Association has published a report on Issuer Declines and the impact of Strong Customer Authentication (SCA) on the payments experience which found that 75% of issuers said they would be ready by the 14th September deadline, from a compliance standpoint, but that they would not be operationally ready.  The report also highlights that issuers will likely not be able to support the full range of exemptions and 3DS v2.2 until late 2019 at the earliest.
The report, produced through the Payments Association's Project Transaction Insights and supported by its Benefactor Chargebacks911, details the impact of SCA strategies on the experience of payments users. It also explores what this means for merchants with the compliance deadline now only a few weeks away, as well as how UK card issuers intend to implement SCA, which methods they will be using, and the likely impact on both merchants and cardholders.
The Payments Association interviewed organisations who issue over 107 million cards (comprising 61% of all cards issued in the UK), and in the white paper set out a series of 10 recommendations for merchants and acquirers that, if adopted, will reduce the business impact and amount of disruption to the payment experience.
Tony Craddock, Director General of the Payments Association, commented, "Instinctively, everyone sensed SCA was going to cause major issues. This research confirms exactly that. But it's not too late to do something about it, and by following the recommendations in this paper, we can minimise the detrimental impact of SCA on consumers, retailers, PayTech and UK plc."
Not only are businesses not ready, they are concerned about the impact on user experience. The whitepaper highlights that 74% of issuers expect SCA to lead initially to a decline in user experience and 58% said that too much friction is being applied. The research findings also predict that between 30 and 50% of eCommerce transactions will in future face a step-up authentication request, up from the current 2% level and that issuers expect in the short term to decline between 25-30% of transactions unless a managed roadmap is agreed. The report also looks at chargeback disputes, growth rates, trends and the impact of new scheme dispute management programmes.
In its recommendations for merchants and acquirers, the whitepaper calls for 3DS technology to be implemented as a priority, and for merchants to engage in greater dialogue with their acquirers and gateways to identify issues and more effectively tackle fraud. Furthermore, the whitepaper calls for merchants to play an active role in communicating with customers – thereby helping minimising disruption.
Mark McMurtrie, Director of Payments Consultancy Ltd who conducted the research on behalf of the Payments Association says "It is clear that the industry needs more time before active enforcement of SCA otherwise the negative impact is likely to be extremely high and painful. A managed rollout is needed and, if granted, would allow far higher levels of awareness to be achieved, greater solution availability, system integration to be completed and time to resolve the many outstanding issues."