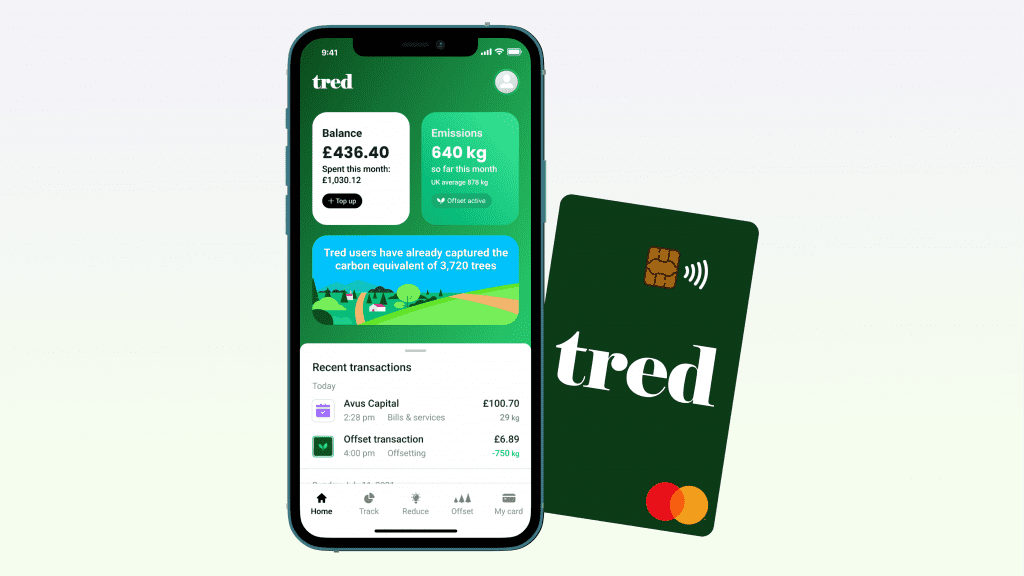 With COP26 in full swing, UK-based green fintech Tred has announced it will launch its Mastercard green debit card in the UK, enabled by global payments platform Nium's card issuing service.
Tred's mission is to make people's money work for both them and the planet, because it's through their money that individuals can make an impact on climate change. The fintech's first focus is to make everyday spending more sustainable through their debit card and accompanying app.
The Tred green debit card, made from recycled plastic, will be the UK's first green debit card that allows users the all-in-one ability to track, reduce and offset their carbon footprint as they spend, while also contributing to reforestation with every purchase. The Tred app calculates a user's personalised carbon footprint based on their spending, and a tailored monthly subscription then allows users to offset their exact carbon footprint by planting more trees or contributing to other climate change mitigation projects.
Tred will soon open up its Beta version for pre-registered users, as consumer interest in sustainable ways to pay accelerates alongside the 26th UN Climate Change Conference (COP26) in Glasgow, Scotland. To celebrate this ground-breaking launch, Tred will plant 10,000 trees with Mastercard as part of its Priceless Planet Coalition, launched last year with a firm commitment to plant 100 million trees by 2025.
Peter Kirby, Co-Founder, Tred, said: "There is currently huge demand from individuals for greener spending solutions, which is proven by our recent crowdfunding round and the growth in our waiting list.
"Through our partnership with Mastercard, every time our customers buy a coffee or tap into the tube with their Tred card, the app will calculate the environmental impact of that transaction. We believe the repercussions of this could be game-changing, removing barriers to climate change action and empowering consumers to adjust their lifestyle habits."
Scott Abrahams, Senior Vice President, Business Development, Mastercard UK & Ireland, added: "Recent Mastercard research highlighted that nearly half of Brits see reducing their carbon footprint as being more important now than pre-pandemic. As such, there is a strong and growing appetite for greener financial services like Tred's, which will help to embed sustainability into every transaction, helping consumers to understand the impact of their purchases and turn that into meaningful action for our planet. We're very pleased to add Tred to our growing Priceless Planet Coalition – uniting to help our planet thrive."
About Tred
Tred is on a mission to make money work for people and the planet, starting with everyday spending. A green tech provider rather than a traditional bank, we bring together the best of digital banking with cutting-edge climate technology. Tred is a registered FCA agent, and customers' money will be protected in a ringfenced account held with a major UK bank.
Tred is an agent of Nium Fintech Limited, an Electronic Money Institution authorised and regulated by the Financial Conduct Authority with FRN 901024. The Tred card is issued by Nium Fintech Limited, an associate member of Mastercard.
For more information, visit https://www.tred.earth
About Mastercard
Mastercard (NYSE: MA), www.mastercard.com, is a technology company in the global payments industry.  Our global payments processing network connects consumers, financial institutions, merchants, governments and businesses in more than 210 countries and territories.  Mastercard products and solutions make everyday commerce activities – such as shopping, traveling, running a business and managing finances – easier, more secure and more efficient for everyone. Follow us on Twitter @MastercardNews, join the discussion on the Beyond the Transaction Blog and subscribe for the latest news on the Engagement Bureau.