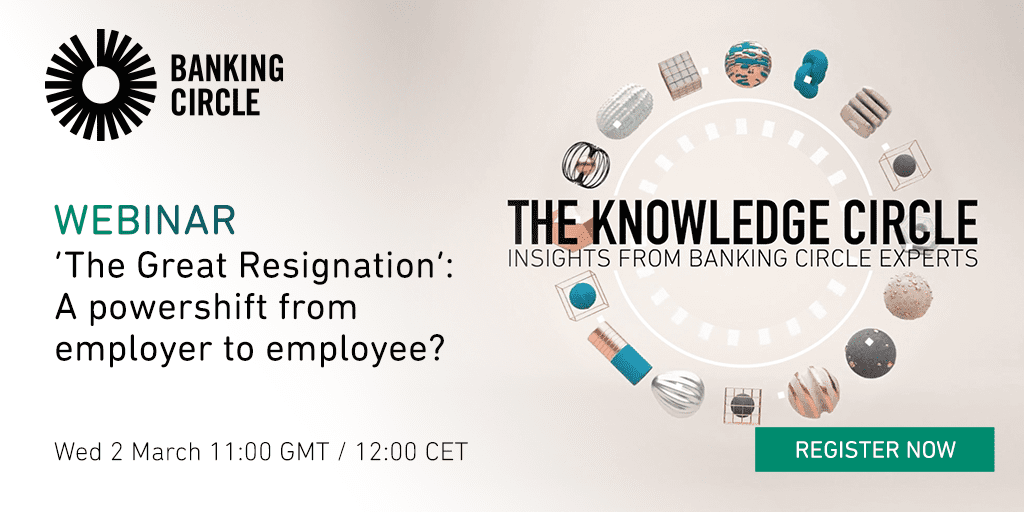 Banking Circle's Knowledge Circle series is back for 2022, kicking off with a new episode exploring 'The Great Resignation' and its implications for businesses within the financial services ecosystem.
Driven by the COVID-19 pandemic, the battle for talent is increasing for companies and organisations – forcing them to rethink their recruitment and retention strategies.
In this session – the first of two webinars focused on 'The Great Resignation' – industry experts discuss how recruitment is changing within the current landscape, whether the power really is shifting from employer to employee, and what financial services businesses should be doing to ensure that they attract the best talent.
Speakers:
• Jonas Fabricius-Bekker, Head of People at Banking Circle
• Caroline Lo, Partner at True Search
• Gemma Young, Founder of Women of FinTech and Head of Marketing at DASL
• Moderator: Esther Groen, Adviser to Holland FinTech and Executive Board Member at the European Women in Payments Network
Register here: https://event.on24.com/wcc/r/3653821/268957338F01B0B32551248AD2CF80B1?partnerref=thepaymentsassociation
Article by Banking Circle