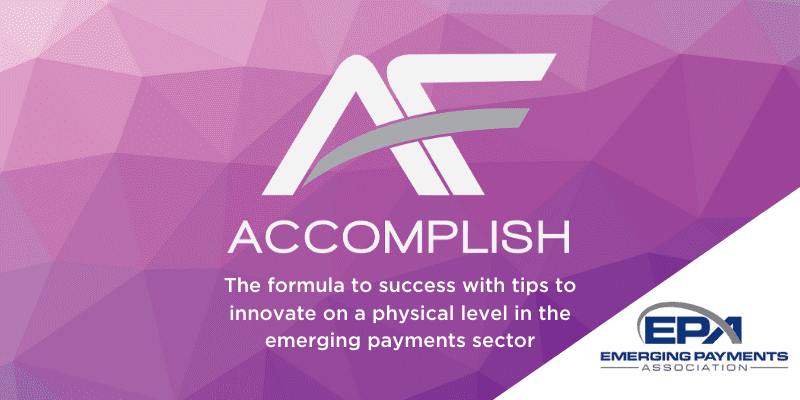 Interview with the CEO of Accomplish Financial,  Guy el Khoury
Director General of the The Payments Association Tony Craddock speaks with Guy Raymond El Khoury, CEO of Accomplish Financial, a complete solution provider in the Issuing space and an active Payments Association member, on the real success of his journey in the emerging payments sector.
PART TWO
TC: So, our industry has gone through a series of twists and turns. One of those is the knock-on effect of the parent company of one of our BIN sponsors in the UK Wirecard Solutions, losing $200 billion worth of market value in two years as a result of apparent wrongdoing. What happens when there's a bump in the road such as Wirecard AG, as a group company failing and as a result in danger of taking Wirecard Card Solutions (WDCS) down. What's your views on this?
GREK: Well, first of all, it's disappointing to hear of anyone in this space having an issue, because regardless of what the reason is, it does affect all of us in a way, and my views on ambulance chasing aside, the  sort of spotlight it places on the industry directly affects public perception and trust of these products.
Now, we all know that this is a new landscape for all of us. We're all creating and working together to invent and to improve financial instruments and their delivery. However, I still worry that overall customer and regulatory confidence in FinTech product is definitely affected by these kinds of events. So, in a way, I think that we should be working together, and I suppose this is exactly what the Payments Association provides us with, in order to keep the various parties comfortable and assured despite the odd hiccup overall in the industry. However, I believe that the FinTech industry as a whole is professional, understands and is most definitely concerned about the end customer, their rights and their access to their money. This is absolutely important because as we progress, at some point in time, we will no longer become "emerging" we will become "established".
TC: Yes. So, we're going to rename ourselves the Payments Association the Established Payments Association.
GREK:  Yes, exactly!
_______________________________________________________________________________________________
TC: I would like you to give us your views on ambulance chasing. So, what is it?
GREK: Ambulance chasing is a term that is more commonly used in North America; it was coined to describe lawyers who quite literally follow ambulances from the scene of an accident, to the emergency room in an effort to try to solicit clients!
However, when it comes to our industry, what I mean by it, is as follows. As you previously mentioned, we're all aware of what is happening with WDCS. The FCA knows what it's doing and has stepped in, observed the situation, and assessed it. It has not been declared dead yet so let's give it the benefit of the doubt and not call it dead while there's still a pulse.
_____________________________________________________________________________________________________

TC: How well do you think the industry has reacted to this situation?
GREK: Well, most of the reactions I have seen online, frankly, are all about who can jump in and take the market share. Even Accomplish Financial was covered in an article of top 10 alternatives to Wirecard. You have to be unbelievably careful about, once again, customer confidence especially if a programme is trying to move to another service provider. Gaining new business should not be more important than ensuring the trust established with the cardholder remains in place. When it comes to card issuance a minimum of two months is required to switch over completely to another issuer and it usually requires a lot of parties to synchronise precisely. This is the best method as there is no re-carding required. If you re-card, then it is also complex in different ways and the cardholder experience needs to be carefully considered too.
However, until the dust settles, I don't think anything major is going to happen. I believe if they are safeguarding their funds properly, they should be able to continue servicing their clients. They might be facing other challenges, but I do not know details about their operations or their finances. However, I don't think there is a real need for anyone to panic at the moment – that's exactly what safeguarding is for.
_____________________________________________________________________________________________________
TC: You shared about your history and your impressive track record and what's happening now. What about your vision for the e-money industry?
GREK: My vision has always been, at least for the past decade or so, that Electronic Money Institutions (EMIs) have to mature and that regulators have to either start considering that an EMI could evolve into something greater, such as a bank, or that a new banking category would eventually be created to accommodate for an EMI that wishes to grow.
I also believe that either one day all EMIs will be deemed to fall under full banking rules and regulations, or the opportunity for smooth path for EMIs to upgrade to a banking license will open up. The reason behind this is that all innovation aside, essentially, EMIs still rely heavily on banks. Banking regulation is still there, and it applies to absolutely everyone, so it's a natural evolutionary step. We have been seeing for a while a shift in high street banks offering more of their services through electronic channels whilst simultaneously diminishing their physical branch presence from before the effects of the lockdowns and the virus. One could say EMIs are racing towards banks and banks are racing towards EMIs and that soon the lines that define them eventually will blur together.
_____________________________________________________________________________________________________

TC: How do you how do you think the regulations are going to need to change to reflect that increasing maturity?
GREK: The regulations tend to change at a decent pace, and I believe we are already on the path to recognising maturity. Overall, the regulations will probably eventually require further supervision and greater capital requirements to accommodate for the growth of the 'interim bank' category. I also believe that regulations will expand further to protect consumers and there will be further requirements on the technology side from a security point of view.
_______________________________________________________________________________________________
TC: So, you don't mind that as an EMI?
GREK: It's the reality of doing business. Anyone who thinks they're getting away from it is not being realistic. One way or another, it affects us all, and the other thing one has to understand and accept is that the consumers rights come first. That is just the reality of it, and if you don't accept these things, you shouldn't be in this business or industry.
_____________________________________________________________________________________________________
TC: Why have you become an EMI, an e-money issuer, a processor and a program manager? Why all three at once and what's that unique formula?
GREK: We actually also develop our own software too! Our software is bespoke and not an off the shelf processor from somewhere else and it was more of a necessity, rather than simply a strategy. The necessity being as follows; in order to service a client properly, you should be able to definitively tell them 'yes this can be done', or 'no that cannot be done'. We are able to answer definitively on behalf of all the elements required to bring a project to life. Usually, when others are trying to put together a solution using multiple parties, it becomes almost like a game of Broken Telephone where you're not sure if the message is getting properly propagated properly to all the parties. Furthermore, with separate parties you are also faced with scenarios such as two out of three of the parties are willing or capable of doing something, and then the third one not being ready or able.
Instead of working at the speed or the capability of the lowest common denominator, Accomplish Financial works at a different level where we know precisely what we can offer and how fast we can offer it. One decision, one commitment is enough to cover all elements of our service. At the end of the day, as a program owner you don't want to worry about what goes on behind the scenes when you're setting up a project, you just want it to work, and to work harmoniously.
_____________________________________________________________________________________________________

TC: Final top tip for anybody looking to join this this exciting payment journey that we're all on. What tip would you give somebody looking on the outside?
GREK: Do your research. I understand it can be laborious and difficult, however they should attend meetings of organisations like the Payments Association and to learn about the industry. Education is the most important thing. I know that the Payments Association, for example, has its Payments101 instruction courses; take the courses. There are no other real resources; it's not like you can buy a book that guides you on what you need to do in this space to achieve your goal. Finally, talk to as many service providers as possible and make a decision based on how open and knowledgeable you feel they are and how much they understand your product and vision. It is imperative because you are going to be working with them for quite a while afterwards.
For someone just entering the market, what can prove to be tricky is the starting point. They generally don't know where to begin and at some point along the way, everyone tells them the story from their perspective; it's a bit like the parable of the blind men and the elephant, and each party describes "the elephant" from where they sit in the ecosystem. This industry needs to have a single reliable resource for anyone wanting to enter this space, and I believe the Payments Association is stellar for that.
TC: Very nice. Thank you for that little marketing plug! And thank you for your time Guy, it's wonderful to get your thoughts on this.
END
______________________________________________________________________________________________