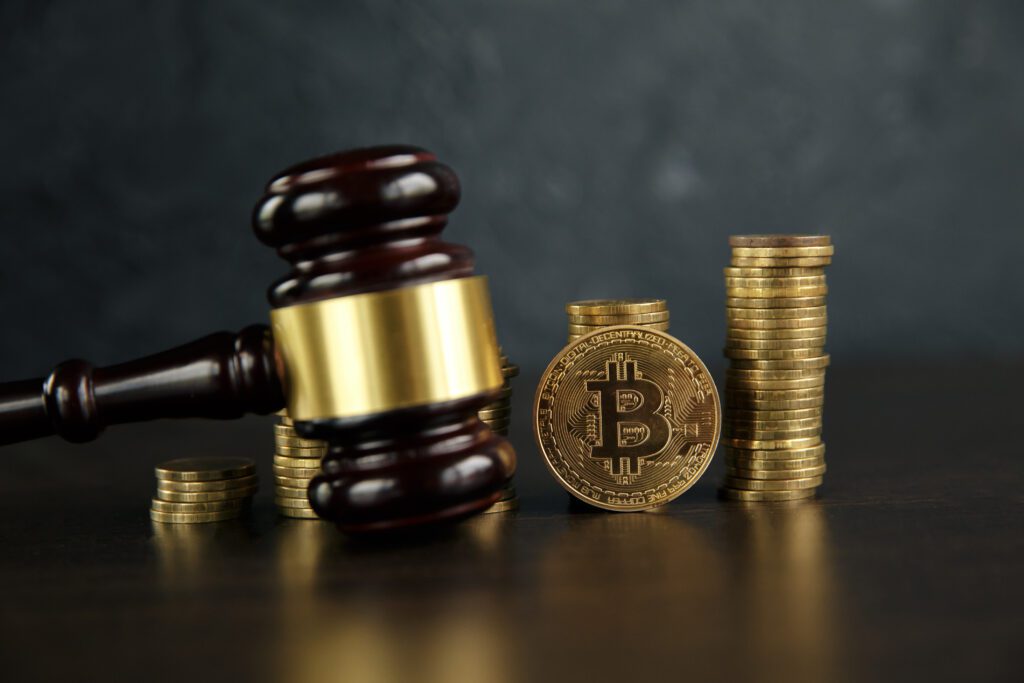 What is this article about?

The development around the regulatory treatment of crypto and stablecoins in the EU and UK.

Why is it important?

The arrival of formal crypto rules will aim to provide greater protection to consumers and make the market a safer place.

What's next?

The EU's tailor-made regulation comes into force in 2024 while the UK approach remains unclear, with the potential it could mark one of the first major divergences from the bloc it broke away from.
With purpose-built regulation set to come into force in the EU next year, can the UK catch-up and offer clear guidance for crypto and stablecoin issuers.
It is fair to say that while Bitcoin and its peers are now a far cry from little-known digital concepts used primarily on black markets, much of the activity connected to crypto assets has continued to take place in a legal no man's land across the globe.
But this is no longer to be the case in the European Union, which has become the world's first jurisdiction to introduce a regulatory environment specifically for overseeing crypto assets in May, confirming the Markets in Crypto-Assets Regulation (MiCA) will enter into force in June 2024.
MiCA, a purpose-built regulation, will bring crypto assets and their associated issuers and service providers under a harmonised legal framework for the first time. It will allow crypto exchanges and digital-wallet companies to offer regulated services across all 27 member states and requires stablecoin issuers to hold sufficient reserves.
Years after its breakup with the EU, the UK government has not unveiled any of its own rules, but has signalled its intention to do things slightly differently. It will aim to place the regulation of crypto assets within the framework of the existing Financial Services and Markets Act (FSMA) rather than create entirely new legislation, as per its consultation paper published in February.
This came after it announced plans last year to become a "global hub" for the crypto industry. Understandably, the industry was left unnerved by the UK government's Treasury Select Committee call in May to regulate cryptocurrencies as gambling "given the significant risks they pose to consumers".
Tash Powell, chief compliance officer at crypto-dedicated payment services provider BCB Group, says the committee's comments were "unhelpful" but stresses they are "out of kilter" with more nuanced statements that have come from prime minister Rishi Sunak and Andrew Griffith, the UK financial services minister.
"MiCA is a game-changer, and Europe is set to become a highly attractive proposition for global crypto players. This sector is crying out for regulatory stability. For the UK government to realise the potential it unlocked through Brexit we need our policy makers to move dynamically and responsibly," she says.
Powell adds that she believes the Financial Conduct Authority's imminent rules on crypto financial promotions sends a strong message to the market, and says the regulator is "doing the hard work needed on its side" to better support a smooth authorisation and licensing process.
Where exactly does the UK plan lie in relation to its European counterpart?
Dion Seymour, a director at tax firm Andersen, says that the UK approach of using existing rules can give it an edge in the race to attract crypto business.
"There is already a degree of certainty and familiarity with current rules, so personally I believe that will make them easier and faster to amend for crypto as and when needed in the future," he says.
One way the UK could position itself as a more favourable destination for providers than its EU counterparts is to include areas not touched in the MiCA regulation, that will likely have to be addressed down the line in an updated version, Seymour adds.
"Both decentralised finance and NFTs – despite the latter being less popular of late – aren't addressed in MiCA. People need to know where it stands on these."
Perception is everything
The EU has made sure to highlight the ease in which potential customers will be able to "passport" their services throughout the bloc, which comes enveloped with greater investor protection and enhanced financial stability.
Seymour says that while the UK approach is sensible on paper, "the EU is winning the immediate battle" as companies may opt to operate in MiCA-regulated countries as they've positioned themselves as more friendly and open for business.
"You can have the best regulation in the world, but if it's not enough to entice, there is little point," he says. "The UK needs to start heralding the changes it wants to make. It speaks of becoming a 'hub' for crypto, but we haven't seen the rubber meet the road, or any concrete proposal on what that actually means."
There is an area where regulation converges and remains unclear. Under the Payment Services Directive (PSD2), some payment service providers don't need a licence for traditional payment services, for example when the payment instrument can only be used within a limited network of providers.
But under the terms of MiCA, the same provider could require both a PSD2 and MiCA licence when engaging in crypto tokens, which may ultimately dissuade new players from taking part in such technological advancements within the decentralised payment system.
Hogan Lovells senior adviser Lavan Thasarathakumar, formerly a UK adviser at the European Parliament, says that MiCA is positive but has a certain clunkiness to it. This is because prospective crypto asset issuers will have to conduct lengthier EU legislation analyses to ensure they comply with a host of other regulations such as MiFID.
"MiCA applies when all existing financial regulation is disapplied, so it is not quite neat. People don't mind strict rules, they just want to know what the rules are. Clarity is the real battleground here – ultimately it will come down to who can be most clear," Lovells adds.
While the industry waits for the UK's take on how crypto will be overseen, the clock is already ticking in the great marketing campaign game.