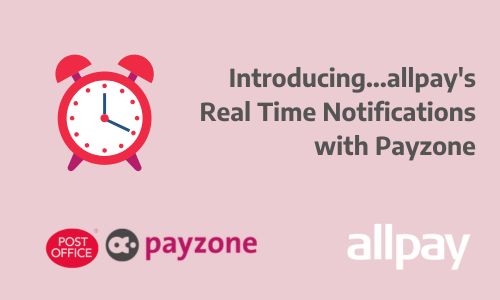 Payzone and allpay are excited to announce the official launch of their latest enhancement to their payment solutions portfolio providing real-time payment notifications to clients using the Payzone network for rent, bill or debt collection. As of the 1st of April, all clients who opt for the Real Time Notifications solution will now receive alerts when a customer completes a payment transaction, improving productivity and providing up-to-date payment information.
Real-Time Payment Notifications deliver updates in real-time to businesses for all transactions, including successful payments, declined payments, and refunds. This feature will greatly benefit rent, bill, and debt collectors, allowing them to update customer balances faster than waiting for the Payment Information Files (PIFs), which take a day to come through. Real-time updates are particularly important for urgent payments like eviction cases, debt repayments, deposits, and court fines.
Tony Killeen, CEO of allpay, said, "We are excited to launch the next level of our payment solution offering with Real Time Notifications improving efficiency, better management, and productivity. It is essential for businesses to be able to monitor and react to transactions, particularly when it comes to payments and consumer satisfaction. Through our collaboration with Payzone, we are innovating the future of payments over the counter."
Real Time Notifications will also provide clients with valuable data insights into their customers' behaviour and product effectiveness. By focusing their debt collection efforts on customers who haven't paid, they can save money and improve customer experience. Payment Information Files will still be available the next working day, but the Real Time Notifications solution will offer an additional service to clients who need real-time updates.
To learn more about Real Time Notifications and how it can benefit your business, visit the allpay website or get in touch with the team today.
About allpay
allpay is the market leader of bill payment, prepaid and card payment solutions, delivering innovative and value-added services. With over 25 years' experience, allpay has the capacity and resources to manage all payment flows, utilising the most cost-effective technology available. Our aim is to work with each of our 980 public and private sector clients to optimise and secure incoming and outgoing payments to reduce costs and increase efficiency resulting in us processing over £8.5bn of payment transactions per year for some 4.5m+ end customers.
For more information please visit: www.allpay.net
About Payzone
Payzone has provided bill payment services to independent retailers, multiples and symbol groups across the UK for over 30 years. Payzone is now part of the Post Office network, and since joining with them, has grown its network to over 24,000 stores and branches across the UK. With over 500 million bill payment transactions made annually, these additional services attract more customers to stores, increasing revenue for retailers.
For more information please visit: https://www.payzone.co.uk/