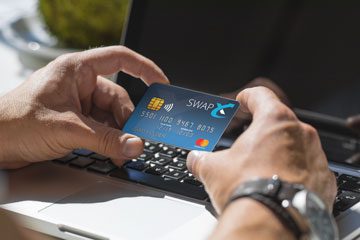 Consumers can use their SWAPX card account to load funds in EUR and GBP and SWAP into the in-country currency at the ATM, or when they spend abroad
SWAPX lets consumers access the best rate available beating the High Street by approximately 4% and airport kiosks by up to 8%.
SWAPX Mastercard® will dynamically swap into the in-country currency at a fraction of the cost normally provided by the bank
London, April 2018: SWAPX, in collaboration with leading payment issuer processor Global Processing Services (GPS), today launches their consumer travel card that allows customers to 'swap' and 'spend' in local currencies when making foreign payments.
SWAPX has the aim of making travel money free by creating their own exchange – fuelled with currency which is swapped online and on mobile, peer-to-peer, from one traveller to another.
The travel card allows customers to send money to other SWAPX cardholders through one app, making the funds available instantly while benefiting from access to the best exchange rate possible, beating those of the High Street by approximately 4% and airport kiosks by up to 8%.
The SWAPX travel card can be used anywhere where Mastercard debit cards are accepted, and the features of its mobile app allows the cardholders to track their spending in real-time, set individual balance alerts and use the SWAPNOW function in the Global SWAPX Exchange, to automatically swap funds into the currency they require at the fraction of the cost normally provided by banks. Both the app and web portal provide cardholders with the same high level of high security as with managing bank accounts online. Cardholders can access different features such as controlling their card directly through the SWAPX app and instantly block the card if lost or stolen.
With the increase of cross-border travel becoming accessible to all, and in the UK alone, travel and tourism directly contributed to GBP 69.4bn to the national economy in 2017, showing a 2.9% growth from the previous year according to Travel and Tourism Economic Impact 2017 report by World Travel & Tourism Council. Travel and tourism is set to significantly grow and the SWAPX travel card offers consumers the possibility to save on FX fees while travelling and spending money overseas.
To further support their expansion plans, SWAPX will be looking into external private equity funding, and other partnerships, in the coming months.
Suresh Vaghjiani, Managing Director at Global Processing Services, comments: "SWAPX are demonstrating how consumers today can be provided with real money-saving, convenient payment alternatives on a global scale. Our GPS Apex platform and its Multi FX-functionality enables organisations like SWAPX to launch new products to the market with consumer-centric solutions."
Simon Miles, CEO at SwapX, comments: "Having worked in the commercial foreign exchange sector for many years, it was clear that the travel market still had gaps to fill. We felt that if you could facilitate putting in contact someone who had the currency you needed, then the ability to swap it at the true rate of exchange would be very appealing for consumers."
-ENDS-
About Global Processing Services
Global Processing Services (GPS) is the issuer processor enabling many of today's most high-profile fintech innovators and disruptors. It is certified by Mastercard and Visa to process and manage any credit, debit or pre-paid card transaction globally.
GPS enables the emerging payments industry to deliver breakthrough innovations through a unique combination of proprietary technology, its people and partners.
At the heart of its capability is GPS Apex, its single global issuer processing platform. Built entirely by its own payment experts, GPS Apex offers easy integration with Issuers, Programme Managers, card manufacturers and many other service providers.
It has integrated with over 40 issuing banks globally and operates programmes for 100+ clients in 60 countries using over 150 currencies, enabling its clients to innovate and deliver exciting new value propositions for end users around the world.
For more information: http://globalprocessing.net/
About SwapX
SWAPX was created with the aim to become the best value travel money service anywhere. Our mission is to make travel money free. With SWAPX you can SWAP & SEND travel money in multiple currencies at the true exchange rate, saving money every time.
Each user account contains a multi-currency digital wallet, which is linked to a primary SWAPX multi-currency prepaid MasterCard®. You can use your SWAPX card to spend money anywhere MasterCard® is accepted, in millions of locations around the world.
SWAPX is also a complete end to end API driven solution for global spend and pay requirements. Linked to the SWAPX integrated programme management facility with MasterCard, EMEA PLC can now issue cards to employees, contractors and partners.
Through our online portal and mobile they can upload currency to multiple cards at once, controlling the FX rate that they spend at, and control all of the administration of their cards from one convenient portal. All of our technology is proprietary, so we can provide a fully integrated white label offering to any regulated entity who wishes to issue cards with their own branded identity.