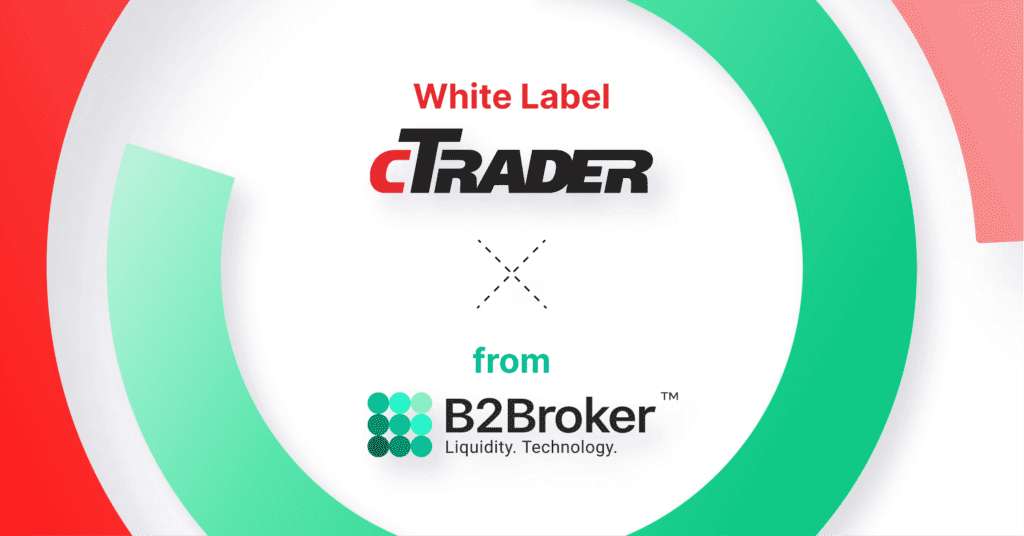 Are you interested in getting started in the world of online trading? Or do you already have a brokerage that you want to improve? With its new cTrader White Label product, B2Broker, a major provider of technology and financial services for the FX and crypto sectors, has what you need. With this service, brokers may provide their clients with access to one of the most popular multi-asset trading platforms on the market. cTrader is popular among experienced traders because of its comprehensive features and tools. If you want to provide a holistic trading experience to your clients, go no further than the new B2Broker's cTrader White Label solution.
What is cTrader White Label?
Our new platform enables both institutional enterprises and retail firms to build personalized service that represents each company's unique taste or preference. White Label cTrader is a trading system that allows you to start your own Forex, cryptocurrency, or multi-asset brokerage swiftly. It may also be branded in any design style conceivable, allowing any organization to create a unique experience for its consumers. Starting your own brokerage or growing your existing brokerage is easier than ever with White Label cTrader.
There is no need for extra expenditures, such as obtaining a cTrader server license, making the necessary modifications to settings and configurations, or locating and integrating a trustworthy liquidity source – all you need is included in the White Label cTrader. 
In addition to a help desk that is available at all hours to address any issues or respond to any questions, the White Label cTrader provides access to a fully functional, tested solution for your brokerage, eliminating the need for crypto processing, back-office integration, or infrastructure setup. 
cBroker – A Powerful Add-on for White Label cTrader
cBroker is a cutting-edge new program that offers a complete back office solution for customer account administration and trading issues. The interface of cBroker provides users with total control over the trading environment, as well as access to all operations and data in their entirety. You have all you need with cBroker to keep up with the ever-changing world of online trading.
Copy to Profit – cTrader Cory
The cTrader Copy platform is the perfect tool for traders who want to easily copy the strategies of other traders, or for those who want to offer their own strategies for copying. With a user-friendly interface and a wide range of options, cTrader Copy makes it easy for anyone to get started with investing. And with the Copy Stop Loss feature, you can always be sure that your investment is protected.
cTrader Open API
There are many platforms available on the market today that do not offer the ability to create a personalized trading interface. However, with White Label cTrader, you can adapt the interface of the platform to better reflect your company's image and meet the needs of your traders. But the cTrader open API allows you to build your own platform on top of it. That makes it possible to make your own applications for your clients.
If you're looking for a way to easily add cryptocurrency trading to your existing brokerage, cTrader White Label is a great option. It integrates seamlessly with your trader's room, so you can continue using all your key trading functionalities and other applications you may wish to use. You can create the perfect customer interface or use one of the many popular ones already available, such as TradingView or others.
cTrader White Label is the perfect solution for those who want a personalized trading experience. With custom labels, graphics, and user interface preferences, cTrader White Label has everything you need to make your trading platform unique. Technical analysis indicators and programs are also available to help you make the most informed decisions possible.
The Prime of Prime Liquidity Pool 
The Prime of Prime Liquidity Pool included with the cTrader White Label solution allows you to obtain the best rates from top prime brokerage banks, prime of primes, and financial institutions. Seven major asset classes — FX, Metals, Commodities, Indices, Cryptocurrencies, Equities, and ETFs — all covered by Tier 1 Liquidity and represented by more than a thousand trading instruments — can be traded using this system. 110 FX symbols and 150 CFDs on cryptocurrencies are included. You can be sure that you'll have access to the best items on the market, regardless of what you want to trade.
Сommentary of B2Broker
The B2Broker cTrader White Label platform is the ideal choice for anybody wishing to start their own FX, cryptocurrency, or multi-asset brokerage company.
"cTrader is a well-known platform with a proven track record of success, and it is used by all the market's top brokers. A quick search on the Appstore for cTrader will reveal all the major companies that use this platform.
We believe that in today's ultra competitive markets, every broker must offer a wide variety of trading platforms to its clients. Otherwise, the broker would lose clients who wish to trade on the cTrader platform. In addition to the traditional trading capabilities provided by the MT platform, cTrader will almost certainly attract a new category of traders and investors.
When it comes to managing your crypto brokerage, and its algo capabilities, cTrader is one of the top solutions on the market.
Since 2021, we have been seeing a growing demand for cTrader among cryptocurrency brokers. Since many cTrader brokers use our liquidity offering, we decided to open a whole new world for brokers that want to grow more sophisticated and cater to traders' needs, rather than requiring them to use a single platform," B2Broker CEO Arthur Azizov.
The cTrader White Label platform from B2Broker is the perfect solution for companies of all sizes who are looking to tailor their trading platforms to their specific needs and branding requirements. With an ever-growing list of features and benefits, the cTrader White Label platform from B2Broker is sure to meet all of your trading needs. Stay tuned for updates, and don't hesitate to get in touch with us to learn more.