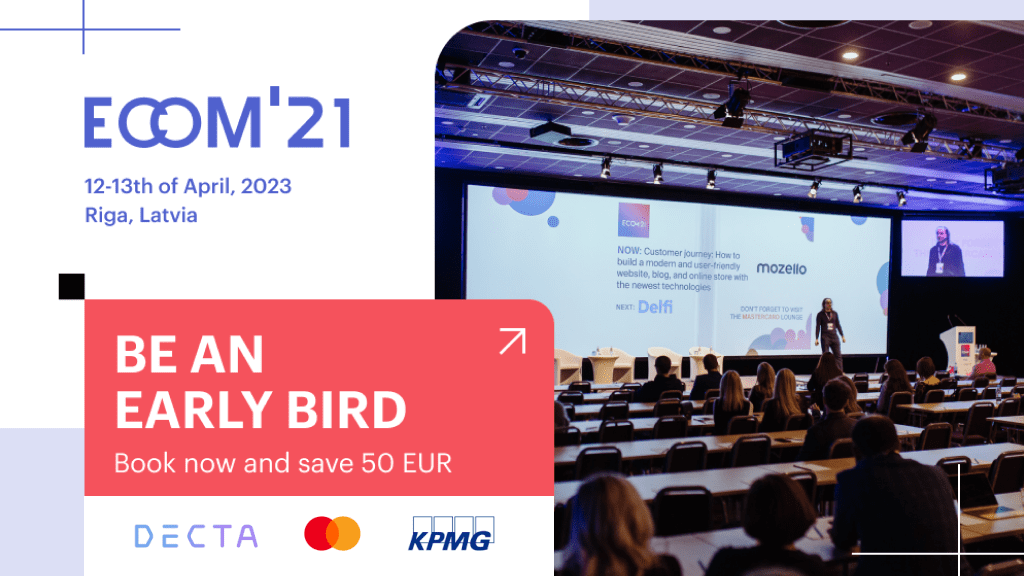 Be ready to enjoy countless networking opportunities, hear from top-notch speakers, attend dynamic workshops and so much more! Mark your calendars for April 12th-13th, 2023.
ECOM'21 is the premier international conference for eCommerce and Fintech held in Riga, Latvia. The top reasons why you should be there:
– Hear inspiring speeches from industry experts & key decision makers in the field
–  Join Start-up accelerator to skyrocket your dreams
–  Make the most of the event with our brand new networking app
–  Enjoy the great venue – spacious and classy Hanzas Perons
–  Meet like-minded people at two networking parties
–  Forget about thirst or hunger – lunch, drinks and snacks are on us!
ECOM21 2023 Agenda
ECOM21 features a comprehensive program designed to address the practical
considerations of its global partners. Grounded in real-world case studies, the
conference program encompasses a range of formats, including keynote addresses,
workshops, panel discussions, and exhibits. With the input of recognized industry
experts, the program has been meticulously crafted to offer a thorough and in-depth
understanding of the latest advancements and trends within the Fintech and
eCommerce industries.
The ECOM21 Conference is honored to host a roster of highly respected keynote
speakers, including Eduards Malcevs – Director of Strategic Partnerships at Httpool,
Lev Bass – CBDO and Co-founder at Huntli, Per Ekwall – Head of Customer Experience
at KPMG Sweden, Iegor Avetisov – Head of Strategic Partnerships at Binance, Dr. Anamika Datta –
Ecommerce Expert at Zalando, Kevin Smith – Co-Founder of RiskSkill, and Norberts Millers – Product Owner at DECTA, and more.
Additionally, the conference will feature several engaging panel discussions, including
'Navigating the Blockchain Landscape: NFTs, Multi-currencies, and Regulation',
'Beyond Discounts: Selling Online with a Personal Touch', and 'Disrupting the Market
with Breakthrough Products'.
The conference will also feature an attendee networking speed-dating session and several impactful workshops, including Findanode: 'Find Your Own Recruiter: Sorted!' and Compliance Experts: 'Get to Know Compliance: 10-Minute Insights with Huntli, Binance, Finchecker, SigningServices'. Furthermore, two additional workshops from Mastercard and Httpool are yet to be announced.