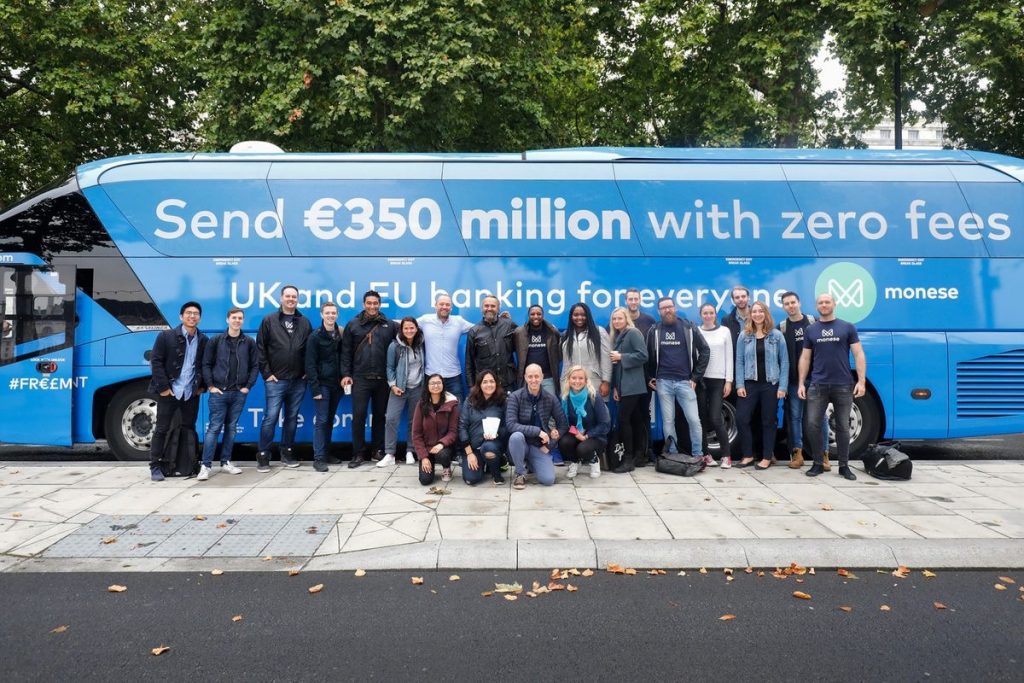 The digital payment and banking partners have completed a tour of Europe in a repurposed Leave Campaign bus
2nd October 2017, London, UK: PrePay Solutions (PPS), Europe's leading prepaid and digital banking services provider, and Monese, provider of instant bank accounts, have successfully completed a European tour to promote the launch of the challenger bank's new Eurozone account.
The tour, which used a rebranded 'Brexit Bus' used by Vote Leave campaigners in last year's referendum, offered new and existing customers the chance to send €350 Million in fee-free money transfers between their UK and Eurozone accounts.
PrePay Solutions' comprehensive prepaid programme management was central to the launch of Monese's full service mobile-only banking account in July, the first of its kind in Europe.
The launch of the new account strengthens that relationship, with PPS having already helped Monese to deliver both UK and Eurozone accounts to over 50 nationalities, and Mastercard-enabled Monese cards in over 20 countries.
Ray Brash, CEO, PrePay Solutions, said: ''Joining our strategic partner Monese for the Europe-wide launch of the Eurozone account is a significant step for PrePay Solutions. By combining our long-established expertise in the digital banking and payments industries, we have rapidly developed and launched a uniquely comprehensive, mobile-first current account that makes international transfers of money easy.''
Customers can register for a Eurozone account via the Monese app while simultaneously holding a UK account. By removing the excessive fees associated with international money transfer, PPS and Monese have allowed individuals to receive salary payments into their local account, even when working in a different European country.
Norris Koppel, CEO, Monese, said: "Since launching in September 2015, Monese has been committed to making mobile money-management more straightforward. Partnering with PrePay Solutions has allowed us to build on that commitment by delivering the new customer-focused Eurozone account. With over 7,000 accounts opened already, we look forward to building on our partnership to break down financial barriers within the EU and beyond in the near future.''
The tour saw Prepay Solutions and Monese pass through Paris, where Monese CEO Norris Koppel met with French Prime Minister Édouard Philippe alongside a delegation of other UK tech entrepreneurs. Having continued through Brussels and Frankfurt, the tour finished in London on Saturday 30th September. The #FREEMOVEMENT campaigners encouraged locals to take pictures and share them on social media with a chance to win competition prizes.
ENDS

 About PrePay Solutions
PrePay Solutions is a one-stop-shop for prepaid programmes. It is a Mastercard Principal Member and a full e‐money issuer, offering a range of services including processing, BIN sponsorship, eWallet provision, compliance and fraud services, supply chain management, customer services and end to end program design and management.
PrePay Solutions manages ground-breaking prepaid programmes for global brands, including prepaid debit cards, travel money cards, gift cards, corporate cards, insurance cards, rewards cards, loyalty cards, staff cards, promotional cards, saver cards, warranty cards, trade in cards, corporate expense and product specific cards. Prepay Solutions' programmes operate across multiple media and form factors, including physical, virtual and NFC. It has over 200 client programmes across 26 countries.
About Monese
Launched to customers in September 2015, Monese was the first 100% mobile bank account in the UK, providing a fully functional, instant-open account that is fit for the on-demand age. To join, users only need to download the app on their smartphone and use it to take a 'video selfie', provide a snap of their passport or national ID, and fill in some basic profile information. Monese closed its Series A funding round in December 2016, taking total amount raised to $16 million.