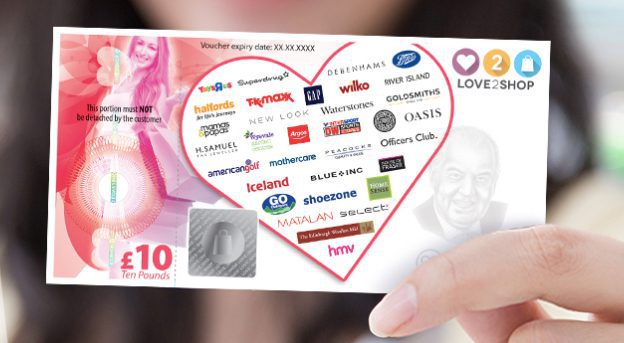 Park Group Plc signs up British retail giant Arcadia Group – owners of Top Shop, Top Man, Miss Selfridge, Dorothy Perkins and Burton– to accept Park's UK-leading 'Love2shop' multi-retailer voucher
Shoe giant Wynsors World of Shoes, leading office and home suppliers Office Outlet – formerly Staples – and online musical instrument sellers DJM Music also now accept the vouchers
Fast-growing UK lifestyle clothing and accessories retailer, Fat Face, also secures accreditation to accept Park's e-money prepaid flexecash® Gift Card
Wirral-based Park Group – the UK's leading provider of prepaid gift cards, multi-retailer gift vouchers and digital rewards services – has signed a new collaboration with British retail giant, the Arcadia Group.
The Arcadia Group which owns a raft of famous high street brands including Top Shop, Top Man, Miss Selfridge, Dorothy Perkins, Burton, Outfit, Evans and Wallis, will now accept Park's UK-leading Love2shop multi-retailer voucher.
And, from this month, shoe giant Wynsors World of Shoes, office and home suppliers Office Outlet – formerly Staples – and online musical instrument specialists DJM Music have also signed up to accept Park's 'Love2shop' vouchers.
The new retail additions mean Park's UK-leading multi-retailer gift vouchers are now accepted by more than 175 national brands and over 20,000 high street stores across the UK, including Argos, Boots, Clarks, Debenhams, HMV, Iceland, New Look, River Island, Matalan, Mothercare and Pizza Express.
"Love2Shop is already the nation's number one multi-retailer voucher, but these exciting new retail collaborations really do open up new, or strengthen existing, markets for us," said Julian Coghlan, Park Group's Operations Director. "The stable of Arcadia Group brands is visible on pretty much every UK high street or shopping centre, so this is a major new signing for our business and really boosts the opportunities for our customers and clients across the UK.
"We're always keen to speak to retail brands who share our ideals and help open the voucher out to new and wider audiences.
"Wyndors is also a really well-regarded brand and they have an incredibly strong footprint across the north of England in particular. Office Outlet – with its 90 plus stores across the UK – opens up more choice for customers and students looking for home and office supplies using the vouchers. And, with DJM Music rapidly growing musical instruments sales online, this expands our offering in this market too."
As well as the new Love2shop partnerships, Park has been working with fast-growing UK lifestyle clothing and accessories retailer, Fat Face, to achieve accreditation for Park's popular e-money prepaid flexecash® Gift Card.
From the summer, Fat Face will accept the card, powered by Park's in-house IT infrastructure, which allows Park to issue and process prepaid gift cards as well as being the acquirer, in a similar way to Visa and MasterCard.
Fat Face's accreditation means that almost 100 brands are now flexecash accredited, including Debenhams, M&S, Boots, Argos, Currys, Wilko and Matalan.
Ends
Notes for editors
For further information, please contact:
About Park Group Plc
Park Group plc is the UK's leading provider of prepaid gift cards, multi-retailer gift vouchers and digital rewards services, to corporate and consumer markets.
Park Group Plc operates the leading Christmas savings business in the UK and Ireland, helping hundreds of thousands of families budget for Christmas each year. Customers pay small regular amounts throughout the year and receive their choice of vouchers, prepaid cards, gifts and hampers in time for Christmas.
Its online voucher retailer, highstreetvouchers.com, also offers a wide range of gift cards and vouchers for next day delivery. Customers can choose cards and vouchers for many of the UK's leading high street stores, plus our own Love2shop multi-retailer option.
For more information on the Park Group Plc visit http://www.parkgroup.co.uk/.
The information set out in this article is correct at the time of going to press.
flexecash is the pre-paid card platform which issues Love2shop cards. This facility is provided by Park Card Services Limited who are Authorised and Regulated by the Financial Conduct Authority to issue electronic money. (FRN: 900016).