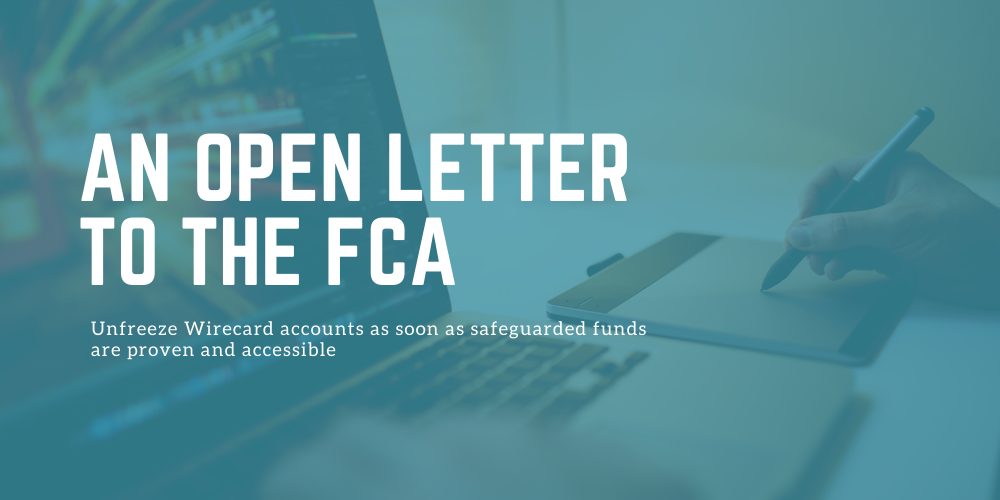 The following Open Letter was submitted to the FCA by the Payments Association in response to their decision to freeze Wirecard accounts…
Open Letter to the FCA from the The Payments Association
Unfreeze Wirecard accounts as soon as safeguarded funds are proven and accessible
The Payments Association and its members strongly urge the FCA to unfreeze Wirecard Card Services accounts, or facilitate a solution to enable safe access to e-money by e-money holders affected, as soon as it can, for the sake of cardholders, companies and their employees, and the UK fintech industry. Without this freezing being removed rapidly, we believe there will be significant and lasting damage to individuals, companies and the UK's current and future prospects as leaders in fintech.
The current situation
Companies across the payments ecosystem, from programme managers to schemes, retailers to processors, have been seriously affected by the FCA's decision to suspend Wirecard Card Services on Friday. Consumers across the hundreds of prepaid programmes, especially those who are more vulnerable and disadvantaged, are suffering from lack of access to their money.
The Payments Association condemns the alleged wrongdoings at Wirecard AG group in Germany and shares the FCA's concerns about protecting customer funds and ensuring that cardholders' money is in UK safeguarded and ringfenced accounts to cover their balances. We also support the FCA's decision to freeze accounts on Friday, to allow you to determine that UK safeguarded accounts contain at least 100% of cardholder balances.
Impacted stakeholders
The Payments Association had initially expected that the FCA could have determined that customer funds were safe and in the UK without the need to suspend Wirecard Card Solutions. But having made your decision to suspend their license on Friday, this is already having a significant impact on three groups of stakeholders:
Cardholders, especially the financially excluded
Friday was payday. Those receiving payments onto their prepaid accounts such as Pockit and The Change Account which includes vulnerable people, those without access to mainline banking, those with low incomes on benefits programmes, and young people, will not receive them. They will be unable to pay other bills including food, utilities and direct debits. A few will be merely inconvenienced, but many will suffer and some will become emotionally distressed and traumatised, with unknown consequences to their wellbeing and health.
As Neil Harris, Chairman of The Inclusion Foundation CIC said, 'One company whose cardholders are largely financially excluded reported over the weekend that their call centre has been overloaded with desperate cases. Some were even threatening suicide because they have no money at all. These cards are their only form of spending, encouraged by fintech and accelerated by Covid-19. Knowing that the money is securely held in a safeguarded account does not mean anything to them. They need access to the funds. Now.'
Payments companies and their employees
We believe that the suspension will impact more than 150 companies and thousands of their employees. Not only are revenues no longer flowing, but the costs to service cardholders and to move to alternatives to Wirecard Card Services, a process that takes several months, are significant. We predict dozens of corporate failures, hundreds of job losses and significant reductions in tax payments, unless it is removed right away.
Fintech and the UK's reputation
We are all proud of the UK's leadership on the world stage of financial technology. It has brought investment, commerce, jobs and taxable profits to our country. Unless the suspension is reversed soon, we predict significant and irreparable damage to the UK's reputation for having a thriving, balanced fintech industry supported by an understanding and enabling regulator.
Unfreeze Wirecard Card Services accounts now
Our industry has weathered the storm of the Covid-19 crisis well and enabled the steady digitisation of our society. As soon as the balances of Wirecard Card Services' cardholders have been assured and are in the UK, please unfreeze its accounts; for the sake of excluded cardholders, the payments industry and the UK's reputation as a leading fintech hub.
The longer this lasts the more likely it is to create:
A crisis of confidence among consumers. Consumers have come to trust digital payments and services from non-banks enabled by the e-Money regulations that have worked well over the last 15 years
A crisis of confidence among clients of the emerging payments industry, who have come to rely upon Fintechs to provide high quality, secure services, and those who service it
So, we urge you to release the restrictions on Wirecard Card Services as soon as you can. For the sake of cardholders, the payments industry and the UK.
If we can help in any way, either by communicating to our members and the emerging payments industry, or by providing access to evidence to support the above case, please let us know. We will help in any way we can.
Yours sincerely,
Tony Craddock
Director General
The Payments Association