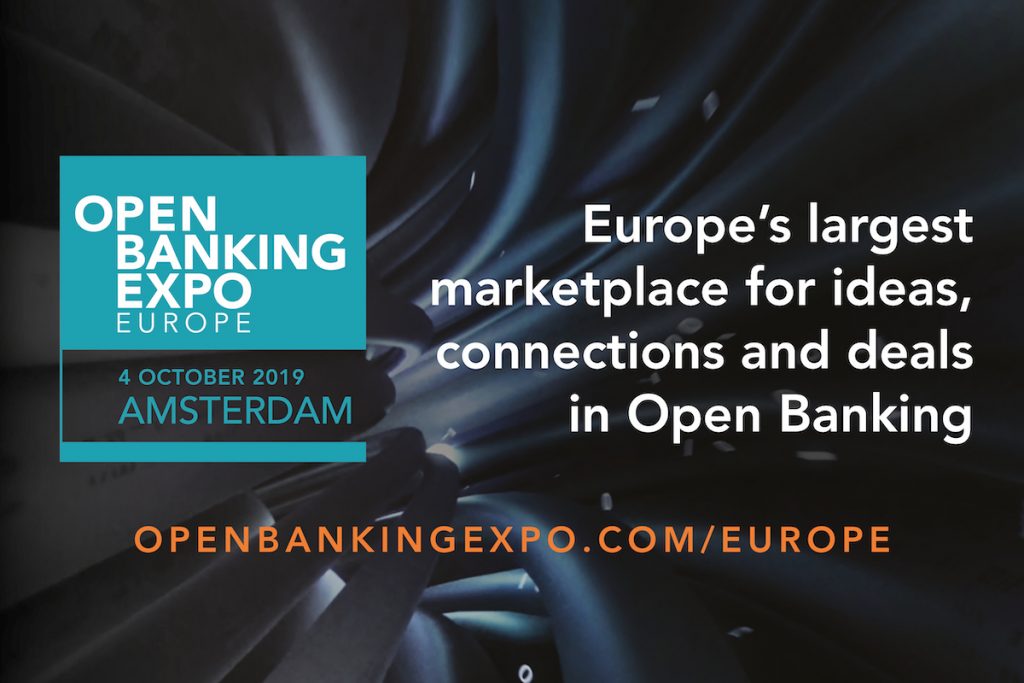 Open Banking Expo has launched its first European event in Amsterdam, in collaboration with Token, which will address the opportunities and risks that Open Banking presents as the financial services sector prepares to roll out the PSD2 directive.
With PSD2 due to go live on 14 September, this event will take place on 4 October 2019, and will bring together a C-level audience from the financial services sector, providing them with an unrivalled forum for ideas, connections and deals in Open Banking.
The conference agenda features more than 20 speakers from 10 European countries, including representation from banks, fintechs, SME lenders and regulators.
The legendary transformation specialist Alexander Zwart – who has propelled FMCG, energy & banking organisations for two decades – will keynote the event, giving delegates a rare insight into how to innovate the customer proposition via Open Banking
Open Banking Expo Europe will be the first event to bring together a pan-European regulatory panel to discuss if there can be one industry standard for Open Banking cross-border. It also features a C-level debate with speakers from Danske Bank, Lloyds Banking Group, Dutch Payments Association and Klarna Bank who will discuss where the opportunities lie and how their organisations plan to enhance consumer adoption.
Real-world case studies will be revealed to the audience; including exclusives from Fortuna Bank, Yolt and the pioneering IATA proposition. Challenger bank trailblazer Ali Nikra,, founder and CEO of bunq, will take the hotseat for a Q&A with the conference Chair where his vision for the future of Open Banking will be uncovered.
ING's global head of transaction services, Mark Buitenhek and BBVA's global head of banking, Carlos Lopez-Moctezuma are also on the expert speaking faculty.
Open Banking Expo launched in London in November 2018, welcoming more than 300 delegates across the globe from retail and digital banks and fintech businesses. As the first market to implement Open Banking, the agenda focussed on the customer experience and how to enhance consumer adoption across the UK. It also publishes a bi-monthly global publication, Open Banking Expo Magazine.
With Open Banking continuing to be a disruptive force of change globally, the need for increased innovation and to fully understand its opportunities and pitfalls will be critical for success and first-mover advantage. Open Banking Expo's European event will provide delegates with unique access to banking pioneers throughout Europe, and an opportunity to question a market that has already implemented Open Banking in its region.
C-level delegates from the leading retail banks, digital banks, fintechs, cards & payments providers and API platform providers are expected to join us on the day. Tickets start from just €599 and can be booked via https://www.openbankingexpo.com/amsterdam/amsterdam-booking-form/.
Managing director of Open Banking Expo, Adam Cox, comments: "'We're excited to bring the Open Banking Expo to Amsterdam with our friends from Token. The UK might be leading the way in creating an Open Banking ecosystem, however, the complexities from a compliance and regulation perspective cross-boarder with continued growth within product innovation meant Amsterdam was the perfect conduit to the rest of Europe. We look forward to welcoming a pan-European audience to the Novotel Convention Center on 4 October."
Token's chief operating officer, Todd Clyde said: "Token has partnered with Open Banking Expo as it explores all sides of the ecosystem, with honest discussions about the challenges as well as the opportunities. PSD2 was just the start of the API revolution – Open Banking is already delivering better payment services, but API fragmentation is creating barriers to innovation. That's why we've developed one API to access any bank and are working to accelerate the adoption of standards; empowering banks to develop new revenue generating solutions"
-ENDS-
Notes to editor