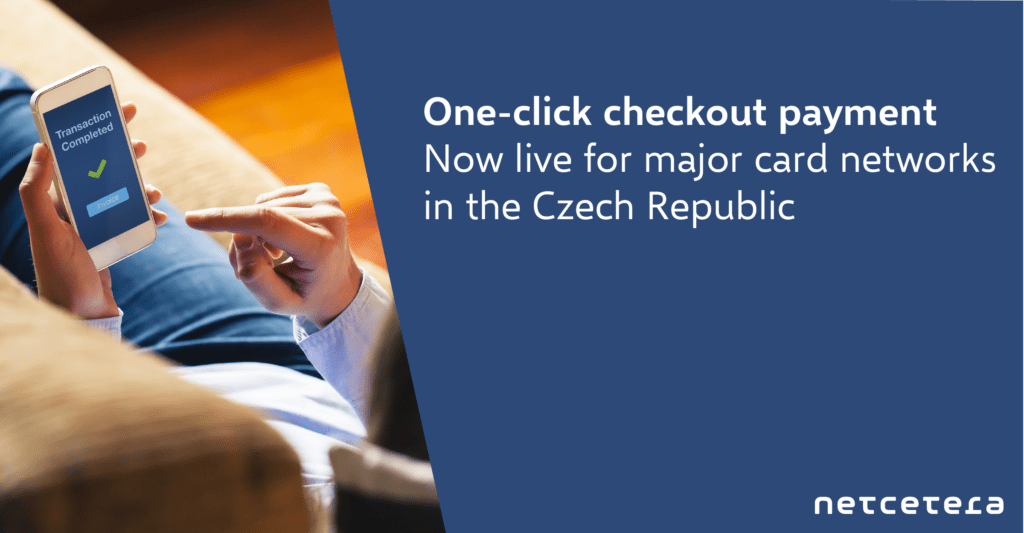 July 2022 brought another meaningful cooperation for the payment expert Netcetera: Together with the global payment player, Global Payments Europe (GPE) providing processing services for issuers, acquirers and merchants mainly in Central Europe, a member of Global Payments Inc. (NYSE: GPN), they advance e-commerce in the region. Recognized as a real expert, trusted, and stable partner, GPE processes more than 2 billion transactions annually. The cooperation between the two payment players resulted in a fully functional operation of Click to Pay (CtP) SaaS solution, thus providing an opportunity to thousands of merchants using GPE´s payment gateway GP webpay in Europe to improve their online payment business with an easy and seamless one-click checkout.
Click to Pay (CtP) is the latest innovative solution with massive support from payment players from all around the world, from payment gateways and merchants to issuing banks. Its acceptance and usage elevate the online customer experience to a much higher level since it is a simple, easy, and secure checkout for the online payment process. CtP is a global digital wallet from card networks with the potential to replace standard card payments (manual entry of card data into the payment gateway). For the merchants, this leads to higher conversions due to the elimination of errors when entering card data, and tokenization of payment cards during the registration process. In near future, there is a possibility to optimize the checkout and delivery process thanks to the transfer of verified data for the completion of the purchase (name, surname, shipping/delivery addresses, email, mobile).
Commenting on this cooperation, Vaclav Kerka, the GPE´s Director, E-commerce solutions said: "We at GPE are very pleased with the Netcetera team's professional support in all project phases. This cooperation means creating a background for a much better payment experience for all online shoppers. We are starting with the pilot operations and enable a simplified checkout experience for our customers." On this occasion, Kerka added: "Balancing simplicity, security and convenience for the online shoppers is something to look forward to with Click to Pay."
To be able to provide the Click to Pay service to their online shoppers, merchants and PSPs need to implement a solution for Click to Pay within their online payment infrastructure. Netcetera's Click to Pay solution consists of two components: Click to Pay Server and Click to Pay SDK. "Our 25 years of experience in secure digital payments brought us to this progressive cooperation that brings payment innovations into reality. We are delighted to be able to support the GPE's payment gateway GP webpay for thousands of merchants across Europe. It means we will improve the shopping experience for millions of customers and enable them to pay the same way every time regardless of the payment card, digital channel, or device they use." stated Petra Paul, responsible for sales and business development in the region for Netcetera.
Netcetera's Click to Pay is exactly what the customers need – a convenient payment method with easy checkout. Click to Pay Server & Click to Pay SDK of Netcetera for Merchants & PSPs is a regulatory and card networks independent solution that breaks down the checkout process for the online customer to one click only. The fast time-to-market introduction that works across all devices means reaching new heights for the business of the merchants who will join this progressive alliance for the acceleration of the digital landscape.