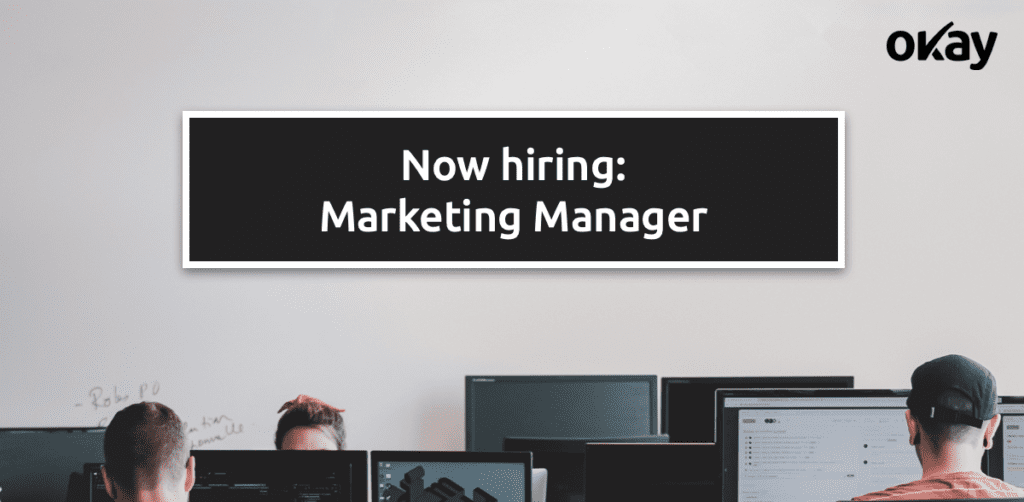 Okay is looking for a driven marketing professional with a passion for thoughtful storytelling. If you are able to communicate a complex product in a simple way and have a passion for all things technical, this may be just the spot for you.
As a marketing manager at Okay, you will be responsible for leading all our marketing and growth efforts. Your main focus will be running awesome campaigns across platforms and with partners, to increase our visibility and contribute to Okay's further growth.
Some of the things you get to work with:
Design, shape, execute, and optimise marketing campaigns
Design and execute go-to-market strategies aligned with overall business strategy
Measure and report performance and impact and use insight and data to focus priorities
Responsible for reaching monthly and annual user growth and lead targets
Manage lead generation strategy across digital platforms
Participate in relevant physical events, including planning and coordinating on Okay's messaging and brand at the events
Manage and sustain a good relationship with relevant trade associations
Create blog content for industry updates
You ideally bring the following to our team:
Documented experience with digital marketing, measuring impact and using insight to iterate and improve messaging
Good technical understanding and experience from working with digital products
Knowledge of inbound and outbound marketing techniques and best practices
Experience from A/B testing
A love for thoughtful storytelling, in a simple and beautifully visual way
Excellent English skills, both written and spoken
A curious nature and ability to handle multiple projects
How we can help you grow:
Okay represents a highly diverse team and can offer varied and challenging work as part of an evolving company. You will be able to put your skills to a test, and help grow the team and the company.
About Okay
Okay is a digital security company, providing PSD2 SCA compliant security solutions. At Okay, we take a paranoid approach to security and through unique security mechanisms, we are able to offer a unique SCA solution. The journey of the Okay solution started out within Protectoria AS as early as 2014, and it was a response to the increased focus on security within the banking industry. The product has kept on evolving and growing, and Okay was finally separated out as a company in early 2020.
We need our Marketing Manager to be on the ground in the UK. You can work from the comfort of your own home and team up with our international team digitally as needed. You will be working with passionate people from our extended ecosystem of experts and insiders;  the New Normal Group, which Okay is a part of.
Apply at: https://okaythis.com/careers/marketing-manager-digital-marketing-manager