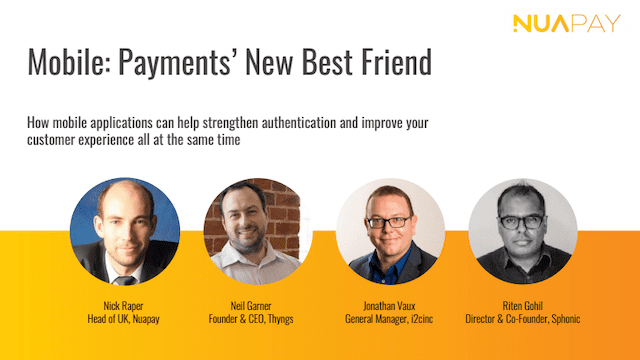 2021 has seen digital payments adoption continue to grow exponentially. Payments regulations intended to protect consumers from fraud are more important than ever. One such regulation is Strong Customer Authentication (SCA), part of the Second Payment Services Directive (PSD2). Yet, research from CMSPI found that 24% of online card transactions could fail when 3DS is introduced. Moreover, research from Nuapay shows that 52% of UK consumers choose their payment method based on convenience and ease of use. With all this in mind, how do businesses balance the need for reliable, frictionless customer experiences with secure payment alternatives.
Enter the mobile phone, and its value delivering secure frictionless payments.
Join Open Banking payment pioneer Nuapay, with a range of experts in the mobile payments, cards and risk space, to learn how payments are changing, and how mobile applications can help strengthen authentication and improve your customer experience – all at the same time.
Speakers:
Nick Raper, Head of UK, Nuapay
Neil Garner, Founder & CEO, Thyngs
Riten Gohil, Director & Co-Founder, Sphonic
Jonathan Vaux, General Manager EU, i2c Inc
Click here to register now: https://www.brighttalk.com/webinar/mobile-payments-new-best-friend/?utm_source=Social&utm_medium=Social&utm_campaign=Huzeyfe