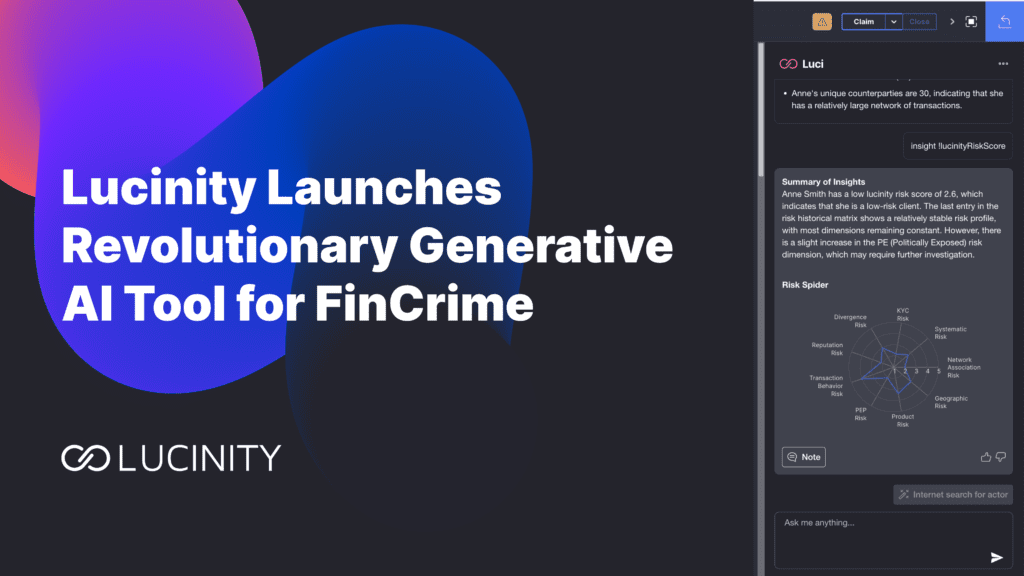 Lucinity's Generative AI Copilot, Luci, transforms the way financial crime prevention professionals work, reducing investigation time from hours to minutes. 
June 6, 2023: At Money 20/20 in Amsterdam, Lucinity, a pioneering AI SaaS company specializing in financial crime prevention, introduced Luci. This ground-breaking product is a copilot powered by advanced generative AI, designed to significantly enhance the productivity of teams working to prevent financial crimes. By rendering complex data into understandable insights in real-time, Luci enables risk and compliance teams to streamline their work, drastically reduce time spent on decision-making, and increase their overall efficiency.
"Luci isn't just an AI tool – it's a game-changer. It represents a significant leap forward in financial crime prevention, fundamentally reshaping the way professionals in this field operate. We're not talking about incremental improvements here; we're talking about turning a process that used to take hours into one that takes minutes," said Gudmundur Kristjansson, Lucinity's CEO and Founder.
Luci uses generative AI to turn complicated data into action-ready insights. It understands and communicates contextual information, guiding analysts toward better decision-making, thereby improving compliance outcomes.
Here are some of the capabilities that Luci instantly brings:
Consistent reasoning: Luci converts complex AI findings into clear insights, removing the need for analysts to sift through complex data.
Instant summarized search: Luci swiftly collects relevant information, conducts thorough checks, and provides crucial risk insights. Luci further summarizes the search results, simplifying data analysis.
Automates tasks: Luci takes care of time-consuming tasks, allowing analysts to focus on more important responsibilities.
Precise narration: Luci writes detailed regulatory reports consistently tailored to regulatory and enterprise guidelines.
Lucinity's proprietary copilot technology was developed on top of Microsoft's Azure OpenAI to guarantee the highest standards of security and responsible AI development. This means Luci can offer top-tier protection for clients' sensitive data while ensuring its transformative services meet all regulatory and enterprise standards.
Customer trials of Luci with Currencycloud, a Visa Solution, and Arion Bank are starting – to prove the real-world applications and benefits of Luci.
"Luci will be a game-changer for us," said Will Staples, Group MLRO at Currencycloud. "Its ability to transform complex AI findings into actionable insights empowers our team to make faster, more informed decisions, saving valuable time and resources."
"Our partnership with Lucinity has been extremely rewarding," said Andrés Fjeldsted, Chief Compliance Officer at Arion Bank. "The Lucinity platform has already made a significant difference in our AML compliance efforts. We are excited about the potential impact of Luci on our operations, particularly in enhancing analyst consistency."
This launch follows Lucinity's recent collaboration with the Bank for International Settlements (BIS) Innovation Hub Nordic Centre on Project Aurora. This innovative project focused on leveraging breakthrough technology and the power of intelligent data analytics to reveal hidden patterns in cross-border transactions while placing individual privacy at the forefront.
"With Luci, Lucinity continues to lead the charge in AI innovation, bringing unprecedented efficiency and accuracy to financial crime prevention. Our commitment to revolutionizing this field is unwavering. Guided by our Ethical AI Pledge, we're using AI not just to create a better product but to Make Money Good," added Gudmundur Kristjansson, Lucinity's CEO and Founder.
To see Luci in action: www.lucinity.com/luci
Press Kit: www.lucinity.com/press
About Lucinity
Lucinity is a leading SaaS AI company that is at the forefront of driving innovation in the field of financial crime compliance. With its expertise and innovative approach, Lucinity is transforming the industry. The company's unwavering commitment to delivering exceptional user experiences is evident in its platform, which provides unparalleled insights through augmented intelligence and generative AI. By leveraging cutting-edge technologies, Lucinity sets new standards to reduce review times, enhance insights, and optimize operational efficiency. Trusted by industry leaders, Lucinity empowers institutions to ensure regulatory adherence, drive operational excellence, and effectively mitigate risks.
More about Lucinity at www.lucinity.com.