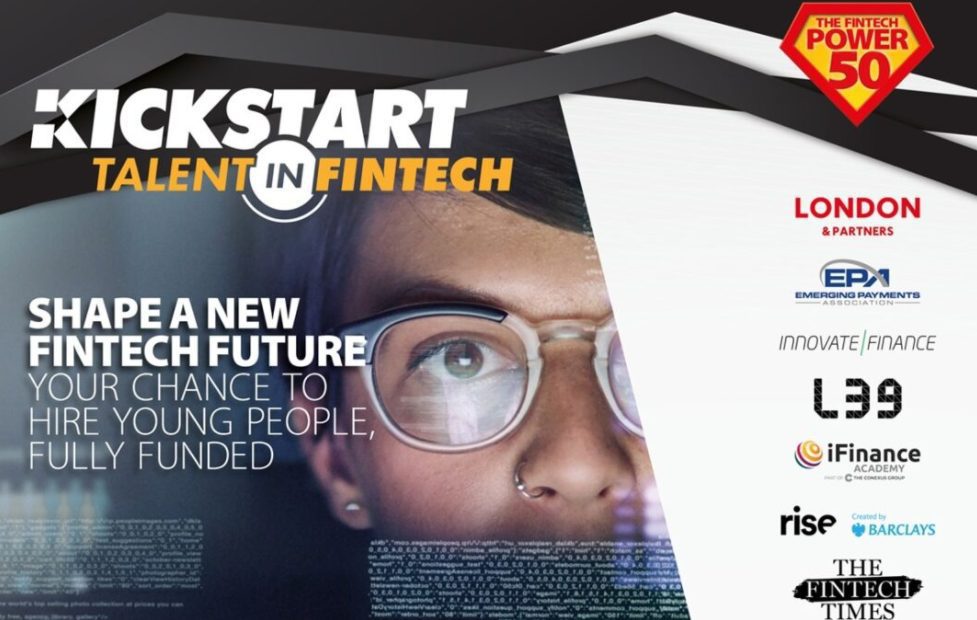 UNDER EMBARGO UNTIL 9AM OCTOBER 28 TH , 2020
The Fintech Power 50 launches the Fintech KICKSTART scheme to provide employment opportunities for young people.
The Power 50 will act as a gateway representative as part of the UK governments Kickstart programme
The scheme aims to help young people back into work as well as help fintech's gain access to the placements and grants to help support start-up/ scale up environments.
EMBARGOED London, October 28 th , 2020: The Fintech Power 50 and its partners ( Innovate Finance, London & Partners, Rise created by Barclays, the The Payments Association and iFinance Academy, part of The Conexus Group) have today announced the launch of the Fintech KICKSTART scheme that looks to champion support across its fintech ecosystem and provide employment opportunities for 16-24 year olds. This scheme falls under the UK governments Kickstart Programme that launched in September.
The Kickstart programme aims to help young people bank into work by creating placement opportunities within companies. These placements last for 6 months and are fully-funded by the government, who will pay the minimum wage for 16-24 year olds for up to 25 hours a week, plus NI and auto enrolments. The government will also pay a £1500 per placement grant to employers to go towards set up costs, equipment and training.
The UK government are requiring companies to take on a minimum of 30 placements in order to apply for the programme. This may be difficult for some fintech start-ups, who may not have the scale to support 30 new employees and their training. To aid in this The Fintech
Power 50 will act as a gateway representative company for the programme to allow fintech's to take on one or more placements, as well as helping to streamline the application process. They have teamed up with many key companies across the sector in order to help fintech's access this scheme where otherwise the likely wouldn't have been able to.
Mark Walker, Co-founder of The Power 50, said: "When the UK Government announced the Kickstart scheme back in early September, I thought it was a fantastic idea. However, when applying the concept to the Fintech sector we found several limitations that made the scheme difficult to access for many companies. In order to bridge this gap, I wanted to form a group of the leading associations, companies, and partners within the fintech world, offering additional support and allowing access to placements that may not have existed without our help. We have brought together the most powerful players in the fintech ecosystem to participate in this scheme, and we want to ensure these placements benefit the young person and the fintech company equally.
"Our main goal is to help as many young people as possible from the worst hit sectors of the Covid-19 pandemic, such as hospitality and retail, to retrain, get experience and start a new fintech career journey. If next year we can say that we helped even just one person get off universal credit and onto a potential new career in fintech I will call this initiative a success."
The benefits of working with The Power50 as a gateway representative include:
The provision of templates to streamline the application process
Due to its audience and partners, The Power50 can attract a larger pool or prospective young people to work with
The administration of applications, bundling them with other companies to hit the minimum of 30
Free listing for placements on TFT jobs board
Start-up orientation eLearning module available to complement the initial training plan
Access to more specialist training options for your placements.
The Power50 already have support from Confused.com, Openpayd, Omnio, Funding Options, Clearbank and Contis who will be helping with the promotion of the scheme and taking on a number of placements themselves.
The scheme has potential to support fintech start-up/ scale up environments with an extra pair of hands, as kickstart employees could provide help within an operation, increase productivity and could potentially grow as future talent within the company. There are no mandatory requirements for the companies to provide permanent full-time employment at the end of the 6-month placement, however there is a hope that the young person would prove themselves, gain work experience and may make themselves suitable for internal opportunities or extended employment.
To be eligible for the grant, Fintech's will need to provide detail on the job type and responsibilities of their placement, as well as provide evidence that it is a newly created role. They will also need to provide evidence of how they will support the young person's future employability (such as through CV help, interview skills training or career advice.)
To apply visit https://www.thepower50.com/kickstart-apply-as-a-company/
For more information visit https://www.thepower50.com/kickstart/ or email kickstart@thepower50.com
ENDS
About The Fintech Power 50
The Fintech Power 50 is an annual guide to the most influential, innovative and powerful figures in the Fintech industry. It acts as a much-needed reminder of all the great things we are achieving in the world of financial technology and shines a spotlight on those who are transforming financial services for the better. As well as showcasing the hottest in the Fintech world, the Fintech Power 50 will also act as a hub that actively promotes its members to a global audience by introducing bespoke networking and event opportunities, organised with partners, such as B-Hive Europe, and London and Partners. Through the Fintech Power 50 organisations, can secure strategic partnerships with both established financial technology leaders with years of relevant experience, and the fresh up-and-coming fintech's looking to collaborate on the next big thing.