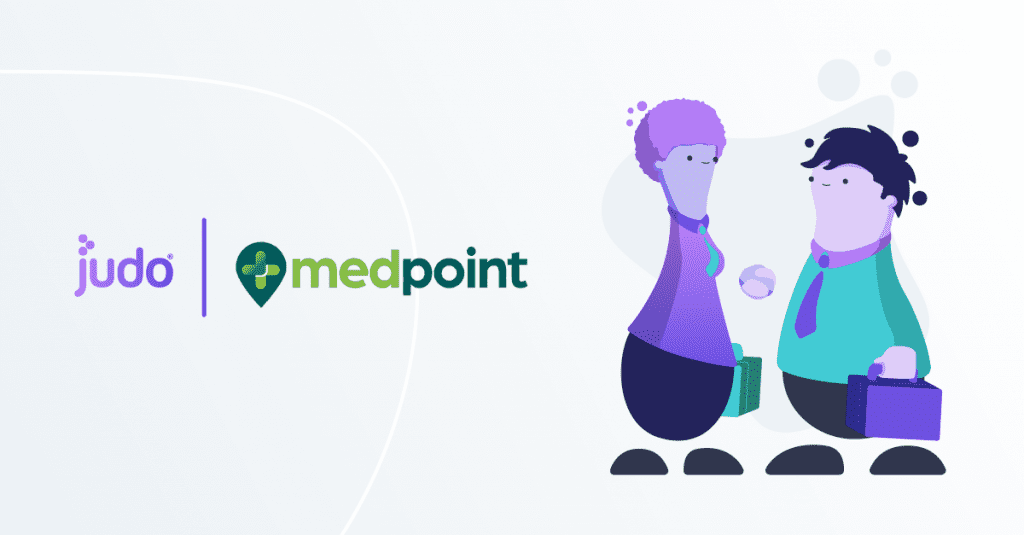 London, UK, 22 June 2021 – Judopay, the leading mobile-centric and fully cloud based payments provider, today announced its partnership with MedPoint, an automated prescription collection system, to enable a safe, quick and secure method for patients to purchase and collect their prescriptions, 24 hours a day, 7 days a week.
The MedPoint system is similar to Amazon collection points, featuring secure lockers where customers can pick up orders 24 hours a day, 7 days a week. MedPoint's touch-free collection points look to revolutionise the way pharmacies interact with their customers both during and post-pandemic. The system can also be integrated with a pharmacy chain's eCommerce app or website, giving patients a seamless end-to-end experience.
At a time when contact has been reduced to a minimum, MedPoint's offering couldn't be more timely. Though even after the current pandemic it will still offer convenience and flexibility to customers, increasing customer loyalty and freeing up pharmacists' time. Judopay will be using their extensive experience in enabling businesses to take safe and secure payments, to enable MedPoint to change the way British pharmacies operate. It will mean working alongside MedPoint to promote a solution that can be installed at any pharmacy, from a local independent shop to a national chain.
The experience of the pandemic has meant that consumers are increasingly embracing digital solutions to purchase or collect goods. Pharmacies have had to put restrictions on how many customers can enter their premises and those shielding or with compromised immune systems aren't currently able to visit stores at all. Even if the pandemic were not a factor, there are times when many consumers have been unable to collect medication because they can't get to a pharmacy during business hours. As a result, MedPoint's solution will improve customer experience and save pharmacists' time that can be better spent solving customer queries and building relationships.
Richard Morgan-Green, Sales Director at MedPoint, added: "We chose to partner with Judopay as our partner for our 24/7 Prescription Collection Points because it was the best, most seamless digital payment solution on the market. Although we completed our due diligence on the market, Judopay really understood what we were looking to achieve for our customers. They are a great company and team to work with and they really understand what their customers want."
Jeremy Nicholds, CEO at Judopay, said: "Our partnership with MedPoint is solving a clear challenge in the market by removing any potential risk of infection or unnecessary human contact for when patients are purchasing their repeat prescription, medicine orders or general medical goods. Judopay is leading the way with MedPoint to bring innovation to an industry that's been slow to change."
To learn more about the Judopay, please visit: judopay.com
About Judopay
Judopay is the leading mobile payments platform. Born out of the frustration with friction-filled checkouts we built a flexible solution designed to drive sales and improve the customer experience. Working closely with partners such as Mastercard, Discover and Visa, Judopay is continually building ways to enhance the overall payment experience for both the merchant and their customers. Available across multiple sectors, our solution is used by KFC, Connect Cashless, Click Energy, Countrywide, The Pharmacy Centre and Brakspear and many more.
For more information please visit: judopay.com or find us on Twitter: @Judopay
About MedPoint
MedPoint is a British-made prescription collection point that provides a safe, quick and secure way for patients to collect their repeat prescription or medicine orders, 24 hours a day, 7 days a week. Automated prescription collection through MedPoint gives patients convenience, whilst increasing customer loyalty and free's up pharmacist's time, allowing them to provide additional customer care and increase revenue generating services.
MedPoint provides the safest and fastest automated prescription collection machine on the market today with its unique auto scanning facility that ensures that no patient ever gets the wrong Medication. It also brings true automation benefits to a pharmacy rather than creating another job in an already busy environment.
MedPoint is the only automated prescription collection company that is designed by pharmacists, for pharmacists and that is why it fits seamlessly into any pharmacy workflow. It is also very proud the only pharmacy automation system to carry the Made in Britain stamp of approval.
For more information, please visit: medpointuk.com/