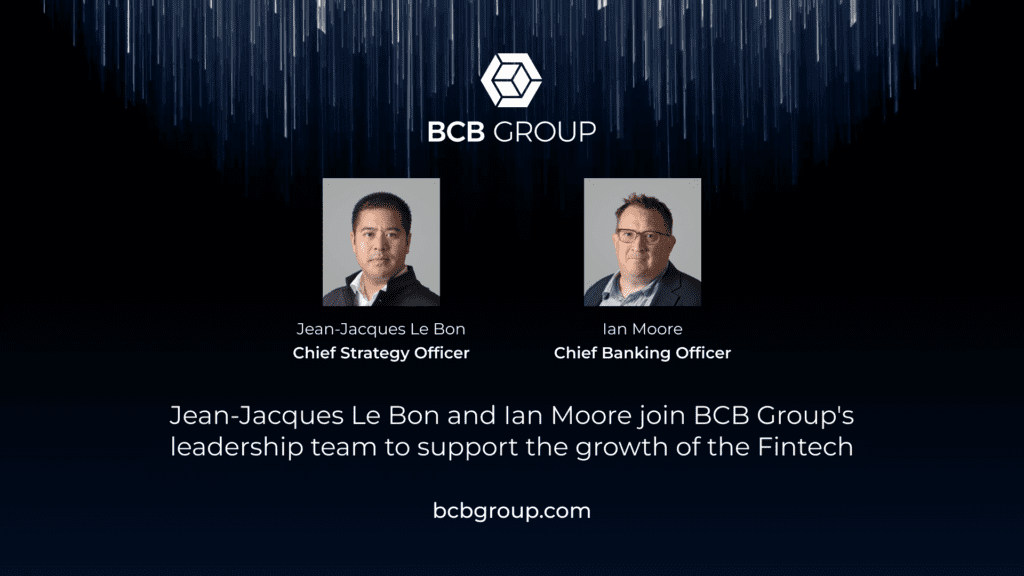 London, 7th February 2023 – BCB Group, a leading provider of business accounts and trading services for the digital asset economy, has appointed two new executives to its leadership team. Jean-Jacques Le Bon joins as Chief Strategy Officer to support future growth and strategic scaling efforts. Ian Moore is appointed as Chief Banking Officer and will drive BCB Group's expansion in the banking industry.
Jean-Jacques joins from the B-part consulting group, which he co-founded 12 years ago and turned into a leading Fintech consultancy firm advising the likes of Revolut, Edenred, Ebury, Railsr, Qonto as well as banks: Credit Agricole, BPCE, BNP Paribas and many more. He led teams responsible for building greenfield-regulated banks, electronic money, payment, and crypto-licensed institutions in Europe, Switzerland, and Africa.
Jean-Jacques brings extensive experience working with regulators – including ACPR, CSSF, BaFin, BNB, CBI, FCA, FINMA, BAM, and BCT – as well as in-depth knowledge about scaling up Fintech startups to BCB group.
Prior to working at B-part, he worked as a retail banker for BPCE. There he held various roles; as chief of staff, he was responsible for strategy, and as a project leader, he oversaw the merger and the necessary IT migration project between 3 regional banks, which created Paris' largest regional bank.
Jean-Jacques comments: "I'm very excited to join BCB Group at this interesting moment where more and more institutions and businesses are adopting digital assets. BCB has established itself as a leader in catering to them, and I'm looking forward to contributing my knowledge and experience, and to working with the talented teams to achieve our vision."
Ian Moore brings over 20 years experience from tier 1 global banks and has spent time working at a Fintech.  His background is cash, FX and liquidity management incorporating time within Implementations, Product Management and Sales/Coverage, seen as a Subject Matter Expert within the regulatory landscape. He's spent time at Citi, JP Morgan, Deutsche Bank and lastly Paysafe Group.  As Chief Banking Officer for BCB, Ian will leverage his banking relationships expertise which extend to cryptocurrencies, to further enhance BCB Group's global banking landscape and bring TradFi expertises to the CeFin and DeFin world.
Ian comments: "I am super excited to join BCB Group to bring my banking expertise to the crypto ecosystem and to normalise and bridge the gap between traditional banking and the digital asset space.  In a short period of time,  BCB has established itself as the leading name within the crypto payment space and with its strong and experienced management, its solutions and client base will continue to be the market leader within the payment environment for the crypto industry and I look forward expanding the banking landscape further in line with their vision"
Founder and CEO Oliver von Landsberg-Sadie comments: "There is only one way to build the kind of banking and payments infrastructure for the crypto industry that will endure all the stress tests, market volatility and regulatory complexity unique to this space, and that is to bring the very best talent to the task. JJ and Ian can draw on their outstanding track records in strategy and banking to help BCB achieve its core mission swiftly and decisively. Proud to have them on board."
With a dedicated focus on institutional payment services, BCB Group provides business accounts, cryptocurrency and foreign exchange market liquidity for some of the world's largest crypto-engaged financial institutions. BCB Group is the only multi-regulated institution of its kind to offer clients a complete end-to-end suite of payment processing, cryptocurrency trading, investment strategies and custody services accessible through a unified API-enabled platform, allowing clients to access an entire range of digital asset services in one place.