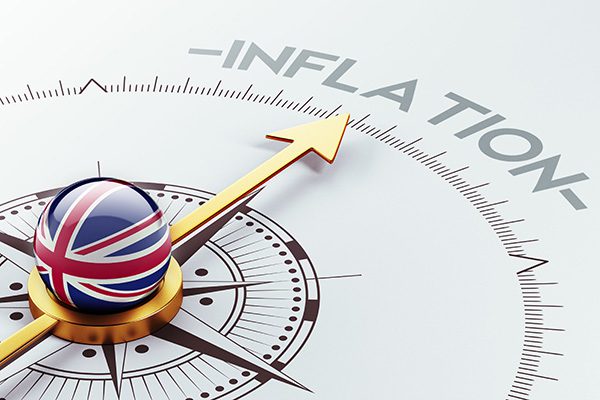 While inflation remains a key factor behind consumer spending, the main risk to payment companies is no longer volumes, but margin, and this is set to come under more pressure in the coming months.
Falling inflation is the new game in town, as the economic battle of the past two years is flipped on its head. For the UK, which is lagging behind both the EU and US in terms of addressing this, a bumpy road lies ahead.
In brief, it is abundantly clear now that consumer pain and spending trends will further diverge depending on the region. Interest rate cycles have decoupled globally. Yes, the volume growth outlook for payments companies looks strong, but inflation data is still key, by country, to determine where, when and how to launch product and invest.
Also, the main risk to payments companies' revenues is not processed volumes, it is margin – and big tech and the banks will only make this worse in coming quarters.
In the UK, a record high of 7.8% in wage inflation (the three months through to June) offset the good news of a fifth consecutive monthly fall in grocery price inflation (now 12.7%). The Bank of England still faces a very difficult balancing act to tame inflation, though July's headline inflation rate (CPI) of 6.8%, down from 7.9% in June, suggests that some headway is now being made.
China, for long the global engine of growth, may be entering a deflationary slide with consumer and producer prices both declining in July for the first time since November 2020. This may prove to be the canary in the coalmine, signalling building pressures and weakening demand.
US inflation data released on 11 August, which was slightly higher than the consensus, further confused the Fed's ability to begin to cut interest rates. However, at 3.2%, it confirms how far behind the UK is.
Renowned hedge fund manager, Pershing Square's founder Bill Ackman, stoked the debate in early August, positing that longer-term inflation levels are likely closer to 3% than 2%. This is fuelled by deglobalisation, the energy transition and greater bargaining power of the workforce.
If he is right, bond yields are still too low and interest rate cut expectations too aggressive. As the Fed's annual interest payment bill nears $1 trillion, the cost of getting it wrong has never been higher.
The same is more than true of the UK economy. More of this later. For now, and for the payments industry, the burning question would therefore seem to be how and where will easing inflation affect consumer spending trends?
UK: consumer confidence vs household consumption vs discretionary spend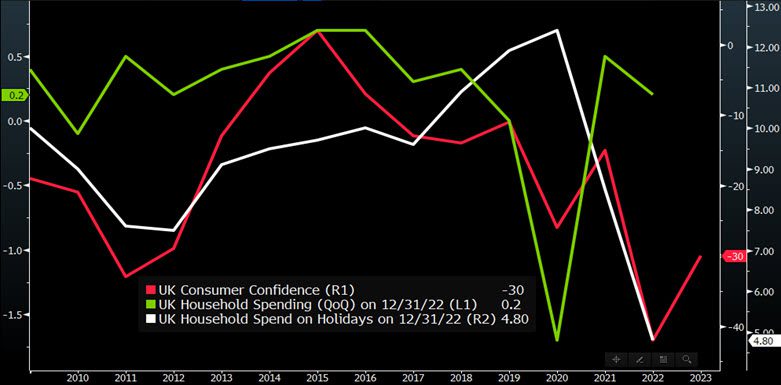 As the chart above shows, consumer confidence is key to spending and, in the UK, it fell to a 50-year low in September 2022 and is still hovering near 2020-pandemic lows.
This has a direct correlation with household consumption growth and discretionary spending – in this case, the green line which shows UK household spend on holidays. Ignore consumer confidence measure at your peril. Where it leads, spending will follow – globally.
The PayPal experience
Twelve months ago, PayPal's CEO Dan Schulman discussed rampant inflation on the Q2 2022 earnings call with Wall Street. He noted how, for example, targeted coupons and rewards at checkout, services like PayPal Honey, would help squeezed customers save money.
Fast forward one-year to his 3 August presentation of Q2 23 results, and Schulman's spin on inflation was notably positive in tone, but investors were left unimpressed.
He said: "Clearly as inflation cools, we would expect to see more discretionary spend rebound. And that will help drive e-commerce."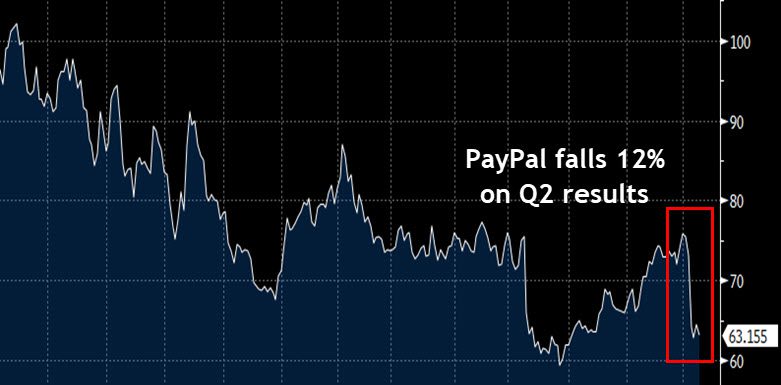 Despite revenues and volumes ahead of expectations, and top-line guidance solid, the PayPal's shares plunged more than 12% on the day.
Block – one of the largest public payments company globally behind Fiserv, PayPpal and Adyen – followed suit the very next day, with shares plunging 13% even as its earnings and top line also beat expectations and followed PayPal with improved revenue guidance.
Adyen's share price also fall on release of its results – down almost 40% on the day – was the starkest reflection of growing margin squeeze.
With 'competition' mentioned 18 times on the earnings call, co-founder and co-CEO Pieter van der Does was very clear when he explained: "We have seen increasing competitive pressure in North America. And that's, to my view, related to a higher interest rate environment. More companies are looking at the bottom line."
So, if the volume outlook for payments companies is actually brightening, and the spectre of inflation is receding, why the doom and gloom? It's about the margin.
As the world normalises, with inflation and interest rates reset higher, payments' revenue and volume momentum still look pretty healthy.
The growing concern is that margin erosion, stiff competition and a further squeeze on the 'take rate' (the fees that online marketplaces of third-party service providers collect for enabling third-party transactions) will erode profitability and cash flow generation.
Revenue outlook is strong
On the way up, inflation provided a useful cushion to payment revenues as the average unit cost per transaction rose, with PayPal's revenue growth versus US inflation a good example, which can used as a good proxy for the UK payments industry experience.
On the way down, discretionary spending strength is widely expected to recover, cushioning the blow and accentuating the long-running battle in online versus in-store payments.
Where is inflation really headed?
To get a medium-term view of where inflation may settle, economists and stock markets use bond yields to guesstimate the average five-year expected inflation rate starting five years from now. Around 2.5% is expected to be the new level for the EU and US – 2.5-3% is a sensible starting point.
A more interesting interpretation of this data is that the UK economy will remain a bumpier, more painful economic ride for growth and consumer spending as inflation holds higher for longer.
This could, for example, mean that products like buy-now-pay-later (BNPL) will be a more appealing sell in the UK, as consumers struggle, than in the euro-zone or the US, even as regulators step up scrutiny of this fast-growing product.
Think growth and innovation from Klarna, Clearpay (Block), Monzo, and banking offerings from the likes of NatWest, HSBC and Barclays.
Will inflation fall while payments revenues hold up?
US inflation is expected to average 2.5% in 2024, from a peak of 8.3% this time last year, with the EU close behind at 2.6%.
This is simultaneous with expectations for payments market growth again on the rise. For example, US branded checkout volumes look set to grow 8-9% this year, on current trend.
Overall, the global payments market could well maintain annual growth of above 10% into 2025, with annual transaction volumes soon breaching the magical $10 trillion figure.
Whether it's for a one-to-three year investment plan; regional product launch; M&A; or public growth targets, understanding the rules of this new inflationary game are a must, and picking the right region to launch the right product is more important than ever.
Rates, rates, rates
Inflation is only part of the puzzle, and here, the UK again remains a notable outlier. Recent commentary and data suggest that interest rates are at or near a peak, and may, in some regions, including the US, soon head lower. This conclusion appears to be increasingly appropriate.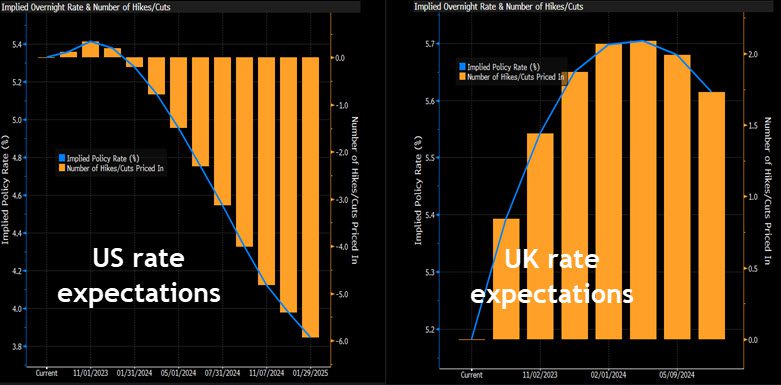 With the US widely expected to start cutting rates early next year (left-hand side of the chart above), the UK's future remains far murkier with more hikes to come and a slower trajectory back towards 5%.
Consumer spending is expected to grow 1.9% in the US versus a 1.3% contraction in Germany and 0.2% growth in the UK this year. A return to 2% spending anywhere outside of emerging markets growth still feels a long way off.
Inflation not the risk, productivity is
Last month's article on the return of M&A appeal to the payments sector showed how reality and common sense had already returned to valuations and growth expectations for the likes of PayPal and its peers.
What now seems increasingly clear is that just as the return of inflation, supercharged by Russia's invasion of Ukraine in early 2022, did not hurt payments revenues as initially expected, falling inflation and all that comes with it, is also unlikely to impact payments growth materially.
The days of QE-fuelled (quantitative easing – think free money) sales growth and the risk-free nature of the post-financial crisis years are over. Risk isn't abating, it is merely shifting form with recession, corporate failures and household pain still masked by years of central bank intervention.
Interest rates and mortgage costs will fall, but by country the story will vary dramatically as consumer pain thresholds are only now being tested.
One thing is assured, however, e-commerce is once again the battlefield for consumer spend as economies try to stave off recession. Zombie companies – defined as those that can only service their debt, not pay it down – are also a growing problem, and the payments industry must do its due diligence on its trading partners.
Inflation a red herring?
Productivity and efficiency are the real threat to payment players as we head into 2024.
Technology, digital transformation and AI are without doubt the bedrock of the payments industry's glowing future and double-digit market growth seems achievable still. PayPal is a great example, and the below chart may prove something of a surprise.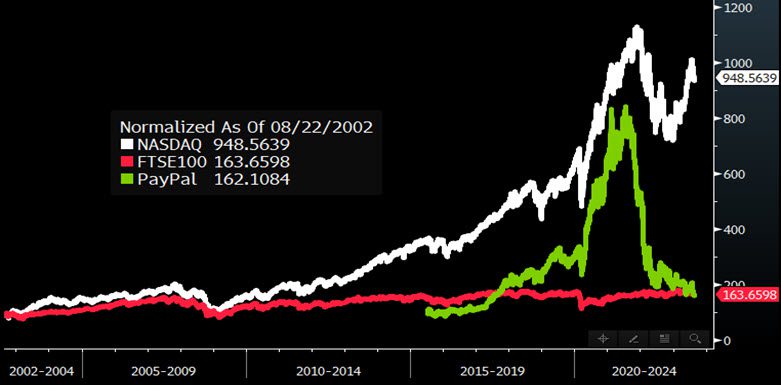 Unbelievable though it may seem, PayPal – acquired by e-bay in 2003 for $1.5 billion and spun off in 2015 – has grown revenues five-fold to $27.5 billion in the decade to 2022; but only marginally outpaced the FTSE100 since its IPO in July 2015.
In the same timeframe, the Nasdaq – the recognised aggregation of the world's best tech companies – has left it trailing. Driving this is the most heavyweight big tech challengers to the payments space – the likes of Apple and Amazon – have continued to win the loyalty of the consumer as their share prices have grown 600%.
The lesson appears to be that trying to be all things to all people, overexpansion and corporate complacency will eat your margins and your company's value.
Amazon sums it up
Amazon's 2018 mission statement best sums up the David versus Goliath battle that many incumbent payments players face:
"We aim to be Earth's most customer centric company. […] We believe this mission is important for the UK because digital empowerment for customers and businesses improves living standards for people up and down the country and drives our economic competitiveness and productivity in a global economy.
"[…] We will continue to push at the boundaries of how technology – digital infrastructure and services – can improve the customer experience."
As the world's economies shift course yet again into 2024, the shift in inflationary and consumer cycles won't ultimately be the tail that wags the dog for the payments industry.
Efficiency; the race to the bottom for margins and pricing of online services; speed to market and customer service are, as ever, the key. And the economies of scale. That is why today's tech giants – Amazon, Apple, Google – as well as the largest, most well-run banks can afford to wait, watch, learn and win.