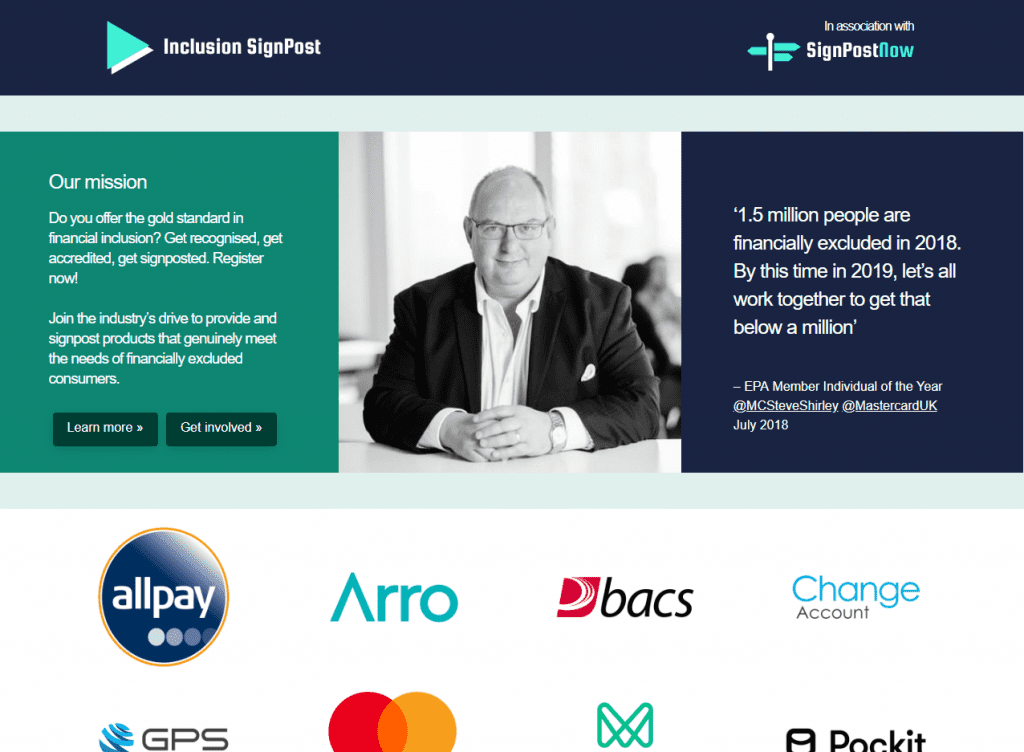 With the human and monetary cost of financial exclusion higher than ever, the The Payments Association has set out ambitious plans to widen access to – as well as improve the quality of – financial products available to UK consumers.
The level of financial exclusion in the UK in worryingly high – 1.5 million people don't have a bank account, 3.7 million are defined as financially excluded and approximately 15% of new bank accounts are abandoned.
Estimates of the poverty premium (the amount people who are not adequately covered by financial products such as direct debit pay each year because they have to deal in cash) vary. However, we believe it is as high as £1500 per person and the use of cash among the most vulnerable in society is increasing.
In addition, a sizeable percentage of the population are financially illiterate, which means they don't know how to manage their financial services effectively and their understanding of maths and finance is below par. It has been estimated that as many as 30% of adults have the financial numeracy of a primary school child.
Without access to appropriate financial services, people pay more for goods and services and have less choice and less control over their spending and saving. The impact of their financial exclusion is not just financial; it also affects education, employment, health, housing, and overall wellbeing as well as social mobility.
Having carefully considered how the payments industry can combat financial exclusion, the The Payments Association will launch an accreditation service to recognise best practice in financially inclusive products at the PAY360 conference in March 2019.
Inclusion Signpost will rank products that purport to be financially inclusive, giving consumers an indication of how well these products might address their specific needs. The products will be assessed by a panel including representatives from the Department for Work & Pensions, third sector organisations and charities, academia and former members of parliament.
"Inclusion Signpost has been in development for the past 12 months, but we have been thinking about this issue and working with various consumer groups to find a potential solution for some time," says Neil Harris, the Payments Association's mentor for financial inclusion. "Financial exclusion is an issue that is raised at every industry and political conference. Bank branches and ATMs are closing and wealth inequality is rising, so this is a good time to launch the service."
Inclusion Signpost will be used to provide guidance to consumers on products that best meet their needs via a comparison website, Signpost Now. Consumers who use Signpost Now will complete a short survey to determine what they need and will be presented with a shortlist of potentially suitable products with an indication of whether each product has been accredited.
One of the concerns raised in relation to comparison sites is that some sites do not compare all the products and services available. This is where the Payments Association sees synergy between the accreditation service and the comparison site.
"Rather than us gathering information on financial products, the industry will put forward its products and services for accreditation with no guarantee that every product or service will be accredited," explains Neil Harris, CCO of Global Processing Services. "We will then use that data to populate the comparison site so the breadth of comparison will increase as more products are accredited."
Payments Association members including Monese, The Change Account and Arro Money are already providing new services that provide financial access to demographics that have been historically excluded or have had limited access to payment services.
The Minister for Financial Inclusion is a keen supporter of Inclusion Signpost, particularly as the government is considering an overhaul of the Post Office Card Account through which people receive benefits and pension payments. The Department for Work & Pensions is encouraging customers to find alternative solutions to this account, whose 1.3 million users are heavily cash-centric.
"Financial institutions are committed to supporting the ATM network, but the cost of transporting cash and managing machines is disproportionate to the number of people using them," adds Harris. "Banks are aware that there is no one-size-fits-all solution to reducing financial exclusion so they are making greater use of initiatives such as pop-up banks."
The Payments Association's objective is for the accreditation service to develop along similar lines to that offered by the Fairbanking Foundation. "By recognising the best products available we will raise the bar so that those whose products are the highest rated will see it as a competitive edge," concludes Neil Harris. "Our intention is to make the accreditation so compelling that by not having it, a financial institution will lose out to its peers. A number of leading banks have already put their products and services forward and as they gain accreditation, other banks will take note and come on board to ensure they are not missing out."