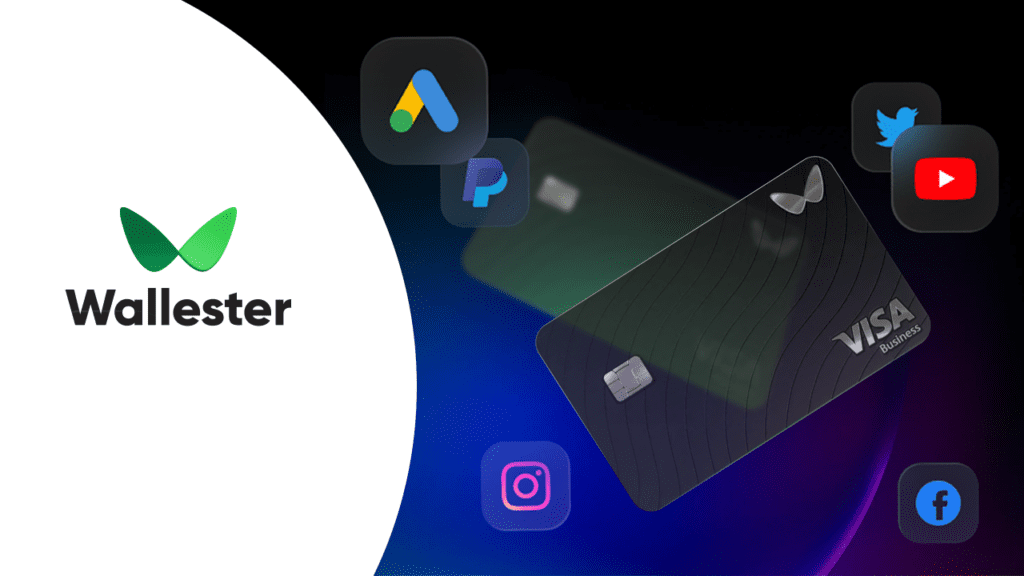 Globally, physical payment cards have a higher use rate than virtual ones. This disparity is, however, steadily declining. Payment instruments without a physical carrier have a variety of uses, as evidenced in contexts like online buying. Virtual cards largely prevail over conventional ones when it comes to large-scale payments.
Let's look at some practical examples.
Problems and remedies
Numerous customer campaigns are managed by marketing firms, which use plastic cards to pay for Google and Facebook Ads. Both platforms provide capability with precise targeting options and information on ad effectiveness for further optimization. Many campaigns may be launched effectively if the appropriate strategy is used.
But assigning a significant advertising budget comes with a number of challenges. Facebook and Google have a problem in that they only take card payments for their advertising services, which limits marketers with low credit limits. As a result, several cards are required, which results in a number of drawbacks when dealing with physical carriers. A compromised card has to be canceled, and a new one ordered. While waiting for this procedure to finish, advertising initiatives must be suspended. Furthermore, the cost of ad placement cannot be altered for conventional cards. Finally, when a card reaches its credit limit, it may simply be frozen.
Virtual cards that are widely distributed and have dynamic expenditure management are a good solution. With their assistance, you can simply manage all real-time transactions when purchasing thousands of ad spaces for client campaigns.
A traffic arbitrage expert often manages a sizable number of individual user accounts across many ad networks. He would issue hundreds of plastic cards from a single bank when he "farmed" bank cards. Because of the advent of virtual cards, a professional in the field of traffic arbitrage began employing them instead of physical ones.
However, problems with payment security surfaced. Many services provide the ability to issue virtual cards. However, the majority won't pass a security check by Google and Facebook and won't be approved as a payment option for advertising profiles because all significant and trustworthy media platforms ban payment operations through dubious sources.
Here's a remedy: widely distributed virtual cards from a reputable, licensed issuer. In this manner, security checks on Google and Facebook may be successfully completed, allocating a distinct card to each advertising campaign.
Virtual business cards from Wallester are the ideal choice for online media buying.
Today, any marketing firm can instantaneously issue an unlimited number of virtual VISA cards to conduct advertising campaigns, which used to seem unimaginable. Anyone that specializes in media purchasing on well-known platforms like Facebook, Google, TikTok, and others needs widely distributed payment solutions without physical carriers.
Advertising firms used to handle several client campaigns using a single physical card. All employees used this card at the same time, which made it difficult to make individual payments and keep track of expenses. This issue is now resolved with Wallester Business, a turnkey solution that enables you to handle any number of advertising campaigns with the utmost ease, convenience, and security!
High demand exists for widely distributed virtual cards if you:
Place Facebook advertisements.

Work as a traffic arbitrageur online.

Use lead partnership advertising.

Employ Google Ads.

Utilize the Tik-Tok platform.

Run a risky enterprise.
The Wallester Business platform's many features enable you to buy and manage hundreds of online advertising campaigns while also instantaneously issuing an infinite number of virtual VISA cards. As soon as the cards are issued, you may use them to purchase advertising. They will undoubtedly be accepted by Facebook, Google, and other well-known media outlets!
The management of client campaign budgets is substantially facilitated by the use of unique virtual cards for each customer. The Wallester Business capability enables establishing unique card limits, taking into account ad campaign criteria, and providing real-time notifications about every purchase. The solution is powered by a capable digital platform with user-friendly UX and UI designs, accessible on all devices. Additionally, innovative REST API capability can be used to integrate the solution into a multi-functional third-party platform.
Wallester Business is one of the best options for widely distributed virtual cards used for online media purchasing. No matter how many campaigns have been run, a multi-functional platform makes it easier to monitor the media purchasing budget and enables media buying to be done quickly and comfortably.
Visit Wallester Business today – https://business.wallester.com/