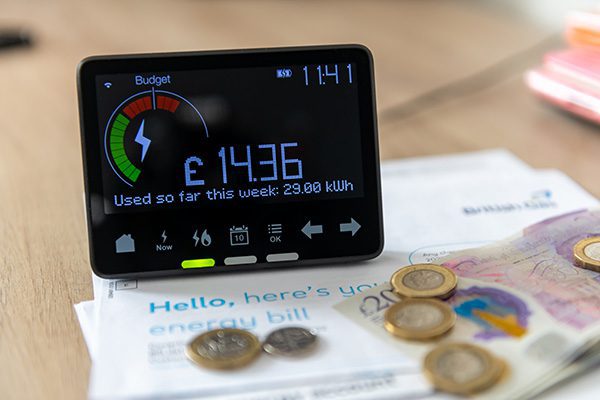 While those hit hardest by the cost-of-living crisis could benefit from using open banking, Stuart Wakefield questions whether the payments sector should be doing more to help.
The price of goods and services have risen at the fastest rate in four decades, meaning almost half of UK consumers fear their income may not cover their essential costs. It's increasingly important for consumers to understand and manage their money in the most effective ways.
Food, energy and particularly gas prices have risen dramatically, and inflation remains at levels not seen for 30 years. The latest ONS data suggests that one in three adults are now finding it difficult to afford rent or mortgage payments. It's not difficult to see why a large number of households are increasingly concerned about their finances.
Staying in control of household finances, knowing that you have set aside enough money to pay bills and wherever possible being prepared to deal with the unexpected has never felt more important.  However, research from Tink suggests that many households do not have access to proper tools to help track how their spending has changed since the onset of the cost-of-living crisis.
Indeed, Tink's research revealed the most common ways of tracking finances is manually (47%) or using basic online banking tools (47%), with only one in five UK adults (21%) using online digital tools. This reliance on manual tools suggests a significant opportunity for support in getting an up-to-date view of spending habits; particularly true for more vulnerable consumers.
Looking at the overall picture
While most banks now provide at least some features that help consumers keep track of their spending, with alerts and basic budgeting tools, there's a risk that a profile is based on a limited set of account information.
Open banking enabled services provide consumers with the ability to access a clear view of all of their bank accounts and entire financial overview in a single dashboard. This enables service providers, both banks and fintechs, to offer a personalised view of an individual's spending and richer sets of data.
Open banking services like nous can help take a view of how bills may change over time.
Another fintech solution from snoop is a money management and budgeting app, enabling consumers to see all their bank accounts in one place, with a focus on cutting household bills and controlling finances.
By consenting to share their bank account data, consumers can benefit from an increasing array of open banking services that include:
Making regular savings, 'saving the change' or moving surplus money to a separate account
Accessing affordable credit (where consumers may not meet traditional credit scoring criteria)
All of which have the potential to help households stay in control and prepare for unexpected costs.
Supporting the financially vulnerable
The FCA's 2022 Financial Lives Survey showed that 47% of UK adults displayed at least one characteristic of vulnerability. The financially vulnerable are more likely to pay a higher cost for essential services and will continue to be hit hardest by the ongoing cost-of-living crisis.
Open banking has the potential to help here too. Salad Money provides users with a service that helps consumers understand their spending, compare it with those with a similar level of income, identify benefits that they may be entitled to and provide support with any unaffordable borrowing.
Open banking participation
Frustratingly, not all payment account providers support open banking, or where they do, it's supported in a way that can make it difficult for fintechs' or open banking app providers to integrate with them.
Where a consumer's account provider does not participate, or where an open banking service provider has not been able to connect to their account provider, a consumer is deprived of access to the growing number of tools and services that would otherwise be available to them.
Can the industry do more to help?
The UK has seen significant growth in the use of open banking with services made available via a growing number of banks and fintech providers. Services that can help with budgeting, managing household finances and staying in control.
However, until open banking is more widely adopted, some consumers may find staying in control of their finances frustratingly out of reach. Access to open banking budgeting tools should be available to everyone as it has the ability to be a true force for good.
It can transform the way we all access and control our financial lives and can help households navigate the cost-of-living crisis.
Companies like tell.money can help payment account providers to open up their systems to support open banking, but to achieve its full potential the industry needs to do more to ensure that providers make the most of these types of services.
Jan van Vonno, Tink's head of industry strategy, said: "Tink's research shows there are a number of opportunities for consumers to be better supported in the current cost-of-living crisis.
"Using open banking technologies to access accurate and up-to-date data that helps people make informed financial decisions is an important first step. Empowering the broader ecosystem to use this technology is what comes next."
Stuart Wakefield is a member of Project Open banking and COO tell.money.