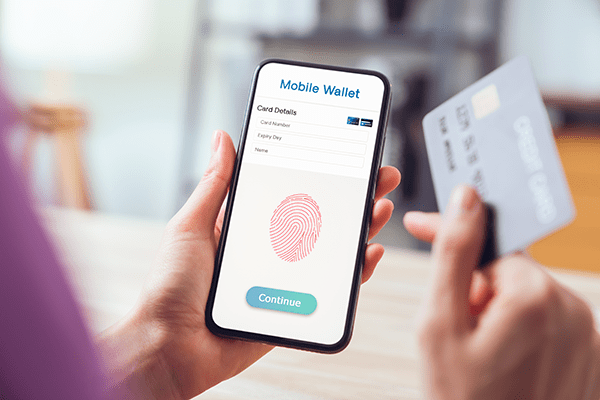 With Apple and Google already laying the foundations for biometric acceptance, the drive behind its adoption now comes from consumer demand for fast, secure and accurate ways to pay.
What is this article about? Consumers are increasingly using biometric data on devices, and companies like Apple and Google have laid the foundations. This article looks at how biometric payment adoption can enable businesses, merchants, and the payments industry to create a seamless customer journey.

Why is this important? Payment solutions that use physical characteristics to authorise transactions are growing. It offers a convenient and faster payment experience for consumers that businesses can enjoy. Another major benefit of biometric payments is the added security they provide.

What's next? Biometrics will play a big role in the future of payments. As customers become accustomed to using biometric data, the industry can expect it to become the norm for payments. Those that offer biometric options will stand out as innovators and enjoy reduced costs and enhanced security.
The implementation of PSD2 Strong Customer Authentication (SCA), which requires two-factor authentication for online transactions, has brought biometrics to the forefront.
Payment solutions that use physical characteristics to authorise transactions are growing. Examples include fingerprint scanning with touch ID and facial recognition technology, often used by banks and tech giants. Once used by law enforcement and security, biometrics enables customers to quickly verify their identity to make payments.
The global market for biometric technology expects to reach over $55 billion by 2027, according to Statista. And a 2021 Juniper Research study predicts that facial recognition for payment authentication will be used by more than 1.4 billion people by 2025.
Biometric payment adoption
Apple and Google have laid the groundwork for biometric acceptance by consumers. Their products have primed consumers to use biometrics to unlock devices, access apps and even make payments.
Consumers around the globe have beta-tested biometric cards, with customer satisfaction rates of up to 95%. A 2021 global market survey by Dentsu Data Lab and Idemia, 81% are ready to use their fingerprints to authenticate payment instead of a PIN code. While in the UK, 70% of consumers said they would use a biometric payment card, which use fingerprint recognition as an alternative to a PIN number (or signature) to authenticate a cardholder during a transaction.
The drive behind the adoption of biometric authentication is consumer demand for fast, secure, and accurate ways of verifying their identities and making payments. Adding biometrics to mobile payments enhances security without adding any friction to the process.
"We know that when it comes to making a payment, consumers value ease of use and security at the point of checkout, " explains Siamac Rezaiezadeh, VP of product marketing and insights at GoCardless.
Recent research from YouGov and GoCardless found that 69% of consumers would abandon a checkout process if it was too complex, and 81% would if the security of their payment appeared lax.
Rezaiezadeh adds: "As a result, businesses have to think carefully about where they fall between making things super easy and making things really secure. Too easy and they risk turning away customers who fear the security of their payment information. Too hard, and their customers won't bother. It has to be in the Goldilocks zone – secure, but easy."
The benefits of biometrics for the payments industry
Rezaiezadeh believes biometrics plays an important role because, by adding this ability for "consumers to authorise or authenticate a payment" which is already in place on the "one device they carry with them all the time – their phone – businesses can enter this Goldilocks zone".
"The consumer gets both security and a high degree of seamlessness, which ultimately benefits the business too," he adds.
Other benefits include:
Convenience: it is easier for customers to check out using fingerprint or facial scanning, whereas entering PIN codes and passwords takes time.
Cost: compared to card transaction fees, biometric payments are low in cost.
Customer choice: enabling biometric authentication for payments enables businesses to diversify their payment methods.
Accessibility: biometrics alleviates the stress of remembering complex credentials. For many, including older customers, this is a challenge.
Unlimited contactless limits: with biometric payment technology, only the card owner can use it. This means there would no longer be a need to limit on contactless payments.
According to analyse by Javelin Strategy & Research and SAS, digital fraud attempts increased by over a third (35%) during the first half of 2020.
Biometric payment methods offer greater security to both customers and banks.
Current authentication methods are complex and prone to errors, for example, customers can often mistype or forget their PINs and some may use weak passwords for multiple online accounts, meaning a password breach could give criminals access to all their accounts.
Leading the way
In February 2022, Swedish challenger bank Rocker launched Rocker Touch. The first in Sweden and one of the first in the world to scale the deployment of biometric cards to consumers. Certified by Visa and Mastercard, the biometric card works with any payment terminal. Users no longer need to enter a PIN code and keep their finger on the card while using the payment terminal.
In November 2022, biometric Visa credit cards became available in Morocco for Société Générale's business customers. The cards are activated with user verification through a one-time passcode.
IDEX Biometrics ASA is initiating a biometric payment card with a UK issuer and processor of EMV-compliant (Eurocard, Mastercard, and Visa) payment cards. It is expected that these biometric payment cards will be available to consumers in Q1 2023.
Despite the benefits, there are concerns from civil rights groups over the ethics of the technology. Amnesty International and partners including Access Now, Internet Freedom Foundation, and Human Rights Watch have spoken out about the uses of facial recognition and biometric recognition technologies. Biometric devices like facial recognition systems can limit user privacy. Some worry that biometric data could become a permanent digital tag used to track someone, both with and without their knowledge.
There are other industry challenges too such as, the cost, a significant investment is needed in security; biometric databases can still be hacked; and accuracy, false rejects and false accepts can still occur.
Biometrics – the future of payments?
The focus in 2023 will be on optimising payment options and biometrics will have a big role.
As customers become accustomed to using biometric data, the industry can expect that fingerprints, iris scans, facial recognition, and other methods will become the norm for in-person and online payments.
Customer experience is the new competitive advantage. Those that offer biometric options to customers will stand out as innovators and enjoy reduced costs and enhanced security.