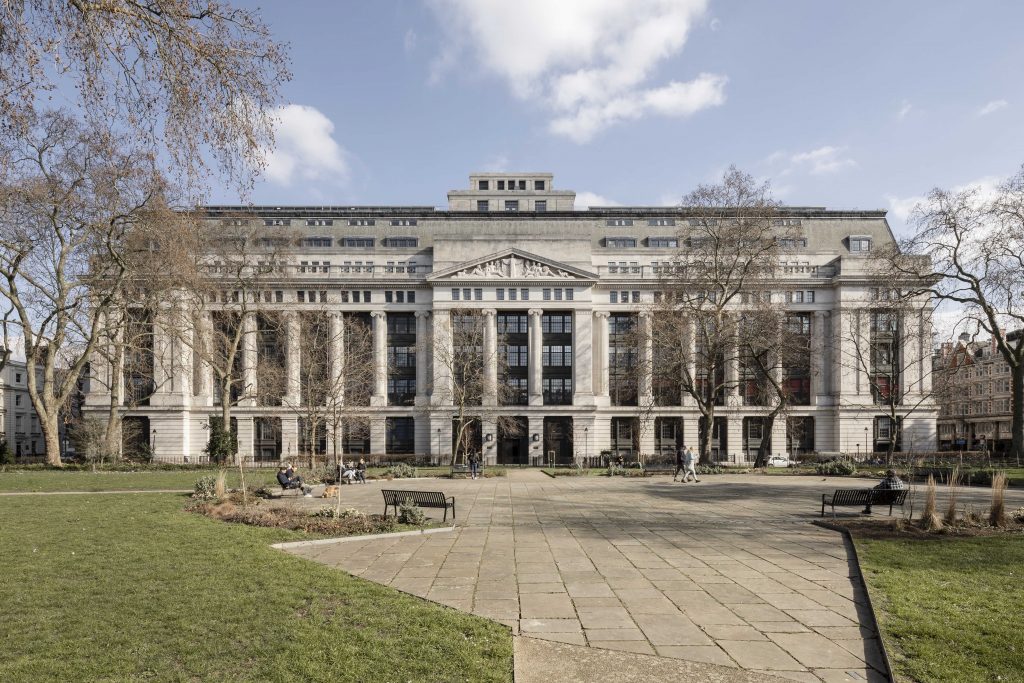 London, UK – 14 September 2021 – Leading issuer processor, Global Processing Services (GPS) today announces its partnership with flexible workplace provider, LABS, to lease 6,100 square feet of its Victoria House premises, in a move that's set to symbolically bridge the gap between legacy financial services and the fintech leaders driving the next generation of payments.
Situated in the heart of Holborn, Victoria House has a rich history within the financial services industry, originally constructed as the headquarters for insurance and investments provider, Liverpool Victoria, and serving as its head office for over 60 years. Fast forward to 2021, and the building stands at the heart of London's Knowledge Quarter, an area synonymous with fintech innovation and home to several GPS customers, including Curve. The move will position GPS at the convergence of the new and old of financial services, allowing it to strengthen relationships with clients, and continue its mission to deliver better financial services through new partnerships with tier 1 banks, established fintechs and up-and-coming start-ups alike.
GPS has a proven track record of powering cross-border propositions for fintechs around the globe, including enabling Revolut to reach over 16 million account holders across more than 35 international markets. It has also continued to grow its own customer base throughout Europe, the Middle East and Asia Pacific, serving leading challengers in their respective markets including WeLab Bank and Razer Fintech. Its focus is now on driving the next generation of payments to help drive better financial services across a wide variety of customer segments, including B2B payments, crypto, remittance, FX, lending and credit (including Buy Now Pay Later propositions), and more.
News of the move follows a period of significant and sustained growth for the global issuer processor; as businesses around the world shifted towards remote working, GPS pivoted its operations seamlessly, continuing to deliver an unparalleled level of support for its clients, processing over 1.3 billion transactions in 2020 despite the pandemic. As a result, the business was able to increase its headcount by 44% in 2021 alone, making strategic hires across its London, Newcastle, Dubai, Singapore and Sydney offices.
The move also represents a renewed commitment to the thriving global fintech scene in the face of the ongoing pandemic. As recent investment figures highlight, the opportunity for growth in global fintech is substantial, with investments surging to record highs in the first half of the year and GPS having played a vital role in this growth. Investments in GPS customers and partners totalled $12.53 billion across venture capital, private equity and mergers & acquisitions activity, which accounts for more than a tenth (13%) of the reported $98 billion worth of investment in the global fintech industry.
Joanne Dewar, Chief Executive Officer at GPS, comments: "It's a hugely exciting time to be a part of the rapidly growing global fintech industry, and we are thrilled to have our UK headquarters based in the very heart of London's world-class Knowledge Quarter, comprising 106 other dynamic organisations within just a one-mile radius, including some of the best and brightest minds in fintech. As we start to move back into a 'new normal' of blended working, the selection of the Victoria House offices and its unique architecture reflects GPS today – next-generation, high quality, trusted and proven. Remaining steadfast in our commitment to provide financial empowerment for everyone, we believe this move is an incredibly important one on that journey, allowing us to remain at the forefront of cutting-edge payments innovation."
Annette Evans, VP People and Culture at GPS, adds: "GPS has always been a very progressive organisation when it comes to working practices, and we wanted this move to be a continuation of that legacy. The general consensus amongst GPS employees was that, whilst they enjoyed the flexibility that working from home afforded them, they missed the collaborative nature of an office space. Our new space at Victoria House was chosen to encourage idea-sharing, innovation and long-lasting working relationships."
Matt Watts, Chief Commercial Officer at LABS, added: "As the fintech sector in London continues to grow, more companies are looking to differentiate themselves via their workspaces to ensure they remain competitive in the current landscape. Working closely with GPS to deliver a top tier, fully serviced offering that aligns with their specific business objectives is central to our approach at LABS. The result is a design-led, intuitive space that delivers an enhanced occupier, employee and client experience, while embodying the GPS brand. We look forward to developing our partnership with GPS to further support the company in its next stage of business growth."
Images of Victoria House photographed by Ståle Eriksen
***ENDS***
About GPS
Global Processing Services (GPS) is the trusted and proven go-to payments processing partner for today's leading challenger fintechs, including Revolut, Starling Bank and Curve. GPS has to-date issued over 170 million cards, enabled in over 48 countries, and last year processed over 1.3 billion transactions through its platform.
Founded in 2007, GPS' highly flexible and configurable platform places the control firmly in the hands of global fintechs, digital banks and e-wallets, enabling them to deliver rich functionality to the cardholder. It is a multi-award-winning issuer processor powering next generation payment segments, including expense management, B2B payments, crypto, lending and credit (including Buy Now Pay Later propositions), digital banking, FX, remittance, open banking and more.
GPS is certified by Visa and Mastercard to process and manage any credit, debit or prepaid card transaction globally, with offices in London, Newcastle, Singapore, Sydney and Dubai. Its platform is equipped to meet the stringent standards required by Tier 1 banks, integrating with 95 issuer partners and operates programmes for a client base of over 180 customers across the globe.
About LABS
LABS is one of London's leading flexible workspace brands with a mission to create office environments that feed productivity and support success through thoughtful design and unrivalled amenities. Founded in 2017 by property investment company LabTech, LABS now provides office space solutions to 6,000 members across its ten locations in Holborn and Camden.
From entrepreneurs and creatives to mid-sized companies and enterprises, LABS supports members and businesses of all sizes, tailoring spaces to suit every need from fit out to full service. Every LABS space is designed with health and wellbeing at the fore, so that members feel at home, while providing a stage to connect, collaborate and thrive.