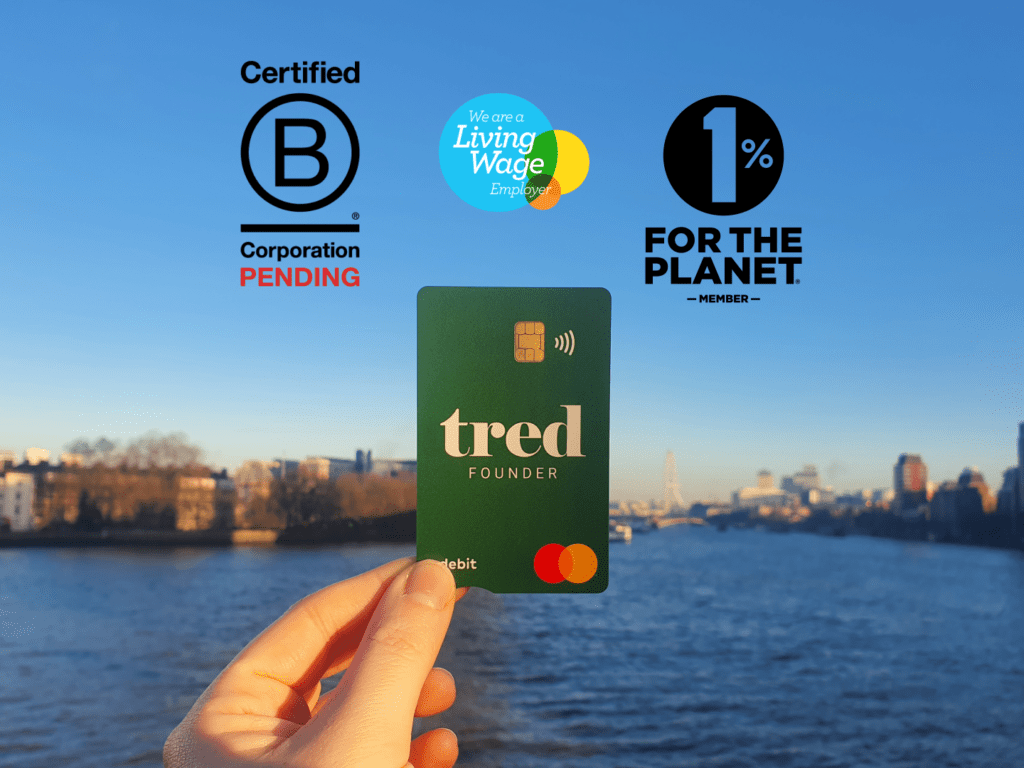 At Tred, our mission is to make money work for people and the planet. What does that mean? We're building financial products and services that have a positive impact on both the people that use them, and on the environment. This has been our ambition right from the start, and always will be.
But don't just take our word for it. We're proud that Tred has been officially certified by three separate organisations to prove our ethical and environmental credentials.
1% for the Planet
1% for the Planet is a global network of businesses that donate 1% of their sales to environmental causes. We're proud to be a member through our debit card that plants trees as you spend. We fund tree-planting by donating some of our revenue from the card interchange fee, at no cost to our customers.
B Corporation
B Corporations are businesses that meet very high social and environmental standards. They also publish how well they are meeting these standards, so everyone can see the impact they are making.
Tred exists to help people make a positive environmental impact through their money, so we naturally fit with B Corp's requirements. We've been certified as B Corporation Pending, meaning we're well on our way to full B Corp status once we've been operating for long enough to qualify.
Living Wage
The Living Wage badge is given to UK businesses that commit to paying employees at least the real living wage. This wage – £9.90 as of February 2022 – is higher than the national living wage set by the government, and reflects how much money people actually need to live.
We've committed to being a Living Wage employer, because we believe that paying our own people a fair wage is an important part of our mission to make money work for people and the planet.
Why be certified?
Getting certified by these organisations takes time and money. So why do we bother?
We'd be doing these things anyway. Tred has a purpose-led mission, so this kind of thinking is already built into how we do business. We don't have to change everything we're doing just to fit certification requirements.
To hold ourselves accountable. As a start-up we're always juggling different priorities, and things like regular reporting and internal auditing can slip. These organisations have specific requirements we must meet to keep our member status. By publicly committing, we put the pressure on ourselves to maintain our high standards.
To make it easier for consumers to choose us. Like Fairtrade labels on food, these badges make it easier for people to see that Tred cares about the same issues they do.
To encourage other businesses to do the same. The more that businesses shout about their positive impact, the more it becomes the norm. We want to create a world where doing good is part of doing business, and these organisations can help make that happen.
You can read more info on why we decided to become B Corp certified here.
We're proud that we've made these commitments so early on in our journey. But this is just the start. As we launch our green debit card and app, we'll keep looking for more ways to help people manage their money in a way that's good for both them, and the planet.