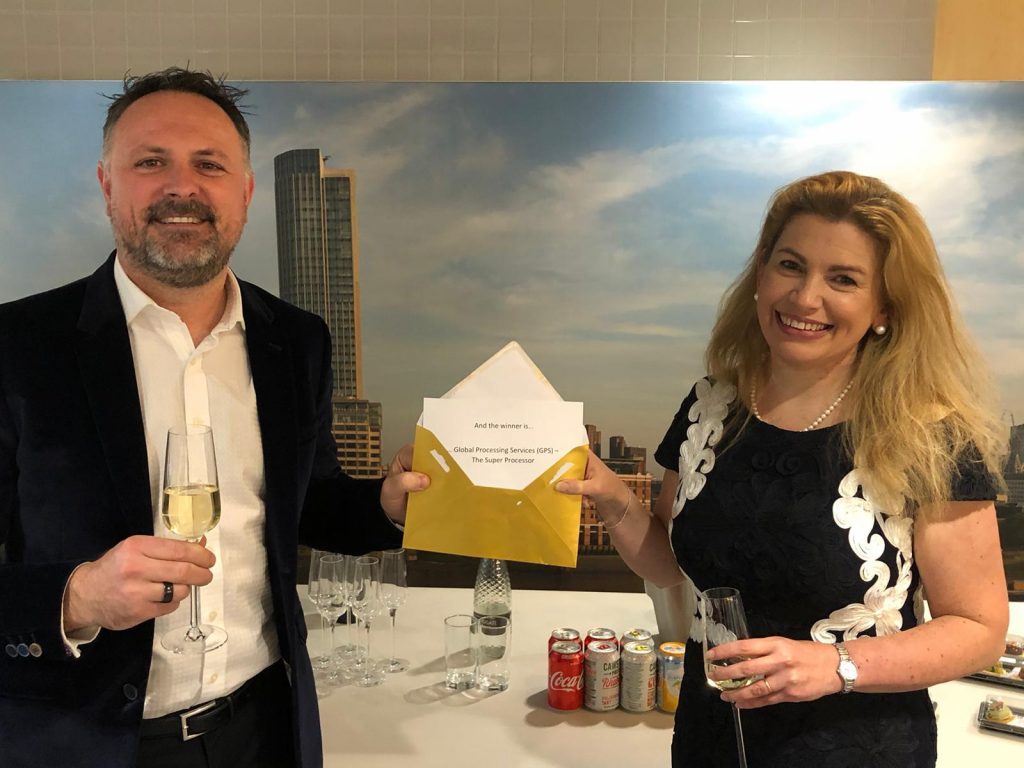 London, UK – 27th November 2020: Leading issuer processor, Global Processing Services (GPS), announces it has taken home five wins at the 13th annual Payments Association Awards yesterday. Hosted by comedian Sara Pascoe, with star appearances from Elijah Wood, Gloria Gaynor and David Hasselhoff, the event was streamed live to over 1,000 guests from the global payments community.
The Payments Association Awards celebrate innovation and collaboration by recognising companies that have made significant advances in how we pay today. GPS was commended on its commitment to the entire fintech industry, having helped customers launch a wide range of scalable and secure products, with financial empowerment at the heart of its operations.
Speaking on the award wins, Chief Executive Officer of GPS, Joanne Dewar, said: "I feel overwhelmingly proud of the GPS team and our ability to collectively work towards the common goal of accelerating the delivery of better financial experiences for every customer."
With a record-breaking number of entries received from the industry this year, GPS' award wins include Leading Payments Association Organisation, Best Market Expansion Programme for the launch of its APAC hub in Singapore, Best Banking or Open Banking Initiative and Leading Financial Services or Payments Start-Up with Currensea, and its Group CCO, Neil Harris, was crowned the Industry Contributor of the Year.
The elite panel of over 40 international judges from renowned organisations such as Mastercard, UK Finance and Deloitte, recognised GPS' central role as a strategic partner and trusted advisor within the fintech ecosystem. The judges were also impressed by GPS' strategic decision to expand into APAC in order to support the international growth of its customers, as well as meeting the needs of up-and-coming fintechs in the region.
Scooping two awards with its customer, Currensea, GPS has supported the company to overcome the biggest barrier to consumer adoption of fintech travel money services. In solving this problem, Currensea has been recognised by the FCA as the UK's first Open Banking card-based payment instrument issuer (CBPII).
To conclude the event, GPS' Group Chief Commercial Officer and Chairman of The Inclusion Foundation (TIF), Neil Harris, was singled out as this year's Industry Contributor of the Year, as a result of his key focus, whether in his work with GPS or various financial inclusion initiatives, on driving positive change within the industry and globally.
Dewar continued: "There are still over 1.7 billion unbanked adults globally, and while the pandemic has forced a surge in digitalisation, those who rely on cash have struggled in ways we can't imagine. Neil's win as Industry Contributor of the Year exemplifies his dedication to empowering the marginalised and underserved by providing greater accessibility to affordable financial services as he pushes forward the financial inclusion agenda which is so integral to GPS, the industry and wider world."
To find out more about GPS, visit: https://www.globalprocessing.com/