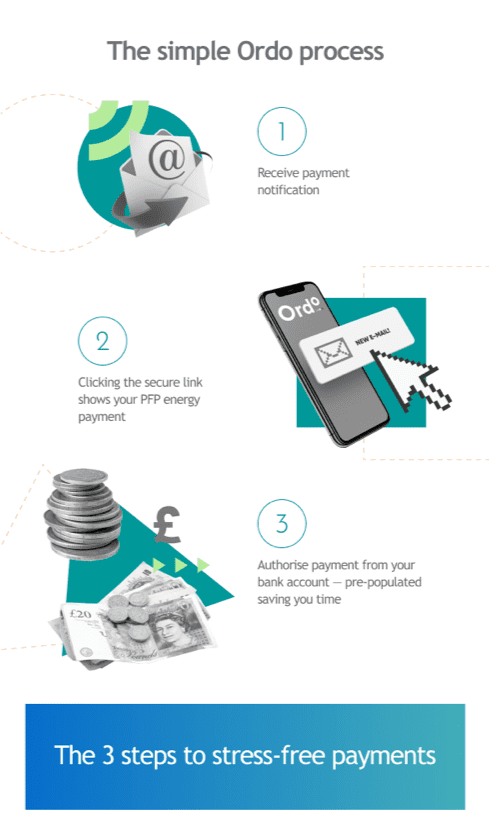 Ordo is on a mission to make paying and getting paid easy, helping everyone control their finances, from large enterprises to small businesses and consumers. Using Open Banking technology, Ordo has digitised the process from buying goods or a service, invoicing, payment, reconciliation and confirmation to make it seamless for business and easy for payers.
Ordo has partnered with CGI, independent IT and business consulting services firm delivering an end-to-end portfolio of capabilities, from strategic IT and business consulting to systems integration, managed IT and business process services and intellectual property solutions.
Together they helped PFP energy, a not-for-profit energy company, or as they like to call it 'Profit for Purpose'….a partnership with that warm fuzzy feeling.
Having launched with its Neighbour2Neighbour campaign on 23 March 2020, Ordo is coming up to its first birthday of being live, and never have UK businesses needed an integrated Open Banking request-for-payment service more. Whilst businesses have had to find ways to survive, adjusting to staff working from home, furloughed employees and colleagues who had become teachers overnight, they were offering a lifeline of payment holidays while their customers financially struggled.
With cash tight, businesses are going to need efficient and effective, but polite, payment solutions.
We all appreciate our key workers on the front line, and there are also essential services like energy, the staff for which are, for the foreseeable future, now scattered into their individual (hopefully warm!) homes.
How do you support a nation's energy supply and collecting payment from people in a crisis, with staff that are also in the same boat, working at home amidst unprecedented change?
The answer is, to look at what your customer needs, how your business deliver it, finding the right partner and creating a solution together.
Lockdown has meant:
A Financial MOT for consumers where 80% are worried about money and are cutting back
40% of direct debit users plan to cancel at least one direct debit, with 40% moving to expensive cards and 30% to hard to process bank transfers and cheques
Over 50% of people who cancelled direct debits won't put them all back once we're out of lockdown
Customers want:

 

PFP Energy wants:

 

* Support

 

* Lower costs

 

* Certainty

 

* Security

 

* Security

 

* Auto reconciliation

 

* Convenience

 

* Liquidity
Ordo, utilising its channel partnership with CGI, worked with PFP to enable PFP call centre staff to have access to a fully secure payment platform, myordo.com, allowing them to easily take instant payment from their customers giving both parties confidence the right amount has been paid and received into the right account. Ordo uses Open Banking to be able to transfer money directly and instantly from a customer's bank account to the businesses bank account, by the business sending a pre-populated digital request for payment to their customer. The customer immediately receives a secure link or text message which, within a few taps from their smart phone, they can authorise payment, directly from their own bank account.
All this was with minimal integration. All PFP needed to do was register at myordo.com, (which takes 3 minutes, we've timed it!), connect the account they want to be paid into, and use either the Ordo App and Web solution, or the Ordo bulk upload capability when sending out mulitiple requests for payment.
PFP also utilised the Ordo Bridge tool for automatic upload of requests for payment to be distributed, saving even more time and money and taking the pressure off their business, staff and ultimately customers.
Partnering with CGI, Ordo has used Open Banking to provide PFP with a solution that has helped them, their customers and their community. PFP's Head Of Service Delivery, Natalie Brundish, says that "Ordo has meant we have been able to foster customer relations, supporting them when they need us by giving them a solution that's easy and allows them to stay on top of their finances. We have been able to reduce the burden on our staff working from home, often for the first time, and save costs so we can pass these savings on to our customers through our tariffs and services."
At a time when people and businesses are under stress from all directions, ease, security and certainty are what people crave, and that is exactly what Ordo delivers. Partner with us  Check Ordo out, book a short demo or try for free