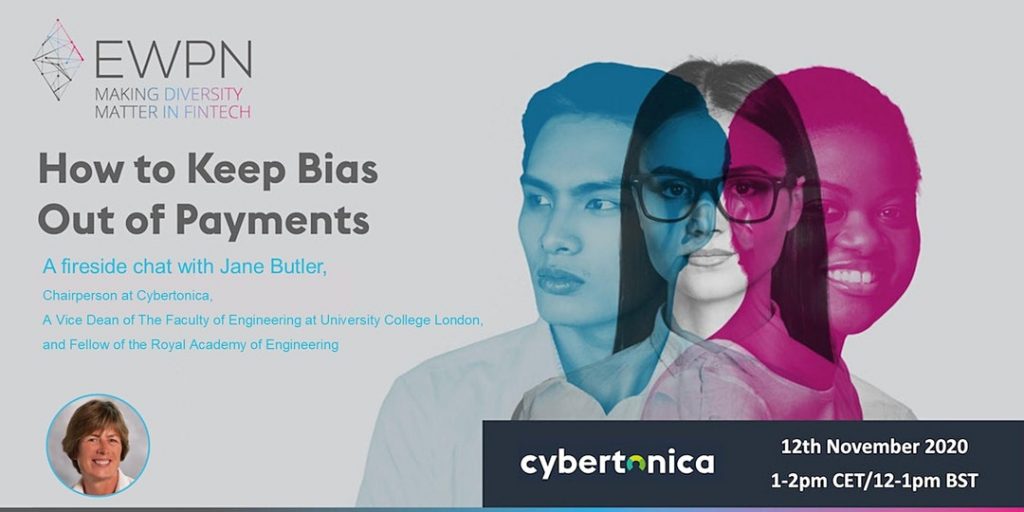 About the Event
Tune in to hear our chairwoman Jane Butler's fireside chat "How to Keep Bias Out of Payments" on the 12th of November at 12pm (GMT). Hosted by the European Women Payments Network (EWPN), this event will explore the impact of human bias on the payments industry.
Only 5% of women are represented in tech #leadership positions as, still, the tech sector is dominated by men throughout all the ranks. As such, much of the innovative #technology that we use to run our #financial lives has a 'baked-in' human bias towards the people that predominantly build it.
Jane Butler broke through the glass ceiling in the most male-dominated environments. Now she dedicates much of her time to showing others the way, highlighting how vital #diversity of thought is when making important decisions about their technology solutions.
During this fireside chat, Jane will talk about how Cybertonica has broken the mould in terms of its culture of diversity within its tech teams. And she will give examples of how this has better enabled the business to fight fraud.
About the Speaker
Jane has spent 30 years in the Tech and Internet industry initially working on early global networks in the oil industry for Shell and Exxon. Then, she went on to help grow Cisco from a small start-up to the global company it is today.
Whilst based in Silicon Valley, Jane actively built a Foundation providing Internet access in parts of the world lacking infrastructure. Jane wrote a book (wndw.net) which has been used by thousands of students worldwide. She is currently Vice Dean of University College London overseeing the industrial work of the Faculty of Engineering.
Her deep understanding of what it takes to grow a company from a few dozen to a few thousand, and her successful track record in the Valley and in London make her invaluable to Cybertonica. Jane is a Fellow of the IET and the BCS and a Fellow of the Royal Academy of Engineering.
Contact Us
Contact info@cybertonica.com to learn more about how we reduce #fraud and manage #risk using #AI and #MachineLearning.