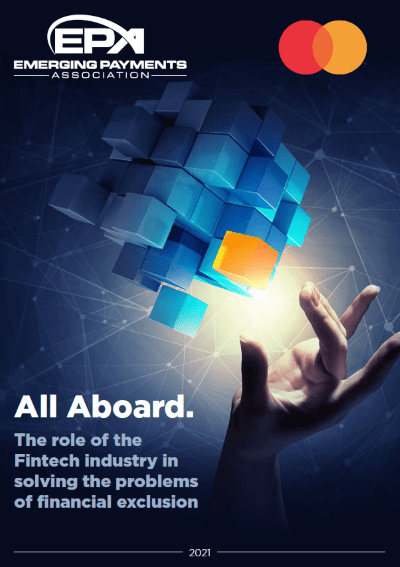 New report challenges the Fintech industry to do more in helping the unbanked and underserved within the youngest and oldest age groups of adults, following the COVID-19 pandemic and subsequent UK lockdowns
London, UK – 02nd December 2020: The The Payments Association, which promotes collaboration and innovation across payments, has today published its new insight that explores some of the issues that young and elderly age-groups in the UK face when it comes to accessing financial services. The research, released on the day that England is released from its second lockdown, also highlights some of the inclusivity initiatives and solutions that are currently offered by Fintechs to address these issues.
According to the Financial Inclusion Commission, the UK has over a million individuals without a bank account. There is a much larger section of the population which is underserved and a disproportionate amount are 16-24 or over 65. The experience of the unbanked and the underserved has been further aggravated in 2020 due to the COVID-19 pandemic and its subsequent lockdowns. When the UK entered COVID-19, it had a low resilience in savings, insurance, affordable credit and financial capabilities, and since the pandemic started further inequalities and the potential of a real credit and debt crisis looms as we head into the Christmas period.  The Payments Association's Project Inclusion team set out to inspire more action to help these consumer groups at-risk.
The report, All aboard. The role of the Fintech industry in solving the problems of financial exclusion, was compiled from interviews with a range of stakeholders including banks and payments organisations, consulting organisations, Fintechs, independent industry bodies, social and community interest organisation and consumers. These included subject matter experts from Fintechs and charity organisations, who are playing their part by offering solutions to financially excluded demographics, to consumers at either end of the 'age-spectrum' of 16-24 through to those aged 65 and over, who often miss out on the benefits that financial services can bring.
The interviews explore a multitude of factors that contribute to financial inclusion amongst the young and the elderly, deep diving into:
Digital skills
Access to banking
Personal circumstances
Low financial awareness
Lack of understanding of the needs of these consumer groups by the industry.
The findings, sponsored by the Payments Association's founding benefactor, Mastercard, also highlight the crucial role Fintechs can have to improve the lives of these groups, such as offering an open banking solution or developing  more customer-centric products and services. One such service that was recently announced was free cashback at convenience stores to help with the ever-cashless UK society. The report demonstrates that Fintechs are often leading through customer-focussed innovations.
Tony Craddock, Director General of the The Payments Association, commented: "The industry is changing fast. Innovation is everywhere. But we are still leaving people behind. And that's not right. I believe this collaborative piece of work will inspire us into action so that in time, everyone has access to the payment services they deserve."
Josh Berle, Business Development Director, Mastercard, and Lead of Payments Association Project Inclusion, added: "Mastercard is delighted to support Payments Association's Project Inclusion and thrilled to have helped produce this new report, which is full of rich takeaways on improving inclusion for all types of users at risk and particularly the youngest and older age groups. Promoting financial inclusion is key part of Mastercard's ethos to do well by doing good and we will continue our work with Payments Association to do precisely that."
Payments Association's Project Inclusion aims to drive industry activity to address financial exclusion and to provide clarity on fintech innovations and solutions that reduce financial exclusion. This report is part of Project Inclusion's work programme, seeking to highlight examples of best practice by payment firms and by encouraging others to think and reflect on how they can support these groups at risk of exclusion
To download your copy of the report, please visit: www.emergingpayments.org/whitepaper/all-aboard-the-role-of-the-fintech-industry-in-solving-the-problems-of-financial-exclusion/
For more information on the work and services of the Payments Association you can visit: www.emergingpayments.org you can speak directly to the Payments Association at: info@emergingpayments.org
ENDS
About the Payments Association
The Payments Association, established in 2008, sets out to make payments work for everyone. To achieve this, it runs a comprehensive programme of activities for members with guidance from an independent Advisory Board of 15 payments CEOs.
These activities include a programme of digital and (when possible) face-to-face events including an online annual conference and broadcast awards dinner, numerous briefings and webinars, CEO Round Tables, and networking and training activities. The Payments Association also runs six stakeholder working groups. More than 100 volunteers collaborate on the important challenges facing our industry today, such as financial inclusion, recovering from Covid-19, financial crime, regulation, access to banking and promoting the UK globally. The Payments Association also produces research papers and reports to shed light on the big issues of the day and works closely with industry stakeholders such as the Bank of England, the FCA, HM Treasury, the Payment Systems Regulator, Pay.UK, UK Finance and Innovate Finance.
The Payments Association has over 130 members that employ over 300,000 staff and process more than £7tn annually. Its members come from across the payments value chain including payments schemes, banks and issuers, merchant acquirers, PSPs, retailers, TPPs and more. These companies have come together to join our community, collaborate, and speak with a unified voice.
The Payments Association collaborates with its licensees at Payments Association EU and Payments Association Asia to create an interconnected global network of people passionate about making payments work for all.
Media contact
Scott Girling-Heathcote
Senior Account Manager at SkyParlour
+44 (0)330 043 1315