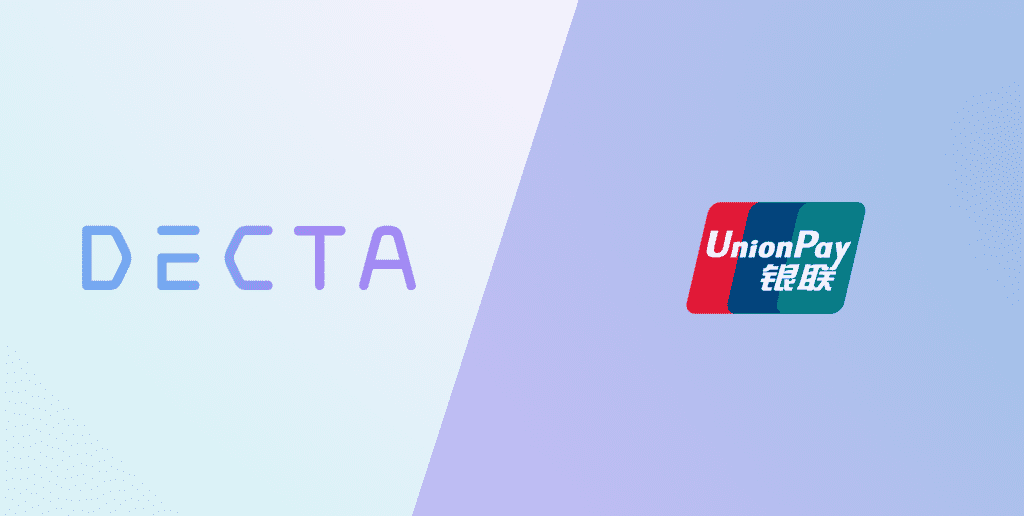 DECTA, a global payment processing company, announces a new partnership with UnionPay International (UPI) a major global card scheme. In accordance with this partnership, DECTA is approved as a registered UPI Third Party Service Provider (TPSP), and assumes the responsibility to provide the following services:
Payment gateway services for UPI card Issuing and Acquiring;
System Operator for UPI Issuers and Acquirers (including eCommerce);
3D Secure Server and ACS services;
UPI has grown to be one of the top international payment networks, a leading global brand, and a standard payment method in a growing number of markets.
UPI services are enjoyed by billions of customers worldwide. UPI card Issuing services are available in 78 countries and regions, and UPI card Acquiring services are supported in 181 countries and regions by over 70 million merchants. This is largely made possible by the UPI's expanding member network which includes 2500+ institutions worldwide.
UPI products form a go-to payment platform for a huge global customer base.
The new partnership between DECTA and UPI is oriented toward new and existing UPI member banks (both Issuers and Acquirers), providing them with the full DECTA Processing Service capacity. This ensures secure, uninterrupted operation within the scope of UPI payment network, and includes, but is not limited to:
Omnichannel payment support;
Full 3DS authorization flow;
Tokenized payment processing;
Powerful API platform enabling a number of essential function (Issuing: card management, Acquiring: automated MID/TID generation)
All the necessary compliance and security.
"We are observing clear measurable benefits for banks adding UPI to their payment product offering. The support that we are providing within this partnership to the global community of financial institutions, benefits multiple players in the Payments Industry, including banks, merchants, and consumers."
Santa Kirsbauma
Board Member, Product Offering at DECTA
"Cooperating with a reliable and secure Payment Processor, such as DECTA, is crucial to ensure quick time-to-market implementation of strategic plans both for UnionPay International and our partners."
Shengliang Yang
Deputy Head of Europe Branch at UnionPay International
About DECTA
DECTA is a global payment processing company, experts in Financial IT. The company provides a complete range of digital payment services designed with the needs of Merchants, Banks, and Payment Service Providers in mind.
DECTA payment solutions are used by 2000+ companies across 32 countries, and include payment processing of global card Schemes for Issuing and Acquiring Banks, 3D Secure payment support with biometric authentication, White-label Payment Gateway solutions, and many more.
For more information about the company, please visit decta.com
About UnionPay International
In partnership with more than 2,500 institutions worldwide, UnionPay International (UPI) has enabled card acceptance in 181 countries and regions with issuance in countries and regions. UPI provides cross-border payment services to one of the world's largest cardholder base and ensures local services to cardholders and merchants.
UPI provides high quality, cost-effective and secure cross-border payment services to its cardholder base, as well as ensures convenient local payment services to a growing number of global UnionPay member banks, cardholders and merchants.
For more information about the company, please visit unionpayintl.com