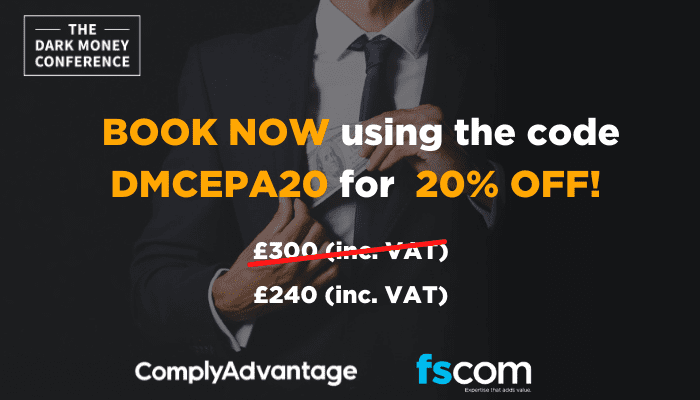 Register today for your place at fscom's 'The Dark Money Conference 2021', taking place over 3 half days from 15-17 September 2021, with 20% OFF exclusive to Payments Association members using the promo code DMCPayments Association20.
This year's conference, in association with ComplyAdvantage, will take place over 3 half days from 15-17 September and will give you the opportunity to listen to our esteemed speakers and network online with like-minded individuals, as well as access exclusive online workshops. You can book your tickets now!
Join hundreds of attendees and over 30 speakers at this year's Dark Money Conference. We will be bringing together MLROs from Financial Institutions, Law Enforcement, Government bodies, Not-for profit global organisations, Investigative journalists, Consultants and more VIRTUALLY to discuss the solution to combatting financial crime with a collaborative approach. You can find more information about the conference, agenda and speakers on the website.
Whether your interest is in hearing about real-life case studies from investigative journalists, the latest technology advancements in combatting financial crime or what law enforcement is currently seeing in terms of financial crime, the Dark Money Conference will provide you with solutions and inspiration.
Hear our speakers' unique insights into the world of financial crime through a series of keynote presentations ;
Listen to real life issues and case studies discussed on the panel sessions;
Take the opportunity to ask live Q and A
Network with all other attendees
Set up virtual meetings before, during and after the event
Unlimited access to hours of masterclass workshops
A conference unlike any other, and one not to be missed!
Register your place here today! Tickets – Dark Money Files Conference (darkmoneyconf.com)