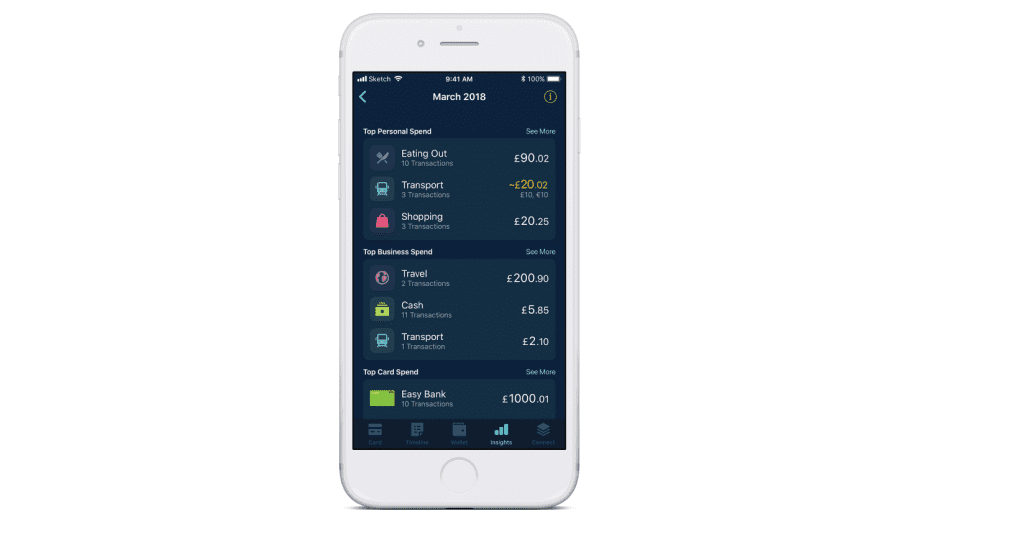 The End of Money Management Tools – Curve introduce Insights, a detailed view of users' spending habits
– Curve customers can now see a detailed overview of their monthly spending habits from all their accounts
– The update automatically tracks customers' spend and splits it into clear, concise and relevant insights
– The insights are split into categories, by individual card spend, personal or business, and more
Curve, the app that connects all your cards into one smart card, and one even smarter app, has released Curve Insights earlier this week – giving customers an instantaneous detailed overview of when, where and how much they are spending across personal and business spend.
With the release, customers can now see their monthly spending habits across all their debit cards, credit cards and accounts, grouped by category, whether they've been spending on personal or business accounts, and a whole lot more. Customers can tap to drill down into any specific area of spending for insights on individual purchases, or compare their spending month-on-month with one swipe, providing even more assistance to their budgeting goals.
Curve's mission is to simplify and unify the way their users, spend, send, see and save their money – creating an Operating System that connects the world of money to resolve the fragmentation of our financial lives. The smart Curve card, works just like a normal bank card, anywhere in the world that accepts Mastercard. After it's consumer launch in January, the company has attracted more than 200,000 new users in little as three months – showing remarkable growth through word of mouth.
The fragmentation of our financial lives makes it difficult to keep track of our spend and to set budgeting and saving goals. Personal Financial Management tools such as MoneyDashboard, OnTrees and Yolt are largely impractical as they require a lot of manual input, incompatible with many banks, and usually pose a security risk as they require the user's sensitive password to the bank account to scrap the data to their system.
With Curve Insights, these issues are solved – automating the process of tracking spend whilst the customer enjoys the experiences in life. Budgeting should be a positive experience for customers; not a chore. It should be simple, streamlined, and personal.
Cihan Sen, Curve Product Manager, explains the importance of the new feature:
' Curve Insights is essential for users that want to have complete control of their spend. We can now give them a real clear and concise overview of their spending habits with just a tap of a button, further simplifying and unifying the way our users interact with their money '.
He went on to say: ' The financial landscape is still incredibly fragmented, but we're on a mission to change that. Curve Insights is only the beginning. '
Curve customers live simpler financial lives. Even if they consistently spend from multiple cards and accounts, Curve Insights does the work for them – giving the user a consistent feed of exactly where their money is going, how it is spent across categories, accounts and cards. This not only helps them to budget better, but it allows them to track and submit expenses effortlessly – with a separate view of business Spend Insights partnered with useful integrations such as Xero, accounting and expense software.
How does Curve work?
The Curve card is everything that your bank card is. And isn't. It is accepted everywhere Mastercard is accepted. It allows payments via Contactless, Chip&PIN, Magstripe, and ATM. Only now, you only ever have one PIN to remember. New customers can download the Curve app for free, and securely add their existing cards. The Curve card arrives within 2 days, where they can then start spending from all their accounts with the smart Curve card.
To get Curve, users can choose between the free and premium options. The Premium Curve card offers additional benefits such as double the rewards, and is currently available for a limited time for £50 only.
Curve is currently available in the UK and other countries within Europe, and will be venturing further out in the near future.
For more information about Curve, visit: www.imaginecurve.com