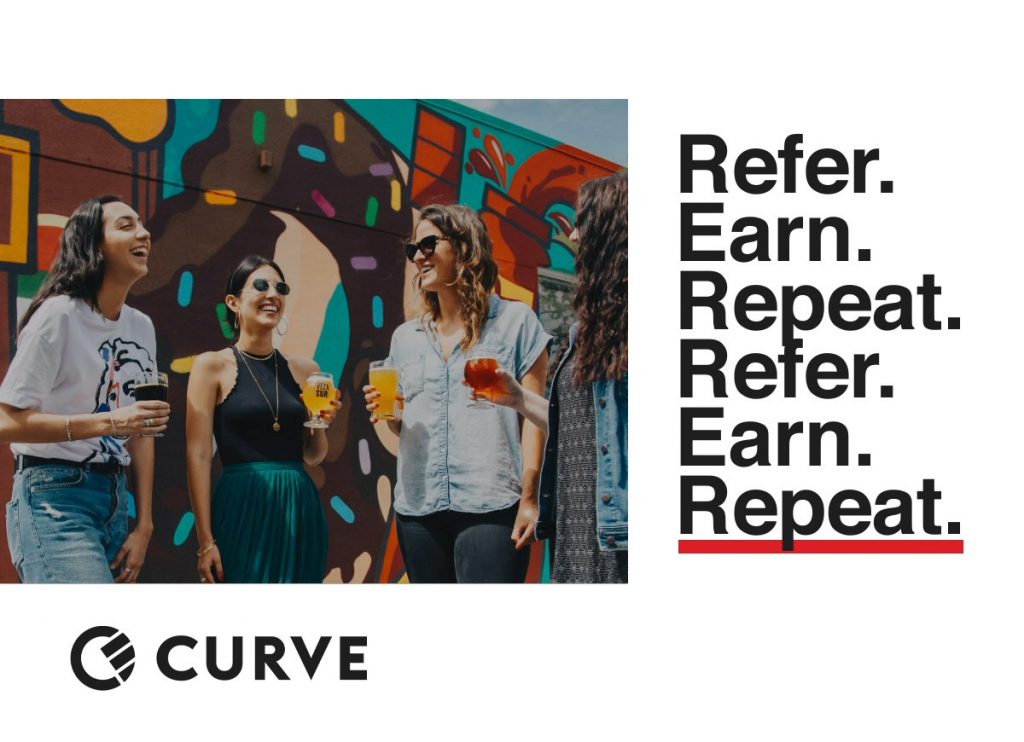 Existing Curve customers can now receive 1% cashback for 30 days on every successful referral
Customers can extend their 1% cashback for up to a year by making 12 successful referrals, helping them embrace life post-Covid
Customers will earn cashback instantly and spend anywhere Curve is accepted
4 August 2021, London: Curve, the fast-growing financial super app that consolidates your cards into one smart card, is announcing the expansion of its customer referral scheme and rewards programme.
As the UK is beginning to rebound from Covid-19 and the focus is shifting towards getting back out and returning to normal life we want to enable our customers to get the most out of their spending.
From today, new and existing European and UK Curve customers will have the opportunity to earn 1% cashback for 30 days on every successful referral. This gives customers the ability to earn a year's worth of automatic cashback by referring a new friend each month. Customers who obtain multiple successful referrals will receive additional months of 1% cashback. Twelve successful referrals amount to 1 year of 1% cashback.
Curve's aim is to provide customers with a suite of features that make it easier to reward them as they return to normal spending practices.  With this as a priority, we have upgraded and added new retailers to our Curve Rewards feature which enables customers to earn up to 20% cashback as they spend across every card in their Curve Wallet.
Curve VP of Product Joseph-Daniel Millwood said: "In the wake of the pandemic, consumers are raring and ready to embrace the 'new normal' and enjoy a summer of fun. We are thrilled to be launching our latest cashback referral scheme to our European and UK customers. Curve is the app that pays you back- offering customers a more rewarding way to see, spend and save money in addition to all the benefits available to them as they unlock the power of Curve."
Curve represents the next generation of money where customers enjoy the convenience of keeping all their cards in one smart digital wallet to manage spending and gain insights on their finances in the app. Curve Rewards allows customers in the UK to enjoy up to 20% cashback with selected online or high street brands – along with other product features such as 'Anti-embarrassment Mode' and 'Go Back in Time', which avoid awkward card declines by adding a stored back-up card or allowing past payments to be switched to another card up to 90 days later.
Terms
1% cashback when you spend with Curve *exemptions and caps apply see terms for more details.
About Curve
Curve is a financial super app. Its mission is to be a one-stop shop for all the financial needs of a consumer; a single point of access to a wide range of financial products and services, bundling together all your money into one smart card and an even smarter app. Unlike other services available in the market today, Curve allows customers to connect and supercharge their legacy banks to the 21st century, without leaving their bank or signing up to a new bank. Curve is live in 31 markets across the UK and European Economic Area (EEA).
Curve supports Mastercard, Visa and Diners Club networks. The Curve Card and e-money, related to cards issued in the UK, is issued by Curve OS Limited, authorised in the UK by the Financial Conduct Authority to issue electronic money (firm reference number 900926). The Curve Card and e-money, related to cards issued in the EEA, is issued by Curve Europe UAB, authorised in Lithuania by the Bank of Lithuania (electronic money institution license No. 73 issued on 22 of October, 2020).
For  more  information  go  to  www.curve.com,  like  our  Facebook  page  and  follow  us  on   LinkedIn,  Twitter @imaginecurve  and Instagram  @imaginecurve.
For media enquiries