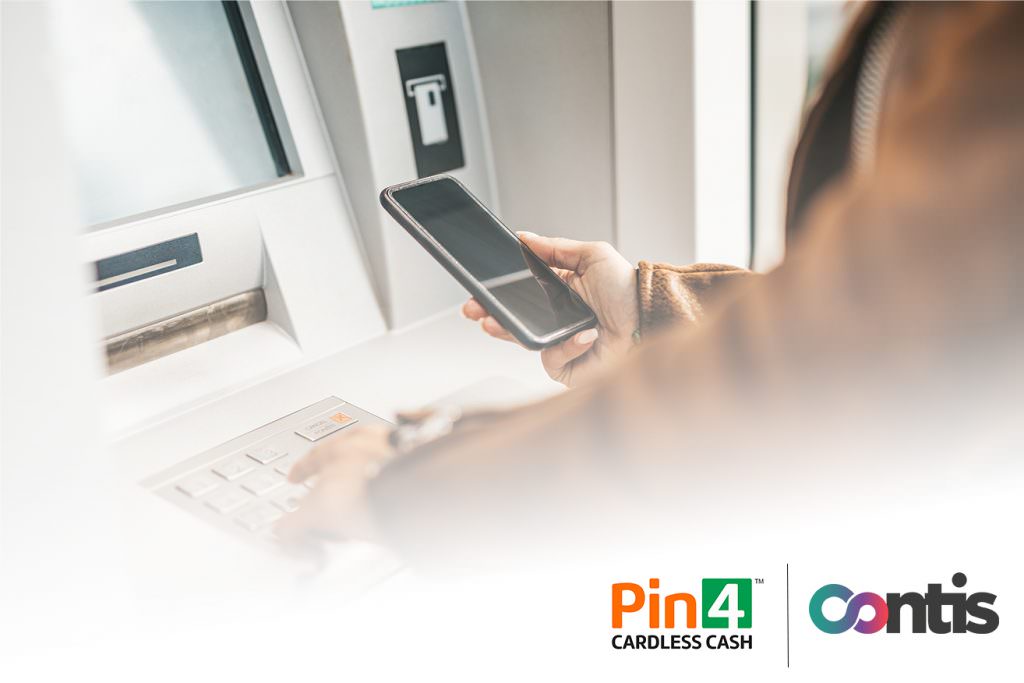 Contis partners with Pin4 cardless cash solution in UK and Europe
Leading European Banking-as-a Service and payments provider, Contis, is delighted to announce its partnership with Pin4, an international fintech pioneering access to cash. This collaboration will enable account holders to access cash via their mobile phones which they can instantly collect at any enabled ATM, including any of 12,000 Cardtronics ATMs across the UK, without the need for a card or pre-registration.
With the Pin4 Cash solution, money can be delivered safely and securely to customers, beneficiaries and friends & family via a simple text message. For Contis' community banking division – Engage – which works closely with the Credit Union movement, it will deliver much needed access to cash and emergency payments. It will help overcome the challenges of restricted opening hours and limitations to movement for many families most affected by the pandemic.
Through this partnership, Contis' clients and Engage Credit Union partners will enable their customers to request a withdrawal to their mobile phone, delivered via secure SMS, empowering them to:
Withdraw funds from their account and collect at an ATM near home
Access funds for a lost or stolen card whilst waiting for the replacement to arrive
Receive an emergency payment and withdraw cash instantly
Instantly send cash support to friends and family
As part of this partnership, Contis will be a clearing and settlement partner for Pin4 in the UK and exclusively across Europe.
Platform integration work is starting immediately. When complete, Contis' 250+ clients will have the option of including Pin4 functionality to deliver cash services to their end-customers through the Contis platform.
Stephen Hart, Executive Vice President of Europe for Pin4 said: "Pin4 are excited to launch this partnership with Contis and to be a part of their ongoing innovation in payments and financial services across Europe. Convenient access to cash is an essential service for many individuals seeking financial freedom and control and this partnership will instantly and conveniently deliver that accessibility for clients and partners of Contis."
Peter Cox, Executive Chairman and Founder of Contis, said: "Contis is always looking to satisfy all the payments needs for its B2B clients' go to market offering. Emergency cash is a core requirement given that cash can often be the only truly flexible answer for certain needs.
In forging this new partnership with Pin4, we're providing our partners, and Pin4's partners across the EEA, with ways of delivering the required funds in real time. Be that emergency cash, airline delay payments at airports, distribution of loans, urgent insurance payouts or simply solving the issues of a lost or mislaid card at home or abroad. The user experience is simple and the service is instantly available, 365 days a year."
ENDS
Media Contact
For more information and interviews please contact: uche.graves@contis.com.
About Contis 
Contis is transforming payments, issuing and processing. We help corporates, banks, fintechs and insurers unleash their true potential. Founded in 2008 by Peter Cox, Contis provides award winning, cloud-based, real-time payment solutions. We enable our clients to deliver next-generation multi-currency accounts, cards and apps to their customers. One of the FT1000: Europe's Fastest Growing Companies in 2018, 2019 and 2020. We have offices in the UK, Lithuania and India. Contis benefits from a full licence suite, including FCA and Bank of Lithuania eMoney Licences which cover the EEA, and a full UK consumer credit licence. Contis is a Principal member of Visa and Mastercard with full sponsorship and in house processing capability.
For further information, please consult: www.contis.com
About Pin4
Pin4® is a fintech company operating a proprietary ATM cash access solution using consumers mobile phones. This allows consumers to access cash without regard to whether the consumer has a credit/debit card or bank account and requires no pre-registration. Pin4's solution is being used in Spain, the United States and now the UK to enable a range of B2C, G2C and P2P payments, including financial and disaster relief, digital account withdrawals, wage payments incentive and reward fulfilment, P2P transfers and more. For more information, please visit https://www.pin4.com or Email Stephen.hart@pin4.com