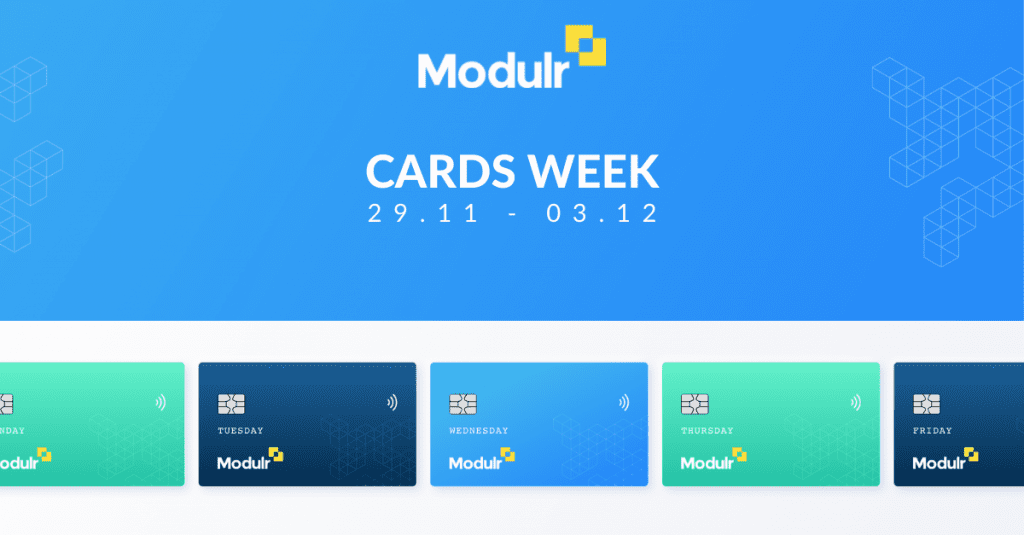 Did you know one of Modulr's most popular platform features is card issuing?
So much so, we've decided to celebrate cards with our first ever Cards Week.
Join us from Monday 29.11 – Friday 03.12 for five succinct sessions over five days where you'll have the opportunity to hear the latest innovations in card issuing from industry innovators at Visa, TagNitecrest and Zumo.
Register here: https://bit.ly/3GP4wen
Join for any (or all!) of the events throughout the week. Build a Cards Week schedule that works for you
Five reasons to attend Cards Week:
Become the Champion for card programmes in your business and grow your cards network.
Learn how to make your digital experience sticky but putting your brand in your customer's hand.
Discover how other companies, like Zumo, is winning market share with its physical and virtual card programme.
Explore the ways companies are reducing back-office complexity by simplifying card stock management, the chargeback process and customer support.
Stay up to date with the future of card issuing technology, whether that's card freezing, real-time spend notifications, security smart rules or triggers
Sign up for your spot today and learn how to do more for your customers with cards 👉https://bit.ly/3GP4wen