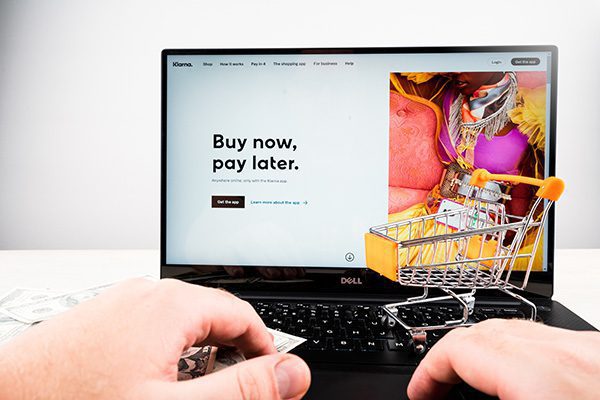 As buy now, pay later becomes increasingly popular in a recession, the payment method could either give consumers a safe refuge to weather the storm or uncontrolled levels of debt.
What is this article about? Whether the use of BNPL in recession could lead to rising levels of consumer debt.

Why is this important? BNPL remains a largely unregulated space, and payment firms should understand the risks associated with it, especially coupled with recessionary pressures.

What's next? Experts believe that there are risks of increasing consumer debt due to BNPL. However, regulators are likely to respond promptly to those risks.
Buy now, pay later (BNPL) has been rising in popularity over the past few years and a recession in 2023 will only set to accelerate the scheme's growth. While significant capital is flowing into high-growth BNPL providers, larger technology and fintech giants are also looking to incorporate the payment method.
Apple announced a 'pay later' feature to its mobile wallet and Affirm is partnering with Amazon to offer BNPL services in the US. According to a report conducted by Bain, BNPL's transaction values in the UK reached £6.4 billion in 2021, reflecting a 60-70% annual growth.
"Potential for growth has been described as guaranteed among investors," says Rich Bayer, UK & EU country manager, at Clearpay. "This is as long as the sector continues to respond to the demands of a vast consumer base who want more choice over how they spend."
By 2024, BNPL is predicted to account for 10% of all UK e-commerce spend, according to data from Worldpay. And figures from Clearpay, also revealed that while two in five shoppers had planned to spend less over Christmas 2022, 17% of Gen Z and millennial shoppers would have been prompted to buy a Christmas gift if they noticed that the merchant offered a BNPL service.
Despite the sector's meteoric growth, it remains largely unregulated. The UK's Financial Conduct Authority (FCA) announced plans in 2021 to issue legislation amid concerns over consumer protection issues. However, draft legislation has not been released yet.
"There continues to be calls for more robust regulation in the BNPL space, a more holistic view of the BNPL exposure of individuals, and better education around the products," says Peter Harmston, partner and UK head of payments at KPMG UK.
"Until these three key issues are ironed out, the rising use of BNPL products will turn into personal debt," adds Harmston. "This, coupled with the availability of traditional credit and increasing mortgage rates, puts a significant stretch on household budgets."
Otto Benz, director of payments at Nationwide, is similarly cautious about BNPL stating that "society needs to be a little bit careful about unsecured lending".
The risk associated with unsecured lending is only exacerbated during a recession. With the UK undergoing an energy crisis, currency depreciation and poor consumer spending power, there are fears of consumers flocking to BNPL as a refuge.
"I think consumers will lean into BNPL and 0% revolving credit. We are going to see a rise in desperation as already observed by the FCA," says Abhishek Gambhir, chief of staff to the CIO and head of strategy office at Curve.
"There will be a strong demand for low impact credit, but with this increased demand comes risk. Often, consumers are easily swayed by the feeling of instant gratification and gloss over the fact that they are entering into a credit agreement," adds Gambhir.
Despite the advertised 0% revolving credit, BNPL is an instalment loan that can accrue interest or late fees and have undesired consequences if payments are unmet. Additionally, consumers can easily access BNPL loans without the necessary checks that come with traditional credit.
"The downside with BNPL is that there is often a lack of credit checks and affordability assessments, leading to an increased risk of over-indebtedness," says Jon Causier, partner at global consultancy Simon-Kucher & Partners. "This is now becoming more apparent to regulators, and we expect more consumer safeguards to be introduced."
Risk or refuge?
While more traditional payment and credit providers argue that BNPL carries significant risk, providers are arguing how their payment method could help consumers weather the recession.
Bayer at Clearpay argues that BNPL can support vulnerable customers struggling with cashflow.
He says: "BNPL helps consumers navigate periods of financial difficulty by giving them a deferred payment option that allows them to manage their budget, spend responsibly and safeguard them against accruing debt.
"Consumers can have access to an interest-free alternative to using credit cards that often come with high fees and encourage customers to remain in debt for many months and years."
He goes on to explain that data from Clearpay shows that 95% of instalments are made on time and 90% use a debit card to make their payments.
Nevertheless, others are more sceptical of the BNPL model. Callum Goodwin, chief economist at the payments consultancy CMSPI, warns that the "BNPL's business models could be pretty vulnerable".
He explains that regulation poses one of the largest threats to BNPL as financial watchdogs flock to regulate the sector due to "fears of consumers jumping headfirst into unregulated debt situations".
While consumers and BNPL firms await FCA regulation, it remains to be seen whether a recession will render the BNPL sector a significant risk or refuge