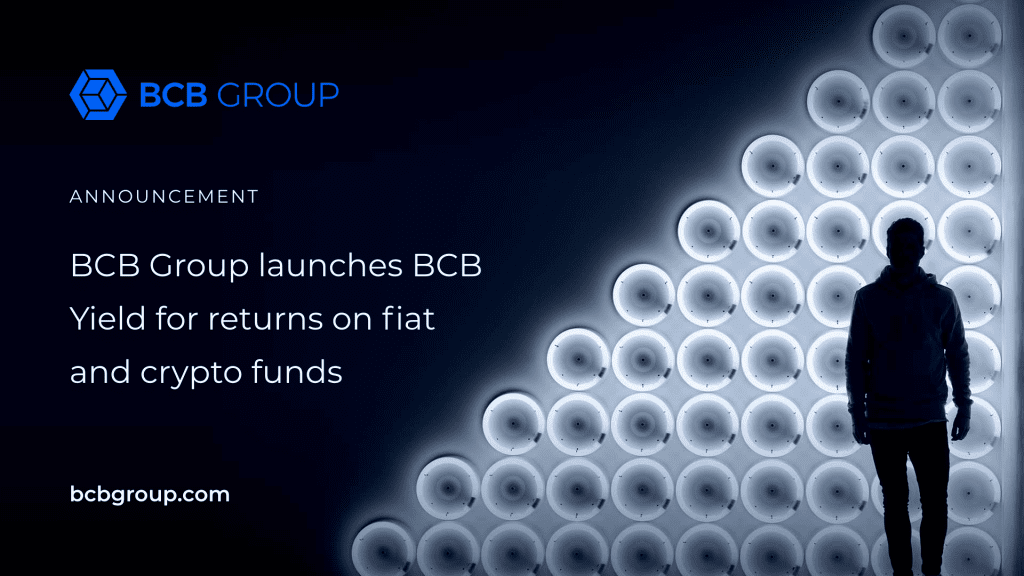 BCB Group, Europe's leading provider of business accounts and trading services for the digital asset economy, today announced the launch of BCB Yield, a product that lets customers earn a return on both fiat or crypto funds.
This latest development in BCB's growth strategy builds on opportunities that exist in fiat lending for crypto market participants. The cryptocurrency market has grown to over $2 trillion and is driving huge demand for short term borrowing to fund trading operations or short term treasury requirements. This comes at a time when low yielding traditional finance vehicles are experiencing poor or even negative returns.
BCB Yield offers multiple options for customers to earn a return on their balance with the BCB Securities Fund, a first of a kind investment vehicle, allowing customers to invest a range of currencies for a fixed period of time to earn from 2%+ APY on Euros and potentially higher returns on other currencies with up to 8% APY on USD. Within the fund customers can choose to invest both fiat and crypto with a minimum term being 30 days. Customers are issued a 30, 60 or 90 day note, which works in a similar way to a bond, generating a return much greater than those in traditional finance.
The BCB Securities Fund represents the first step in a broader range of Yield options that will be launching this year with a focus on solutions that utilise selected DeFi protocols and products that connect traditional finance with the new world of crypto. BCB Yield is now open to existing clients and institutional clients who currently do not bank with BCB but are interested in the digital lending market and wish to significantly outperform traditional markets.
BCB Group Founder and CEO, Oliver von Landsberg-Sadie commented: "This is a hugely exciting development for BCB customers who can now access a brand new set of features designed to earn a return on their balance while offering a genuine alternative to low yielding traditional finance vehicles. The crypto markets are generating phenomenal innovation and as a multi-regulated institution, serving both the traditional finance and crypto industry, we are uniquely positioned to leverage both markets to generate sustainable market risk-neutral returns. "
Find out more about BCB Yield Accounts: https://bcbgroup.com/yield/
ENDS