Global tech company
A top ten tech company in Brazil and one of the largest in South America
Qintess partners with businesses to drive change through technology. Its digital transformation solutions utilise state-of-the-art cloud sourcing, software development, AI and machine learning, and decision science to improve the way businesses operate and meet their clients' needs. With a focus on customer experience, agile automation and analytics, Qintess has transformed some of the leading companies across sectors including financial services, telecommunications, retail and public utilities.
Qintess employs 3,400 people and has more than 2,000 customers, with operations in Brazil, Chile, Colombia, the United States, Portugal and the UK. Clients include Uber, Carrefour, C&A, Natura, Dell, AB InBev, Santander, Goldman Sachs and Pirelli, as well as seven of ten leading financial institutions globally.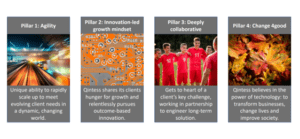 Our Narrative
Your company has its core strengths. The fundamental reasons it has made its mark.
But for sustained growth it needs to become faster and more flexible with an eye towards what's on the horizon. Markets change. Competitors come forward with new innovations. Consumers develop new habits and reject old practices. ESG values impose new norms and create new opportunities.
Change often feels like it is happening at warp speed; and it often is. Where you capitalize on change, you grow. When you fall behind, everything becomes difficult. Qintess digital transformation brings you up to speed quickly, while positioning you for future success. gets you where you need to be fast.
We begin our partnership by fully understanding your essence: Your reason for being. The reasons for Your success to date and. Your vision for the future. The customers that are key to your growth. Your culture and ESG goals.
We work with you to understand the operations that are critical to efficiency and fundamental challenges at the heart of your business. Through a spirit of collaborative innovation, we work to engineer solutions which are perfectly aligned to your needs. By focusing on the essentials and reducing the noise, it is easier to simplify and streamline your operation. It enables innovation that has Clearly identifying priorities and long-term goals enables innovations that can be built upon into the future.
Our unique approach to cultivating talent means we empower our people to be extraordinary, developing teams that understand your business and share your growth-focused, entrepreneurial mindset. They partner you with the best technology providers to optimize every step, using use state of the art cloud sourcing, machine learning and decision science to replace legacy systems that cause friction and are an obstacle to progress.
We are agile and deploy at speed, rapidly scaling up to provide the solutions you need. We'll automate systems that have slowed you down. We identify customers that are key to growth, then create experiences that convey your benefits in the most relevant way. And we understand the importance of sustainability, so we prioritize providing value that lasts, for the good of your business, society and the environment.
At Qintess our mission is in our name: Deliver the quintessential business operation. Our digital transformation allows you to leverages your strengths so you can take and take your purest, strongest offering to the world. – with the speed that lets you capitalize on change for sustained growth.
Qintess. Capitalize on your essence