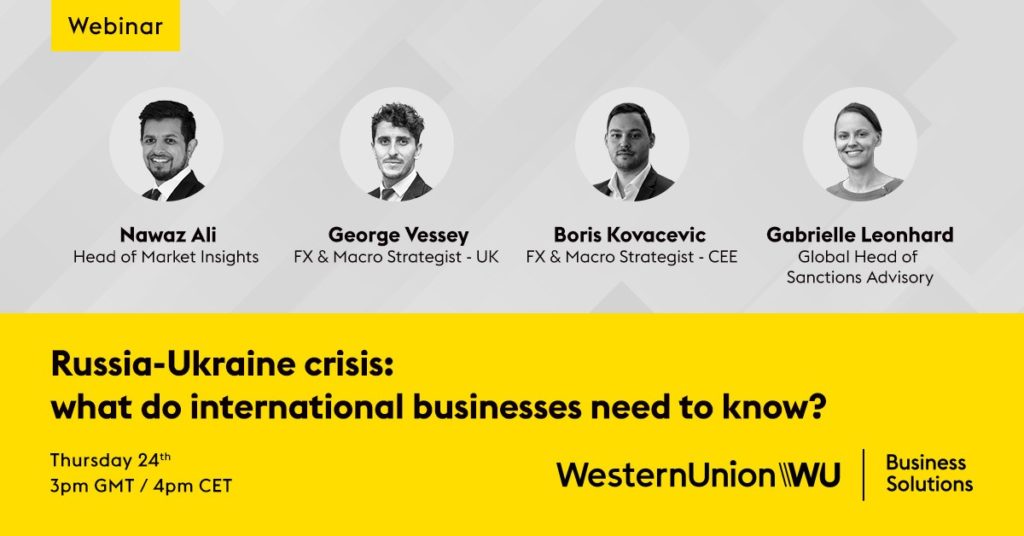 As the Russia-Ukraine conflict and its global implications intensify, many international businesses like yours are being forced to counter the unexpected consequences.
Amidst other important global trends like interest rate hikes and inflation, here are some of the consequences to consider thus far:
Here are some consequences so far:
– Currencies: GBP/USD has dropped nearly 3%, whilst the Russian Ruble has fluctuated by ~60% between ₽174 to ₽109*
– Commodities: Oil prices rose as much as 40% to $140 – highest since 2008 – increasing inflation fears globally.
– Payments: international transfers into Russia suspended by SWIFT payments network
– Regulations: US, UK and Europe Impose sweeping Sanctions on Russia with implications to business all across the world.
Join our latest market insights webinar, in which our panel of experts will help you identify some of the critical emerging market trends, forecast the FX and trade variables that you may need to factor into decisions, and help you unravel the complexity of the new and unprecedented multi-lateral sanctions scenario.
The session will be moderated by our Head of Market Insights, Nawaz Ali, and you will also hear from our team of experts about the opportunities and risks they are actively managing as the situation in Ukraine unfolds.
Register here: https://bit.ly/3Icfn1B
Article by Western Union Business Solutions